8th & Filbert Parking Garage and Streetscape Improvement Nears Completion
WRT are the architects and landscape architects of record for the 8th and Filbert Parking Garage and Streetscape Improvements. The property, which has remained open at all times during the entire construction process, is owned and operated by the Philadelphia Parking Authority (PPA) and consists of six stories with a 1,200 space garage and approximately 30,000 SF of retail spaces.  The project has been spearheaded and programmed by the PPA's Senior Director of Engineering and Design, Nacima Boukenna, and is led by T&M Associates as the Project Managers.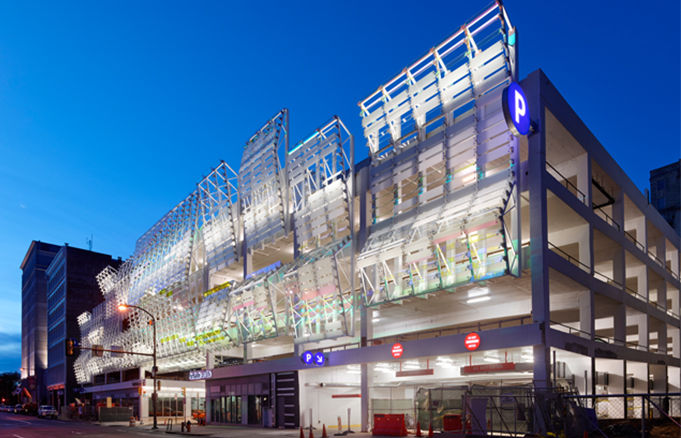 WRT was brought on by the Parking Authority to turn the property into a model for sustainable garage renovations through aesthetic improvements, lighting, recycling of existing materials for reuse, and more. Situated between the Independence Mall and The Convention Center, the property serves as a gateway into Center City.
"We've literally turned on the lights with this redesign and replaced the dark façade and dreary underpass with these sculptural metal frames clad in glass and metal, and used various types of LED lights to make one cohesive design concept," said Modesto Bigas-Valedon, AIA, LEED AP, Senior Associate at WRT, "The garage sits at one of the four major access points to the city and we wanted to create a positive first impression as people enter into Center City."
After careful analysis of the property's micro-climate and urban context, the team at WRT developed an approach specific to the conditions of each façade and associated public space. The northern façade design implements blades of glass as a luminous screen to capture the ambient light through dichroic glass elements. This design was chosen as a response to the northern façade's exposure to sunlight. The southern façade is subject to direct sunlight and precautions had to be taken to minimize glare to adjacent buildings. The design for this façade implements an expanded metal mesh cladding that will filter the sunlight during the day and filter the interior lighting of the garage at night. The 8th street underpass has been reconceived as an outdoor covered room that connects the northern and southern facades. 
"8th and Filbert is subject to foot and vehicle traffic throughout the day. Many of whom are visiting Philadelphia for the first time," said Joseph Healy, AIA, LEED AP, Managing Principal at WRT, "Our goal was to create an inviting public space within the garage to welcome guests, both new and old, into Center City. Market East is changing and we're thrilled that the Parking Authority engaged us to be a part of the change."
The Philadelphia Parking Authority envisions the refurbished project to serve as the model for the Authority's other facility improvements in Center City.