A Community Built by Immigrants and Rooted in Togetherness
The Clark-Fulton community in Cleveland is a wonderful example of a neighborhood that embraces its diversity, a beautiful mix of cultures and backgrounds.
The contributions of immigrants from all over the world are an integral part of the fabric of our country—introducing new perspectives, experiences, cultural traditions, language, art and music, food, and more to our communities. In celebration of the impact that immigrants have had on America, we want to highlight our work in Cleveland, OH with one of the most diverse communities in the country - the Clark-Fulton neighborhood. 
Located in west Cleveland, the Clark-Fulton area was originally settled by Europeans but saw a large-scale departure of residents in the 1960s due to the decline of stockyard and brewery operations. Since then, Clark-Fulton has become the home to an incredibly diverse and vibrant population, receiving migrations of African Americans and Puerto Ricans, immigrants from Central and South America, and refugees from Bhutan, Somalia, Iraq, Burma, and the Democratic Republic of Congo.
Today, Clark-Fulton is a beacon of diversity in the middle of the city, with 46% of residents from a Hispanic background and with people from a wide range of racial and ethnic groups living and representing the neighborhood. Now, the community is witnessing a surge of ongoing and planned investments and is benefitting from a broad coalition of community partners working together to support their community and create positive change.    
WRT's Project Manager, Claudia Ray, an immigrant herself from Venezuela, was recently on the ground in Cleveland hosting events for the neighborhood to hear from the community and learn more about their aspirations for their neighborhood.  
"I think what is great about working with immigrant communities is seeing how they are able to bring elements from their hometowns and countries to this place," says Claudia.
"When people immigrate to this country, they bring the essence and identity of their culture into this establishment because it's important to retain these connections. That's something I did when I moved here," she said. "When moving from one place to another there are a lot of changes, so finding those commonalities from your home country within your community becomes really important. In Clark-Fulton, you can see how they did that."
In collaboration with local partners, Claudia and WRT are currently implementing a bilingual, hands-on engagement process as part of Clark-Fulton Together, a community-driven master plan to envision strategies to create a more healthy, equitable and sustainable future for the neighborhood, and celebrate and honor the community's incredibly diverse culture. 
One of the plan's five guiding principles is Togetherness – one that is truly embodied by the melting pot of cultures that is the Clark-Fulton community. 
"It was great for me to see how they're embracing [togetherness].  It needs to happen more, so as part of this plan we want that to be at the forefront."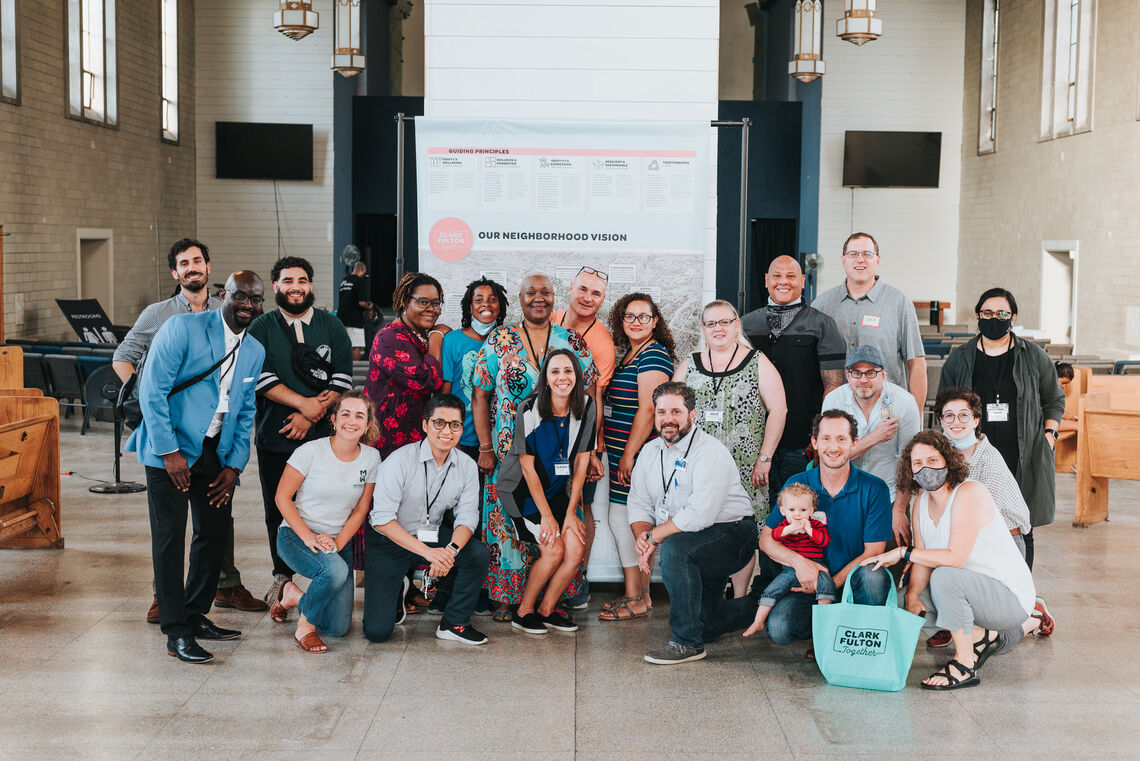 WRT Principal, Woo Kim, who is leading the project in lockstep with Claudia, is focused on the future successes of immigrants, reflecting on the resilience of immigrant communities in navigating existing and new challenges, especially those brought on by the Covid-19 pandemic.
"The American Dream is poignant for immigrants whose grit has reshaped our country's urban landscape. Many navigate bureaucratic hurdles and language barriers—sometimes misguided xenophobia—to start businesses of their own," says Woo. "With Covid-19 reshaping our cities and drastically impacting small business, many of which are immigrant-owned, it is important to remember these small business owners who comprise the important cultural commercial corridors of our cities."
As we continue our work in Cleveland, we are reminded of the incredible cultural impact that immigrants have had on our communities. Immigrants and the blending of cultures are woven into the fabric of our country, and it is something to honor, encourage and celebrate.