A Conversation with our Interns
Some final thoughts from our 2017 Summer Interns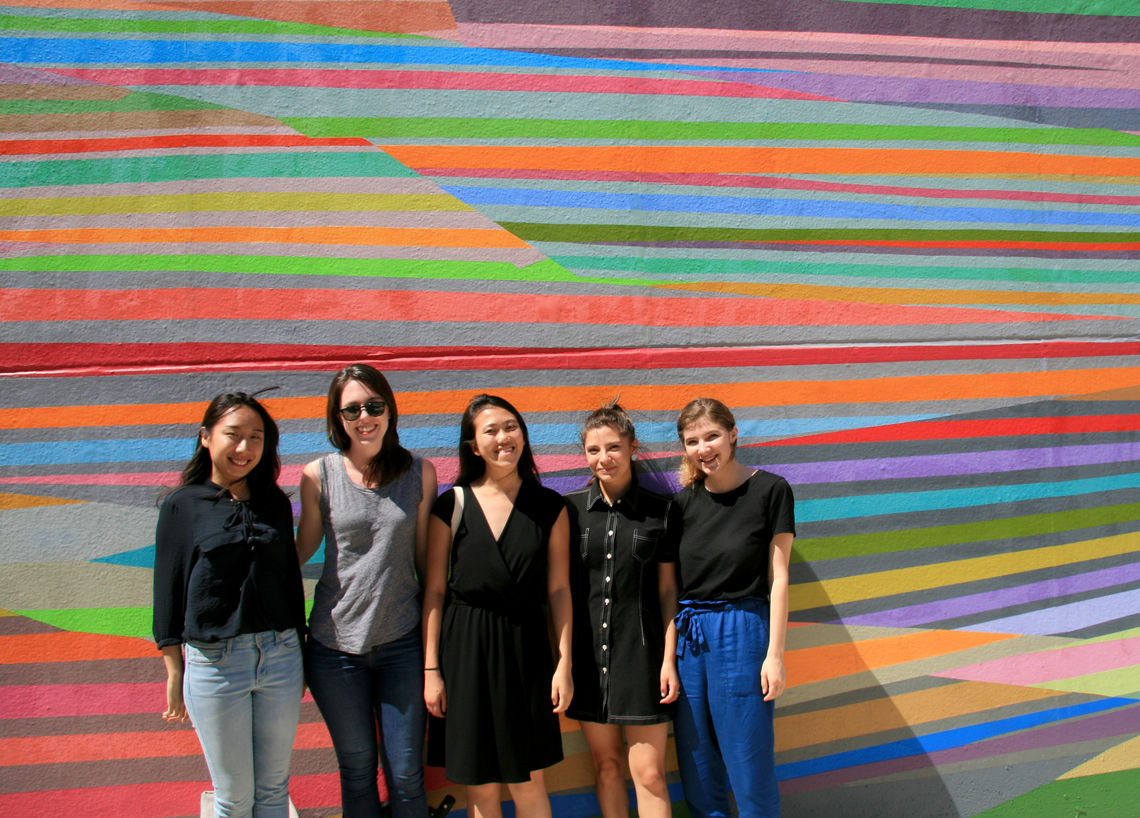 Pictured from left to right: Yihua Fan (Landscape Architecture - UPenn), Jordan Butz (City Planning - UPenn), Esther Ng (City Planning - UPenn), Alexia Cavazos (Architecture - Penn State), and Eleanor Wing (Graphic Design - Penn State).
This summer, WRT welcomed five interns in our Philadelphia office. In addition to gaining valuable exposure on our project work in each of our disciplines, we took the interns on a field trip to see some of our local projects first-hand, and at the end of their 10 weeks at WRT, they gave a final presentation to our office about their experiences.
Before the summer came to an end, we asked them to participate in an informal exit interview to give them a chance to discuss their experiences at WRT. Below is their commentary: 
WHAT INTERESTED YOU IN PURSUING AN INTERNSHIP WITH WRT?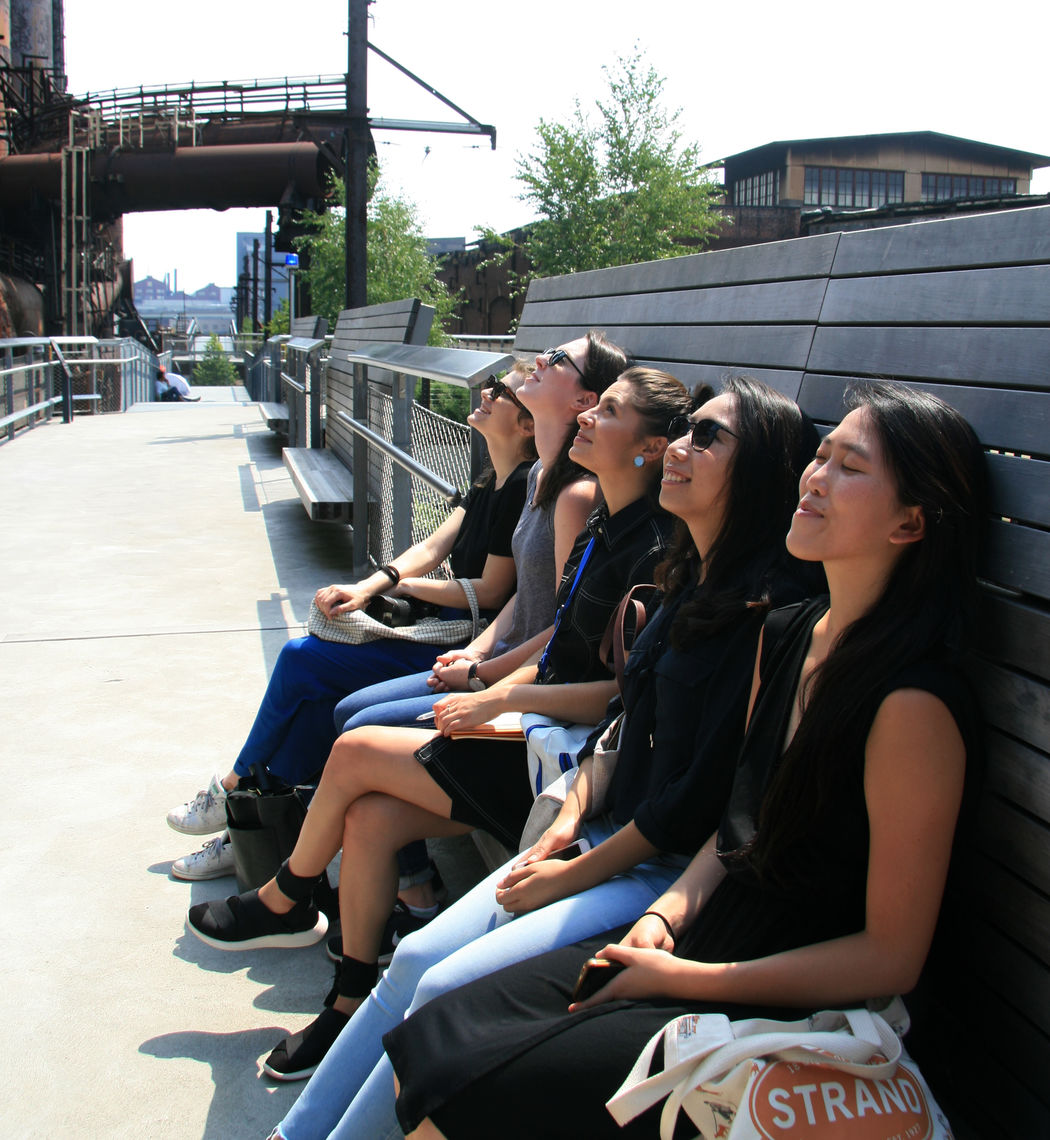 tAKING IN THE VIEWS AT THE HOOVER-MASON TRESTLE
BETHLEHEM, PA 
Jordan: Having worked for a few years before grad school in a field that wasn't related to planning, I was really excited to get to work for a planning firm for the first time this summer. The opportunity to work at WRT appealed to me because the firm is interdisciplinary – so I would be able to work with people in different fields as well.
Yihua: WRT is an excellent multi-disciplinary firm which allows me to have the opportunity to work with people in different fields, and during my interview with WRT, people were willing to take the time to listen to the ideas of my works, instead of just paying attention to my graphics.
Esther: The interdisciplinary nature of the firm.
Eleanor: For me, I was interested in working at WRT specifically because of the opportunity to work with the brand identity and the creative possibilities that allowed for. I also was very impressed by the past work WRT had done, specifically its alignment with sustainability.
Alexia: My first exposure to the firm was through Jared Edgar McKnight during my 2nd year of school. From his tremendous energy and great explanations of the INTERDISCIPLINARY work you all do, I was moved ever since to pursue an internship here. Knowing how the firm worked on landscape architecture, architecture and urban design and also knowing how I work within my own process of design which is by thinking of all these scales, I wanted to expose myself to this type of work.
WHAT CHALLENGES DID YOU FACE DURING YOUR SUMMER INTERNSHIP? 
Yihua: I worked on various projects at the same time during my summer internship, so it required me to be able to shift from one project to the other project very quickly. It is different from school because we just need to focus on one project for a whole semester at school. But I enjoyed the challenge.
Jordan: My biggest challenge was coming to the internship with limited design experience. Despite this, I was given many design-related projects, and by the end of the summer I had significantly improved my skills. One of my favorite parts of the internship was being assigned projects that gave me the opportunity to learn new skills.  
Eleanor: I think at first I struggled a bit with 
understanding the timeline of particular projects and I couldn't really get a good sense of whether I was spending too much time on particular projects or not.
Alexia: [It was challenging to catch Erin during the day to touch base] HOWEVER, it was most challenging to learn new programs such as 3ds Max and a little bit of Revit to be able to produce work that I otherwise couldn't have if I had not known these programs. It was also challenging to put on a professional thinking cap and think about how a CLIENT may see or read this work. But these were fun challenges!
Esther: Being given an entire chapter of a plan and told to run with it... 
WHAT WAS YOUR PROUDEST MOMENT OF YOUR INTERNSHIP? 
Esther: Actually being able to pull together something resembling a full chapter of a plan.
Alexia: Producing my 1st render using 3ds Max and Photoshop. I was most proud of this because I was producing a product to use for WRT, as well as learning a totally new way of rendering and learning how to create a more successful view and image.
Yihua: When I finished my final presentation at WRT, people told me that I did a great job.
Jordan: The proudest moment of my internship was attending a community event that I had designed most of the materials for. It was great to see something that I had worked on contribute to the experience of neighborhood residents at the event.
Eleanor: My proudest moment this summer was definitely finishing the completed proposal template. It felt gratifying to have created a fully finished product that would be used by the firm in "real" contexts for the future.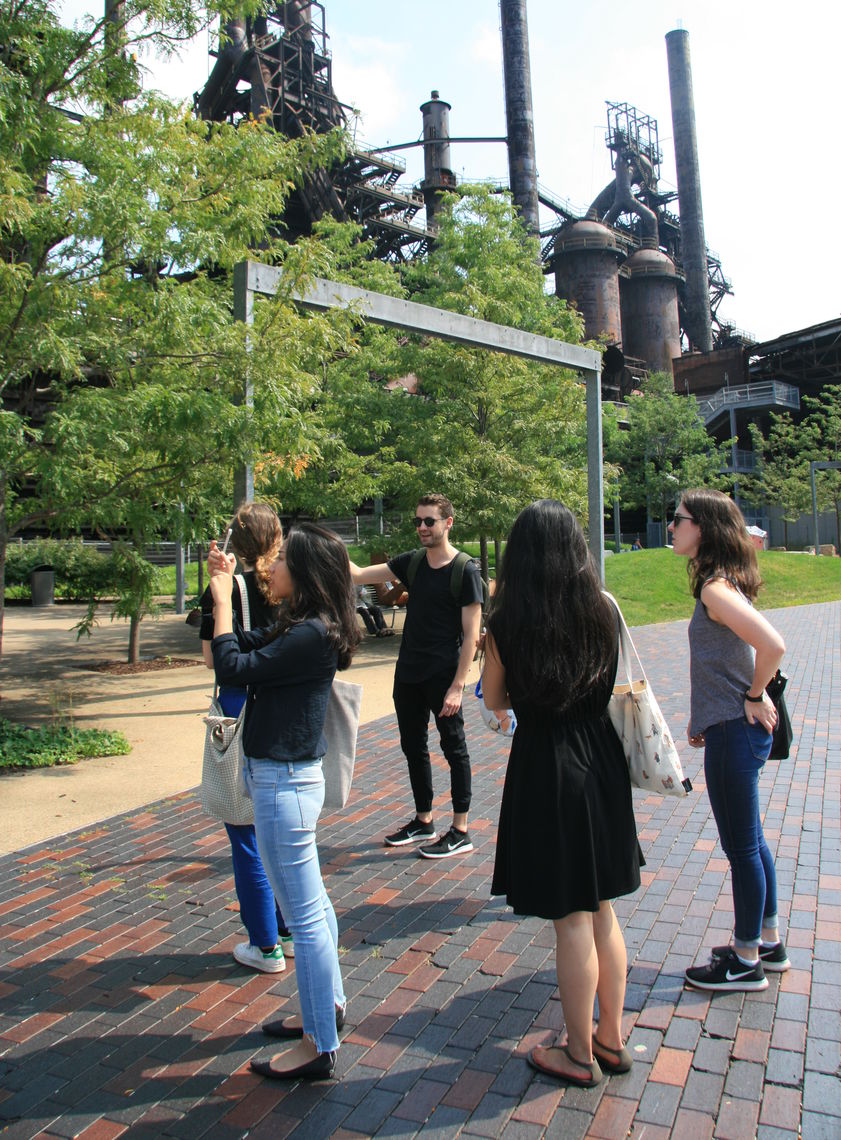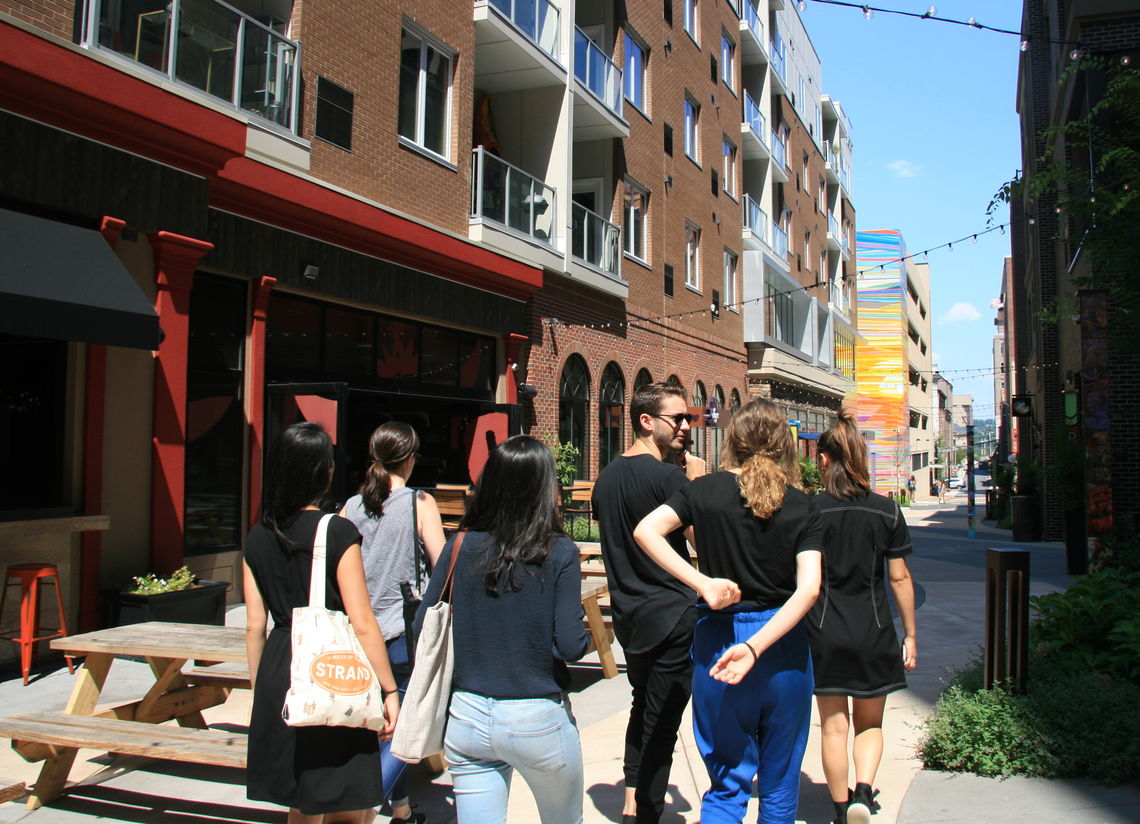 STROLLING ALONG THE ARTS WALK AT STRATA 1, 2 AND 3 
ALLENTOWN, PA
WHAT WAS YOUR BIGGEST TAKEAWAY/LESSON YOU LEARNED FROM YOUR EXPERIENCE AT WRT?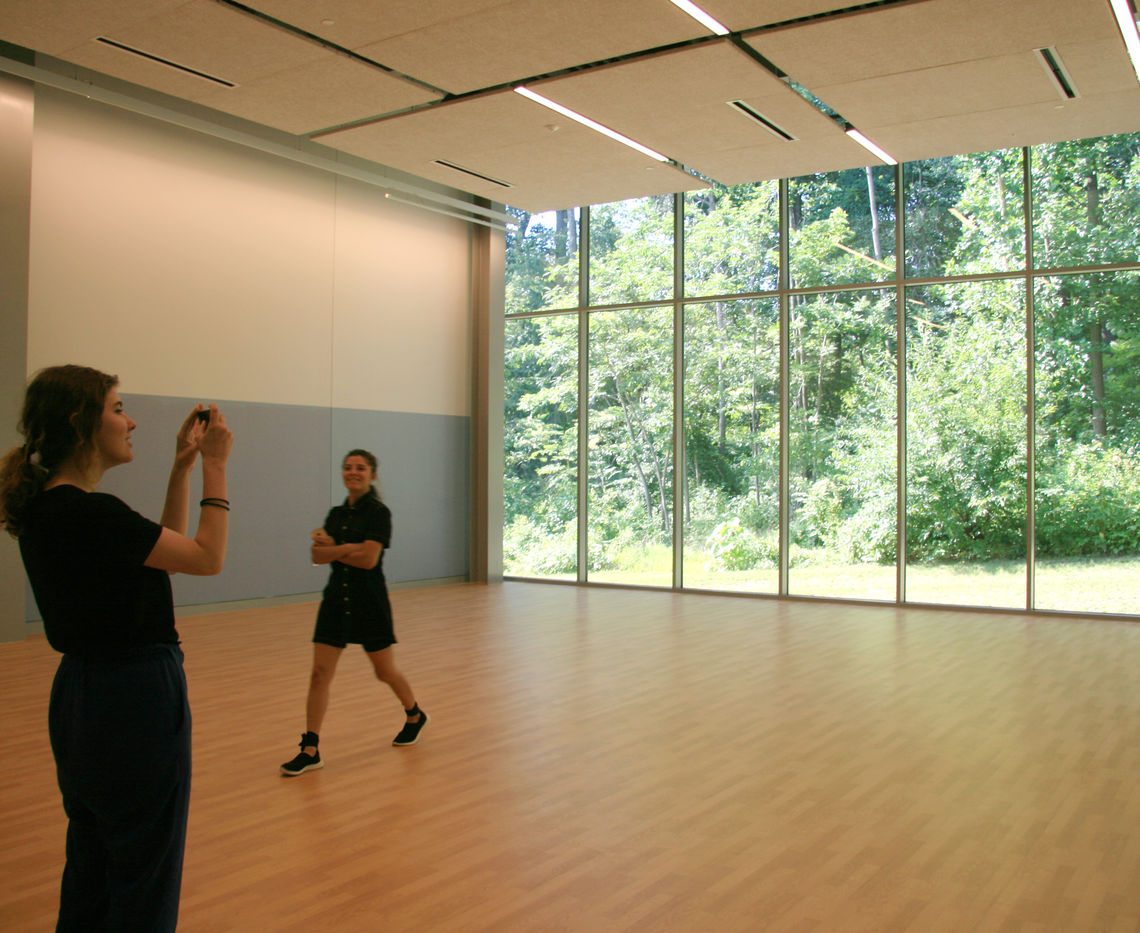 EXPLORING THE YOGA STUDIO AT CABRINI ATHLETIC PAVILION
RADNOR, PA 
Eleanor: My biggest takeaway was definitely learning the importance of devoting time to setting up groundwork and base-level organization at the beginning of projects instead of figuring it out throughout the project, which was crucial when setting up documents, etc. that would be legible to people other than myself.
Esther: Learning to ask for help/clarification.
Alexia: At its end, BE CLEAR, BE CLEAR, BE CLEAR. Also, don't feel like you're alone because there is a whole team willing to help and wanting to answer your questions.
Yihua: I think the biggest lesson I learned from my experience at WRT is how to communicate with different people, because there are so many people involved in the process of design and construction. They could be your colleague, clients, contractor and communities, etc. Therefore, as a designer, the ability to convey your idea effectively through drawings and language is very essential. 
Jordan: My biggest takeaways from my internship was first, don't be afraid of trying new things! I learned a tremendous amount this summer just from being asked to help out on projects where I was unfamiliar with the programs or skills needed. Also, you can learn so much from people in other fields – so try to talk with as many people as possible! 
Alexia: 5th year thesis at Penn State, my last year in architecture school! Afterwards, I plan to work for a few years then go to grad school at some point preferably outside the US to experience another culture.
Eleanor: I'll be going back to Penn State for my 3rd year in the undergraduate Graphic Design program (a 4 year program). Thanks so much for all your help this summer; I've had such a great time!
Jordan: Back to PennDesign for my second year of the City Planning program.
Esther: Going back to school for my second and final year at PennDesign in Planning.
Yihua: I will back to school and complete the second year of the Master of Landscape Architecture program at Penn Design.
We want to thank our interns for their hard work and dedication this summer!
We cannot wait to see what you accomplish in the future, and we look forward to watching your continued rise into the Architecture, Landscape Architecture, City Planning, Urban Design, and Graphic Design professions! Be sure to keep in touch and best of luck back at Penn State and UPenn!