Abington Friends School Celebrates the Opening of New Athletics Center
Families, faculty, and donors gathered on Friday, September 6 for the public opening of the Richard N. Berman Athletics Center and a back-to-school community barbeque on campus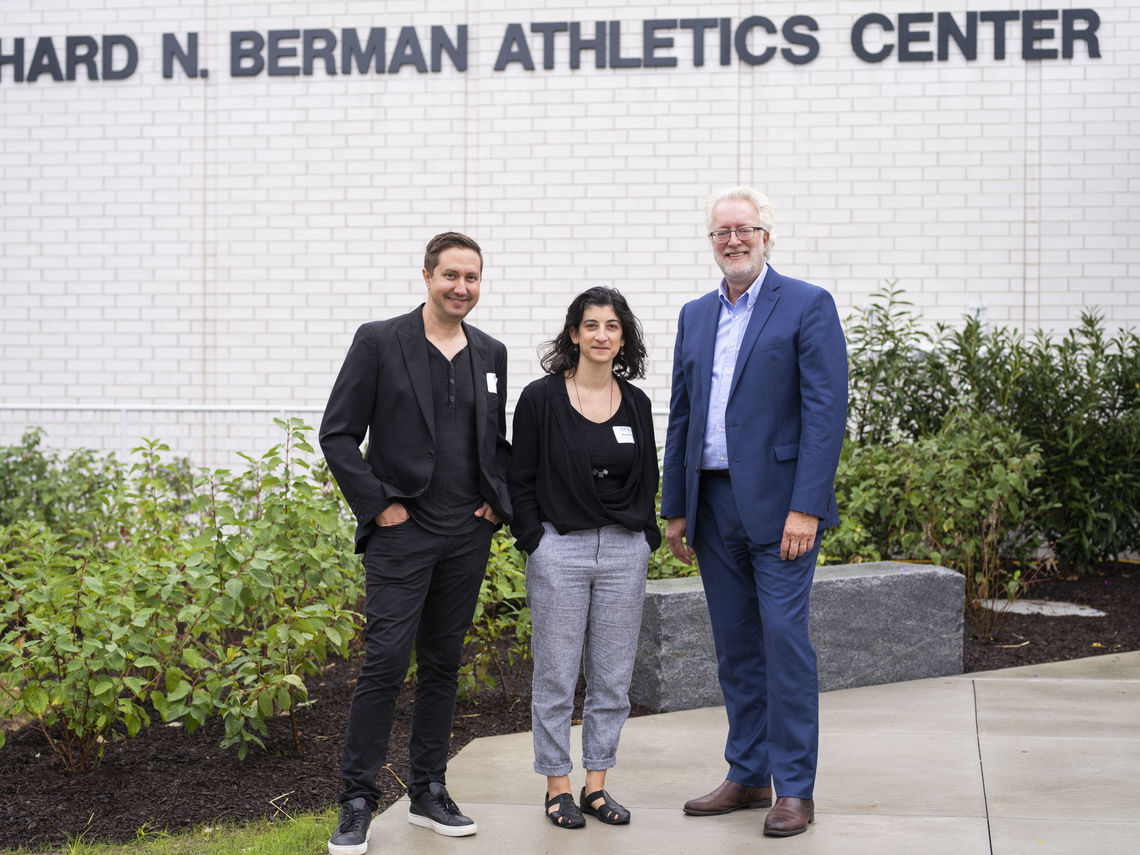 WRT architects John Keene, Amelia Einbender-Lieber, and Maarten Pesch
The Abington Friends campus was abuzz with activity last Friday afternoon, as the School community gathered to celebrate the opening of the Richard N. Berman Athletics Center. More than double the size of the previous gymnasium, the Berman Center will serve as a welcoming home to AFS student-athletes and the campus community at large. WRT served as architect and landscape architect for the renovation and expansion project.
The $9.5 million state-of-the-art facility includes a regulation basketball court (with stadium seating), renovated fitness center, training room, three team rooms, updated locker rooms, office space, and new lobby and multi-purpose room spaces that can accommodate receptions, open houses, lectures, group exercise, and other events for the AFS community. The spaces are light-filled and modern with upgraded finishes throughout.   
Abington Friends is expanding their overall health, wellness, and fitness opportunities on campus, and the Berman Center will become a more integrated part of the general curriculum and activities. The new gym and fitness center are spaces for everyone in the Abington Friends community—not just athletes.
As Head of School Rich Nourie said, "We aspire for well-being and athletics at AFS to reach the same level of excellence seen in our academic and arts programs, ensuring that children are receiving a multi-dimensional education that prepares them for successful and meaningful lives. We cannot wait to witness our students playing and competing in this transformative space for years to come."
After the ribbon cutting ceremony, students, parents, faculty, and donors continued the celebration with a back-to-school family barbeque. Cheers to a wonderful 2019-2020 school year!