American Trails Highlights the Mariposa Creek Parkway's Engagement Efforts
In collaboration with the CA Trails & Greenways Conference, American Trails hosted a webinar designed to explore the unique community interaction and engagement opportunities trails can offer. The presentation focused on Creek Week, a three-day onsite engagement event that occurred in April 2019.
Over 300 people attended the webcast designed to provide attendees with ideas for how to implement projects through the use of creative coalitions and engagement activities. WRT Associate and Landscape Architect Andrew Dawson, PLA, ASLA, and Community Design and Development Planner for Mariposa County Mikey Goralnik, PLA, ASLA, LEED GA, led the discussion providing insights about their work on the Mariposa Creek Parkway Master Plan. 
They highlighted the project's unique and inclusive community engagement strategy which enabled a large cross-section of Mariposa County residents to contribute ideas and provide input. The community's involvement strengthened the master plan, providing momentum for future funding and reinforcing broader goals for an inclusive public space  that will be an asset for generations to come.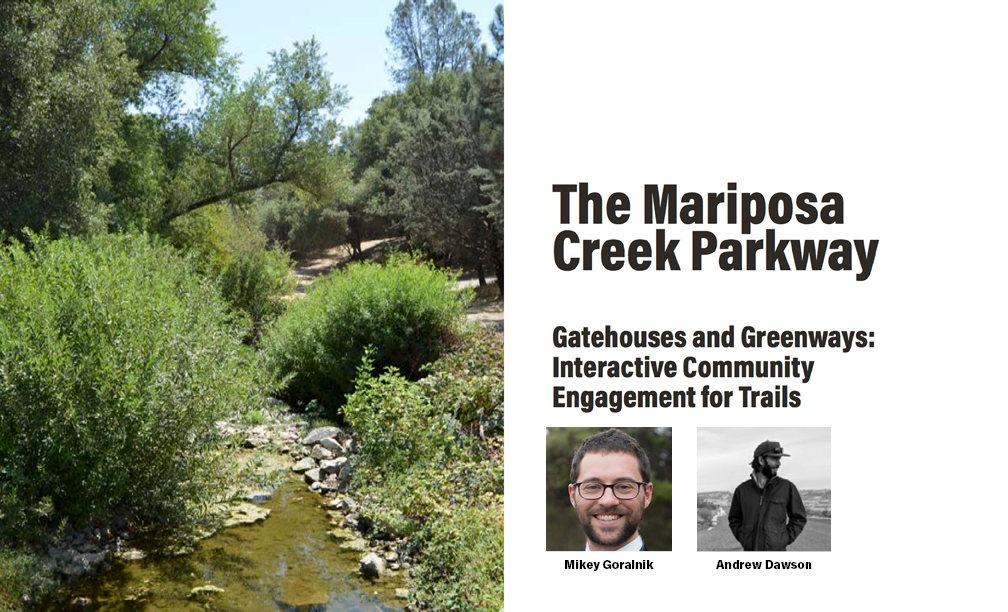 "When the engagement process itself is a venue for showcasing civic pride and community capacity, it becomes more approachable, understandable, adjustable..."
 - Andrew Dawson, PLA, ASLA
"Being able to root the project in both its local and regional context is essential for understanding what your trail can do." 
- Mikey Goralnik, PLA, ASLA, LEED GA