Austin's Our Parks, Our Future Long-Range Plan Recognized for Excellence in Sustainability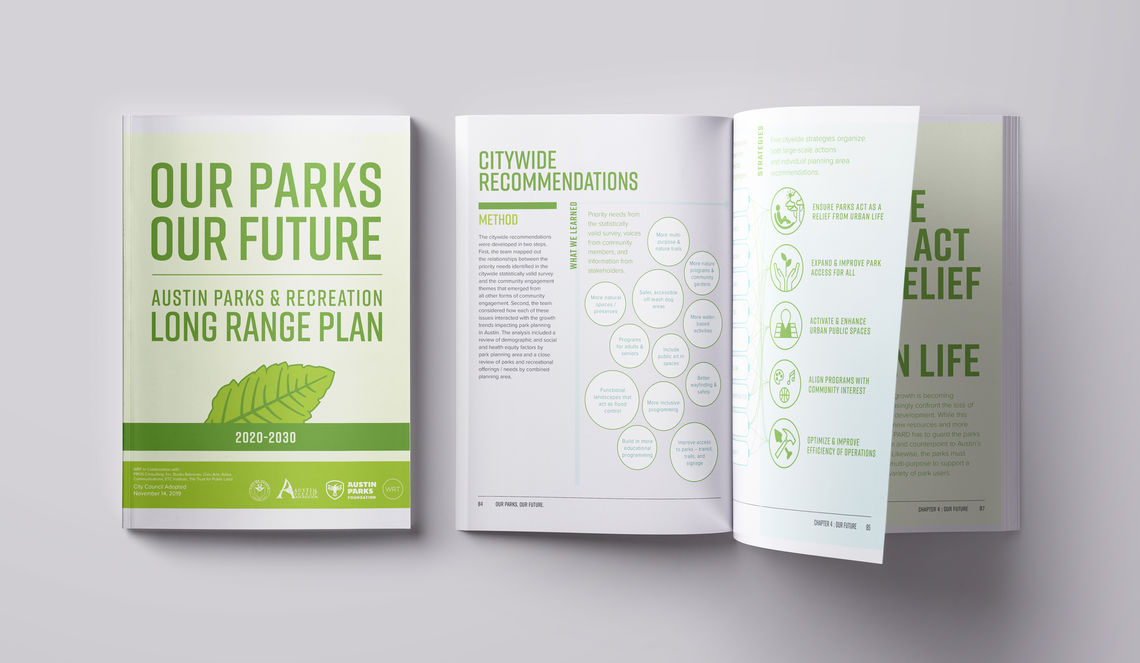 Our Parks Our Future was adopted in November 2019
The Excellence in Sustainability program honors projects, plans, policies, individuals, and organizations whose work is dedicated to supporting sustainable communities.

Most recently, projects of WRT's that were recognized by the program include the Community Greening Plan: A Green Stormwater Infrastructure Plan for Harrisburg, PA, and Meriden 2020: A Comprehensive Plan for Downtown Meriden.
About Our Parks, Our Future
WRT worked alongside the City of Austin, TX, Parks and Recreation Department (PARD) on the Austin Parks and Recreation Department Long-Range Plan. Our Parks, Our Future was unanimously adopted as an amendment to Imagine Austin on November 14th, 2019.
Following the Our Parks, Our Future planning process kick off in Fall 2018, more than 4,400 community members completed an online survey offering input on how the park system should improve in the next 10 years and beyond. The community's ideas about Austin's parks and open spaces are directly reflected in the plan's community engagement themes - including the desire for more natural experiences, linear parks, education, arts and culture, and clean and safe places. 
"WRT enjoyed the opportunity to work with PARD and the community on the development of this landmark plan for the future park system, which advances the city's equity goals," said WRT Principal, John Gibbs. 
The planning team was led by Austin's Parks and Recreation Department's planning division and WRT. The team also included local consultants, Studio Balcones, Adisa Communications, Civic Arts, as well as national expertise from PROS Consulting, ETC Institute, and The Trust for Public Land's Center for City Park Excellence. Funding for Our Parks, Our Future was made possible in part by Austin Parks Foundation.