Cabrini Athletic Pavilion Wins ENR Mid-Atlantic 2017 Best Projects Award
The Nerney Athletic & Recreation Pavilion won Best Project in Sports/Entertainment for 2017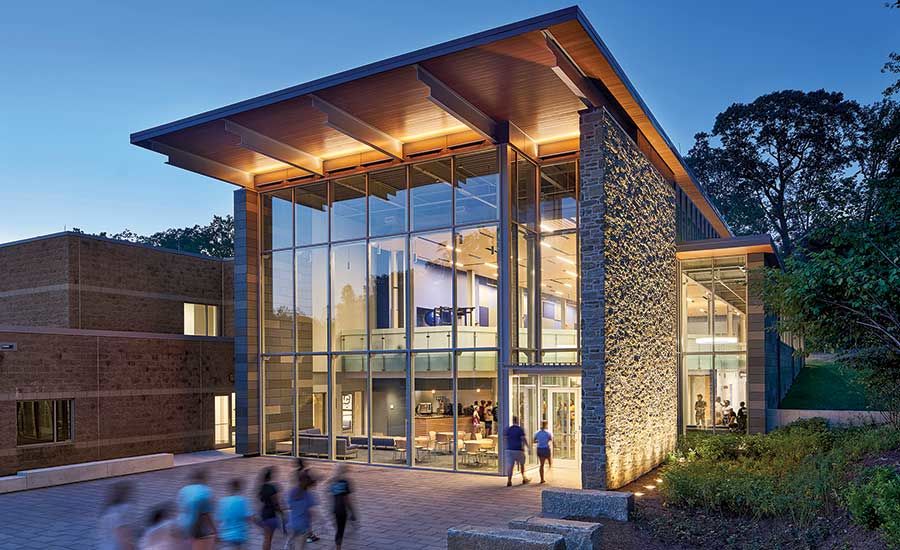 WRT is proud to announce that the Nerney Athletic & Recreation Pavilion at Cabrini University in Radnor, PA won Best Project in the Sports/Entertainment category at the Engineering News-Record Mid-Atlantic 2017 Best Project Awards.
The awards were judged by a panel of eight professionals in the AEC industry, and the winners were selected from 66 submissions across the mid-Atlantic region. A big factor in the awards was the project team's ability to overcome challenges as well as the project's contribution to the industry and community.
The project team worked within a tight 15-month schedule to convert the outdated and cramped athletic building into a modern, spacious athletic facility offering a fitness center, locker rooms for intercollegiate teams, a fitness studio, and meeting spaces. The project included a 28,000 square foot expansion that features a two-story atrium with a glass curtain wall. An additional 20,000 square feet of interior renovations were completed in the existing athletic center.
One of the project's major accomplishments was the identification and virtual modeling of critical tie-in elements from the addition to the existing building. The models helped workers plan appropriately and reduced change orders by identifying more than 500 conflicts running to the existing building.
As the building remained open, the renovation also called for a safety program that went beyond the Occupational Safety and Health Administration standards. The team conducted mock OSHA inspections once a month, resulting in the project having a perfect OSHA recordable incident rate and lost-time accident rate during 224,900 worker-hours.
The project team was also required to preserve a wooded area that surrounded the building on all sides but the front. The team worked from the back to the front of the building to avoid using equipment near the rear of the building.
WRT was the architect on this project, which was completed just before the Fall 2016 semester. The general contractor was Warfel Construction Co.