Designer, Jared Edgar McKnight, Awarded AIA PA Associate Award
WRT has announced that Jared Edgar McKnight, Associate AIA, and Architectural Designer at WRT, has been awarded the AIA Pennsylvania Associate Award for 2015.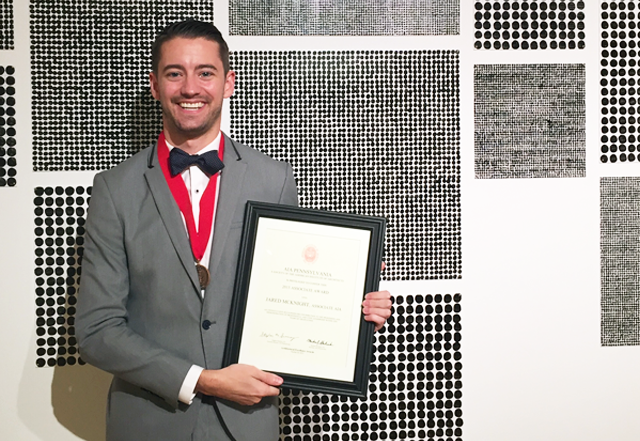 The Associate Award was created in 2014 by AIA Pennsylvania to recognize exceptional contributions to the profession by an AIA Pennsylvania Associate member who graduated in the last five years and who has demonstrated professional and civic leadership.
Jared has devoted enormous efforts to civic leadership during his young career. He has been an active member of the AIA Associate Committee since 2012, and is currently in his first year of a two- year term as the Associate Director on the AIA Philadelphia Board of Directors. In addition to his commitment to the AIA Philadelphia Board of Directors and Associate Committee, Jared served as the Event Chair for the Associate Committee and AIA Philadelphia's largest philanthropic event, CANstruction Philadelphia, over the last four years. Under Jared's leadership, CANstruction Philadelphia has become a Top three contributor to Philabundance, the largest hunger relief organization in the Delaware Valley.
Jared was nominated for the award by Antonio Fiol-Silva, Principal at WRT. "It is a true delight to work with Jared, his talent and unwavering work ethic is matched by a deep passion for the profession of architecture. Those attributes are amply evident in his outstanding service to AIA Philadelphia, other professional organizations and extend to the community at large," said Fiol-Silva. 
In recognition of his volunteer efforts and commitments to AIA Philadelphia, Jared was named the recipient of the the 2013-2014 AIA Philadelphia Volunteer of the Year Award. Jared also served as the Exhibit designer for the 2013 "Philly Green" Sustainable Design Exhibit at the Philadelphia Center for Architecture during Greenbuild 2013 and was a finalist for the 2013 AIA Philadelphia American Academy in Rome Affiliated Fellowships provided by the William Penn Foundation.