El Corazón Cultural Center Receives AIA Philadelphia Design Award
The El Corazón Cultural Center was recognized at the AIA Philadelphia 2017 Design Awards with a Merit Award in the built category. The Center was built for Taller Puertorriqueño and serves as a community amenity for the El Centro de Oro district.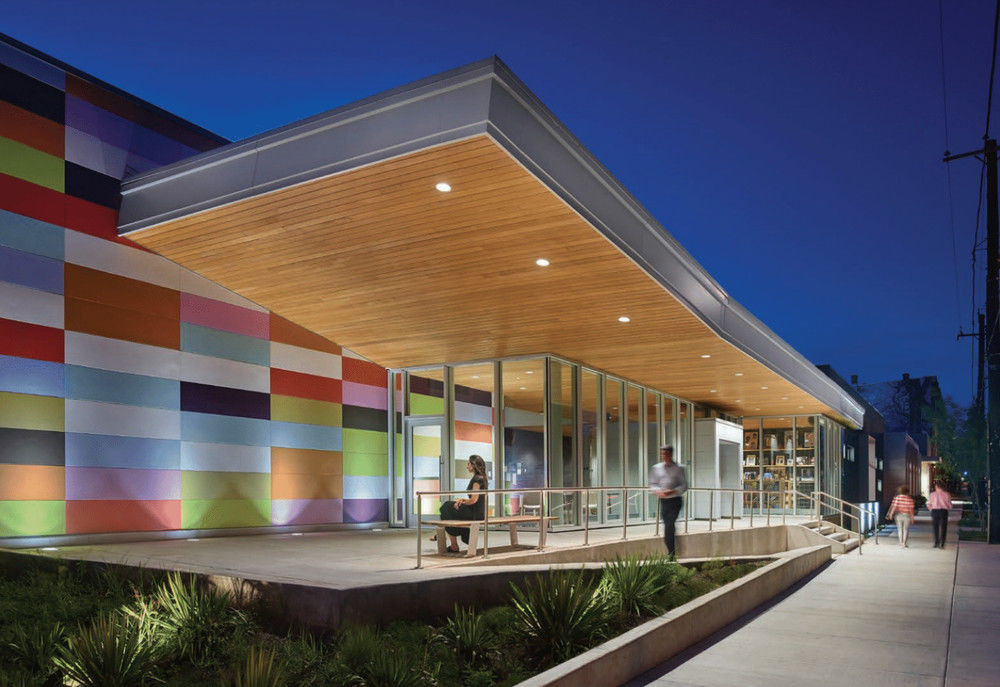 WRT served as Architect and Landscape Architect for the new community center located at 2600 N 5th Street in one of the city's largest and underserved Puerto Rican/Latino neighborhoods. Occupying half of a city block, the one-story structure is subdivided into several finely scaled volumes that are assembled into one aggregate building. As a result, El Corazón Cultural Center fits into the urban fabric while embracing the neighborhood scale. The multi-colored panels on the façade were inspired by the colorful palette of the surrounding Puerto Rican community.

Run by Taller, a nationally recognized non-profit organization that uses art as a vehicle to promote social change, the community center is designed to support a multitude of activities, centered around a multifunctional indoor space.

The building includes performance space with a capacity of more than 250 people that can be transformed into drama, dance and tutoring classrooms; an art gallery to showcase the work of local and national artists; a bilingual book and gift shop; and multiple classrooms that will allow for the expansion of art and information technology programs and after school activities. Two commercial grade kitchens support a meal service for after-school programs and summer camps and allow for a gourmet café serving Puerto Rican cuisine to the community.

The community center also houses Taller's administrative staff and offers an additional 2,000-square-feet of "office incubator" space for lease to offset operational costs. Taller will use this space to create new commercial, tourism, marketing and cultural opportunities to attract, retain and develop additional traffic from within and outside the neighborhood.