Employee Spotlight: William and Cristina on connecting with communities, the power of autosave, and hidden talents.
Planners and urban designers William Wellington (Philadelphia) and Cristina Bejarano (San Francisco) share how connecting with communities is vital to the creative process, discuss the merits of autosave, and take us roller blading along the Schuylkill River Trail.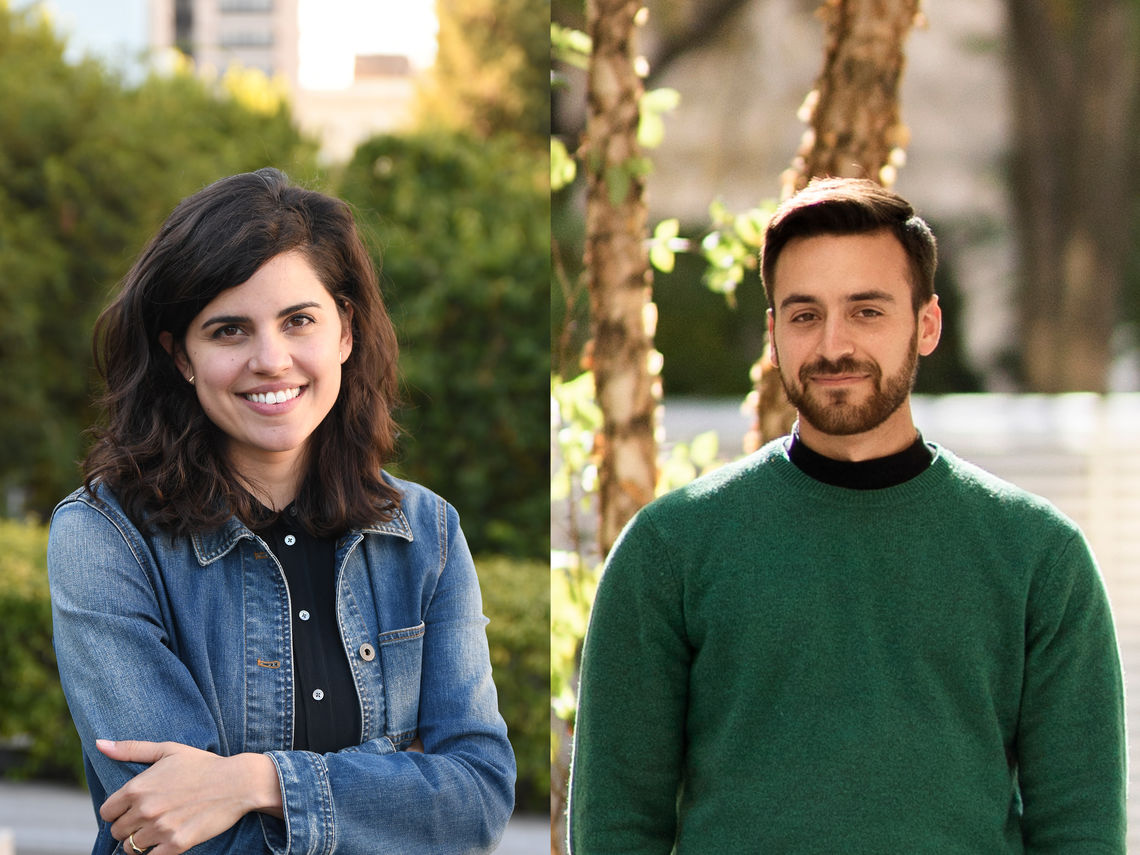 Cristina Bejarano (San Francisco), William Wellington (Philadelphia)
What is your creative process? 
William: I have found that peak creativity takes time and patience. When fortunate enough to have the time to do so, I approach design in a very iterative manner. Across mediums (writing, coding, graphic design, urban design), I usually start with a small idea or concept that acts as a seed and then begin working around it. As the concept matures, I try to find key moments to take a step back and reevaluate my work with a critical eye. Usually this process involves eliciting comments from peers and project managers, but it also involves a mental reset where I try to view my work from the eyes of someone unfamiliar with the product. 
Cristina: My creative process is rooted in listening and collecting information from a community and then organizing that understanding—and for me that usually involves mapping. I'm inspired by complicated problem solving, finding ways to detangle and align social, political, and ecological goals within a community. Maps are incredible tools that help reveal underlying relationships across the landscape, across neighborhoods, shorelines, or ecological corridors, etc. And importantly, maps can be very empowering storytelling tools that offer representation for communities that may not always hold the mic.
How much does your life influence your work and vice versa? 
W: I have been fascinated by urban environments my whole life. Living and working in a dense city, my work is informed by my life just as much as my lifestyle is informed by the choices of other planners and designers. Through observation of the way individuals use space, as well as the feedback and discourse I've been a part of in community engagement efforts, I am filled with a constant awareness of the way design effects its users. This inspires me to approach my work in a contextual manner and with empathy for those who will be impacted the most.  
C: It goes both ways. I really enjoy letting myself get swept up into my research, especially when it involves exploring a new place. As planners and designers, we are always learning about how communities are responding to their own challenges, and we try to facilitate conversations to share that learning between community groups to come up with a holistic vision. A lot of those conversations happen after daily work hours—we invest a lot of personal time and energy connecting with community groups in evenings and on weekends. Thankfully, that work inspires me and fuels my personal and professional interests.
What has been your favorite project, and why? 
W: Choosing a favorite project is not an easy task. At this moment I would have to say it's the Newport News Choice Neighborhood. That plan was such an incredible learning experience as one of my first major projects as a professional. The CNI involved coordinating and submitting grant applications, working with developers, and collaborating on design that crossed disciplines. Learning so much about the intricacies of all those components, working with an amazing team and client, and the award of an implementation grant definitely made all the late nights worth it. 
C: My current favorite project is a Risk Assessment and Adaptation Plan for the San Francisco Bay Trail to pull together a comprehensive analysis of the shoreline that will help our client prioritize Bay Trail Adaptation Projects. The plan is focused on balancing a lot of our goals in the Bay related to advancing ecological restoration, recreation, critical mobility, and building important interpretive educational opportunities. It's been very exciting to apply the latest emerging research from the Bay Area in the past decade directly to conceptual designs intended to build a long-term plan for the changing shoreline.
What are three career lessons you've learned thus far? 
W: 1) Always save your work (1b. Always make sure autosave is turned on). 
2) Always keep your files organized, even if you think it is a quick assignment you'll never see again. This goes for everything from setting up layers in a CAD/Adobe file to saving that image PDF a client sent you in a logical location. 
3) Always try to see your work from the eye of the user. Designers tend to create a self-perpetuating feedback loop, and we often forget who will be using these products. It's good practice to put yourselves in the shoes of whoever will be impacted by your work (i.e., Will a public housing resident understand the jargon in your presentation? Will a cyclist really want to ride on the path that you have designated?, etc.) 
C: Keep looking for what inspires you in a project and help others see it too! Always show up—bring your energy and ideas, and trust that your team will be ready to show up with you. And generally, make sure you build relationships with your team members and clients that makes it easy to share creative energy and build the best possible project.
What books would you recommend that fellow planners and urban designers may find useful? 
W: Happy City by Charles Montgomery was an amazing read on the power of smart user-oriented design in a complicated socio-political environment. The Works: Anatomy of a City by Kate Ascher is a great look (with great graphics) on the complexities of the urban environment and how long-lasting of an impact our work can have as cities change through time. 
C: Useful books in planning and urban design are often not just about planning and urban design. I think any books that expand your ability to tell the story of place and its community are beneficial, especially through a variety of visual languages. Olafur Eliasson's team published a book about their own studio through the lens of their kitchen, titled appropriately, The Kitchen. It's a beautiful collection of photographs, drawings, writings, and delicious recipes that show the relationships between the themes of their research and daily lives.
Bonus Question: 
What is your hidden talent? 
W: I can rollerblade very long distances with relative ease. Growing up with the long flat expanses of beachfront trails and Florida sidewalks, I often go 15 miles or beyond. I am not sure if it is much of a talent... but others have told me just staying upright on a pair of rollerblades is a feat. A few lucky WRT-ers have even caught me out on the Schuylkill River Trail for a post-work spin. 
C: Hidden talents are often hidden for a reason! I'll share that I have a knack for finding local bookstores and magazine shops when I travel.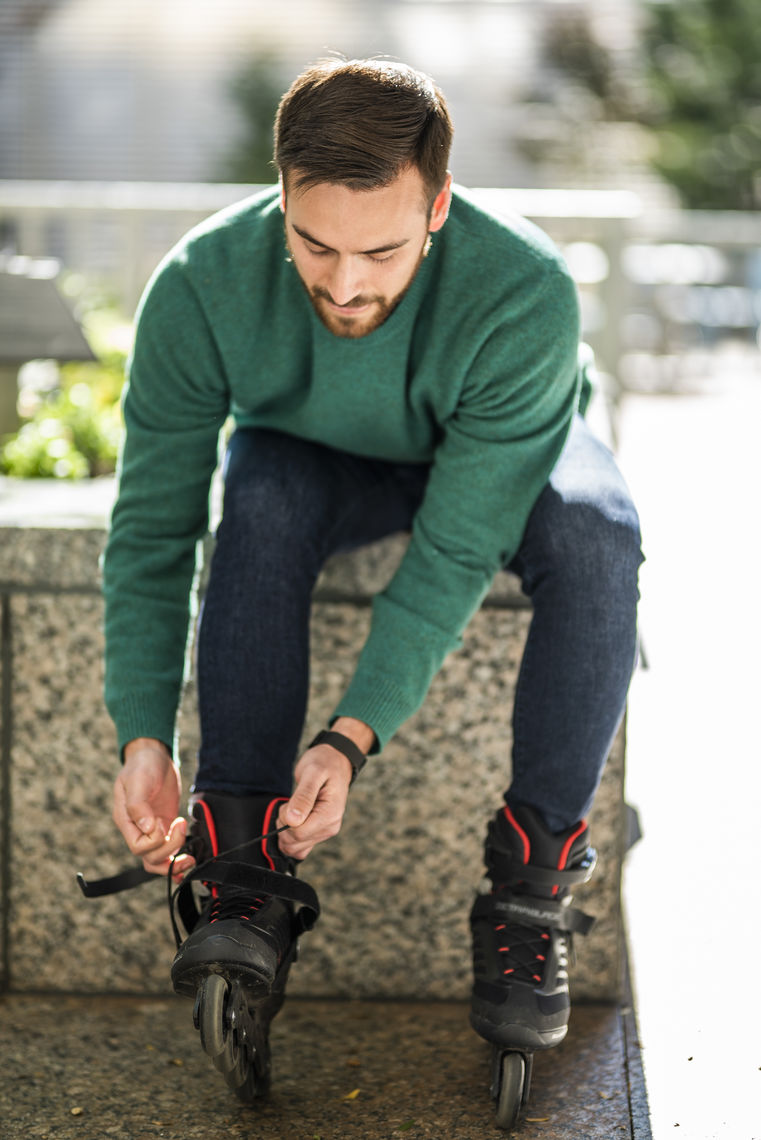 William prepping for an after-work roll.