Horwitz-Wasserman Holocaust Memorial Plaza Opens in Philadelphia
On Monday, October 22, 2018, WRT commemorated the grand opening of the Horwitz-Wasserman Holocaust Memorial Plaza, located on the iconic Benjamin Franklin Parkway in Philadelphia.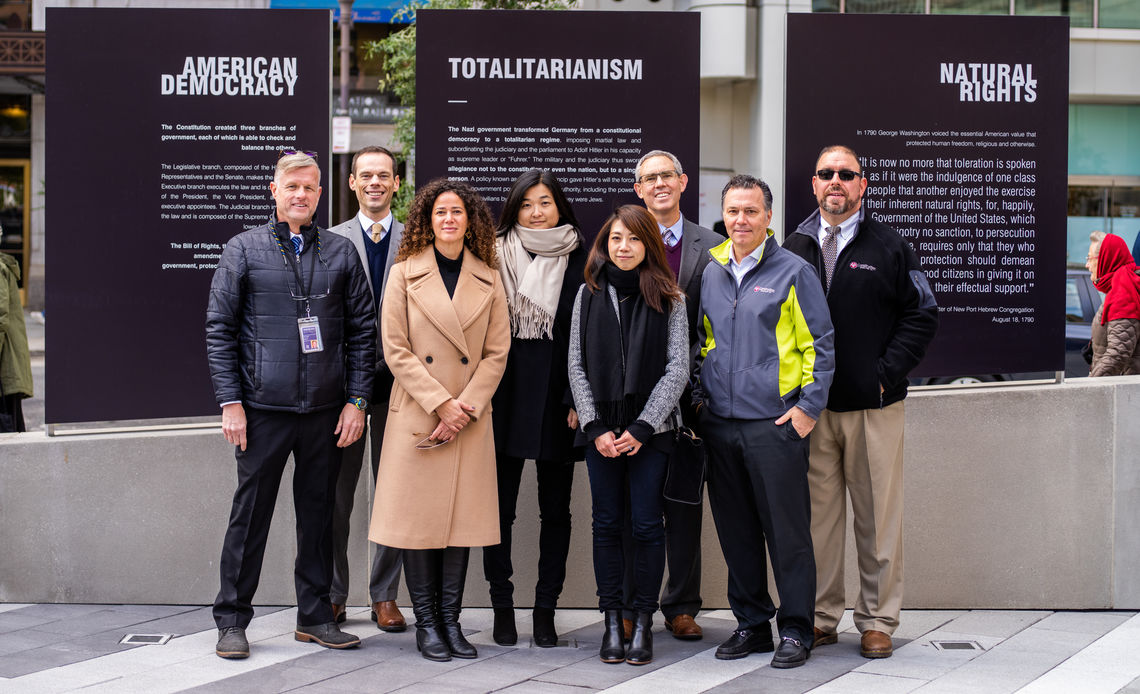 As a proud partner, WRT designed the Memorial Plaza to feature historical and interpretive elements around the original "Monument to Six Million Jewish Martyrs" by Nathan Rapoport, the first public Holocaust memorial in the United States.
The $7 million project was led by the Philadelphia Holocaust Remembrance Foundation, a non-profit organization joined by business and community leaders to undertake the expansion of the Holocaust Memorial Plaza.
"The design of the Memorial Plaza pays equal attention to the contemplative quality and the civic public space functionality, considering its context as the gateway of the iconic Benjamin Franklin Parkway. We're very fortunate to have the opportunity to reintroduce the Memorial Plaza as an outdoor classroom and an inviting public plaza," said WRT's project landscape architect Misa Chen.
"We want to send a message that as long as Americans stay true to the Constitution and the democratic values that we all share, a genocide like the Holocaust could not happen here."
—Eszter Kutas, Director of the Philadelphia Holocaust Remembrance Foundation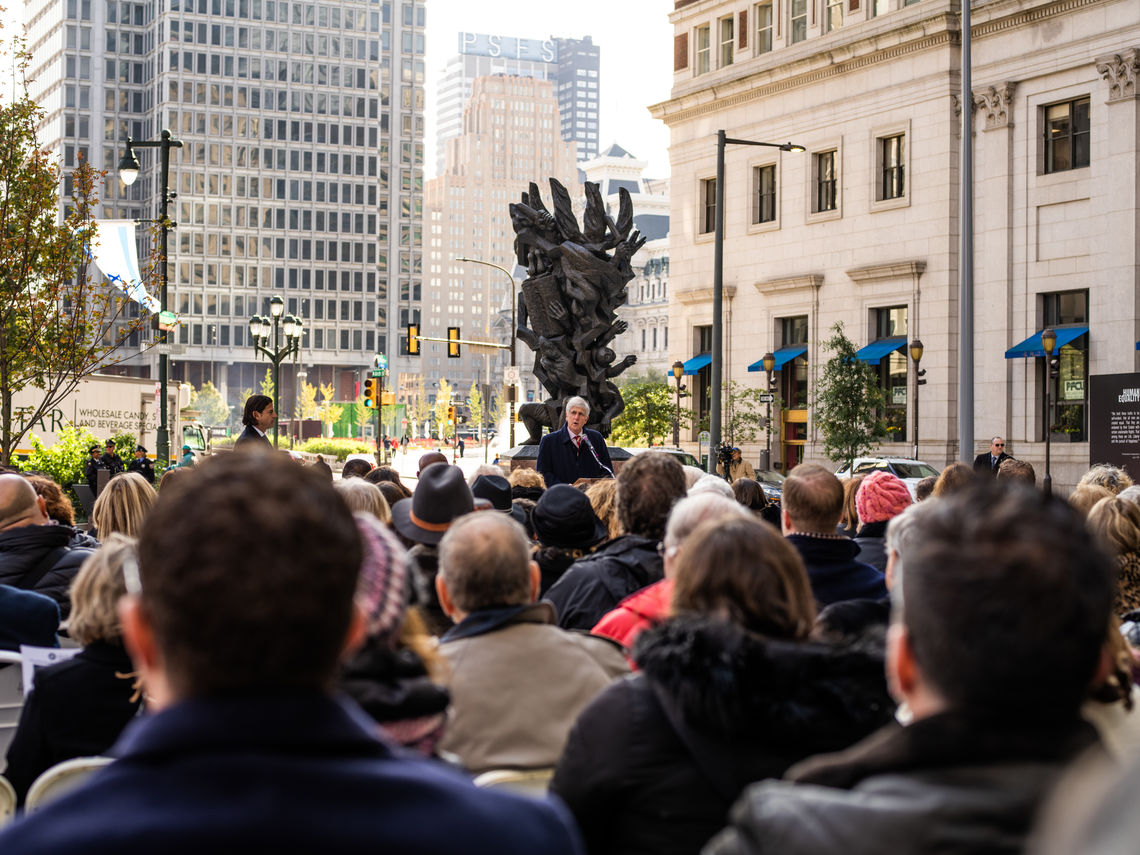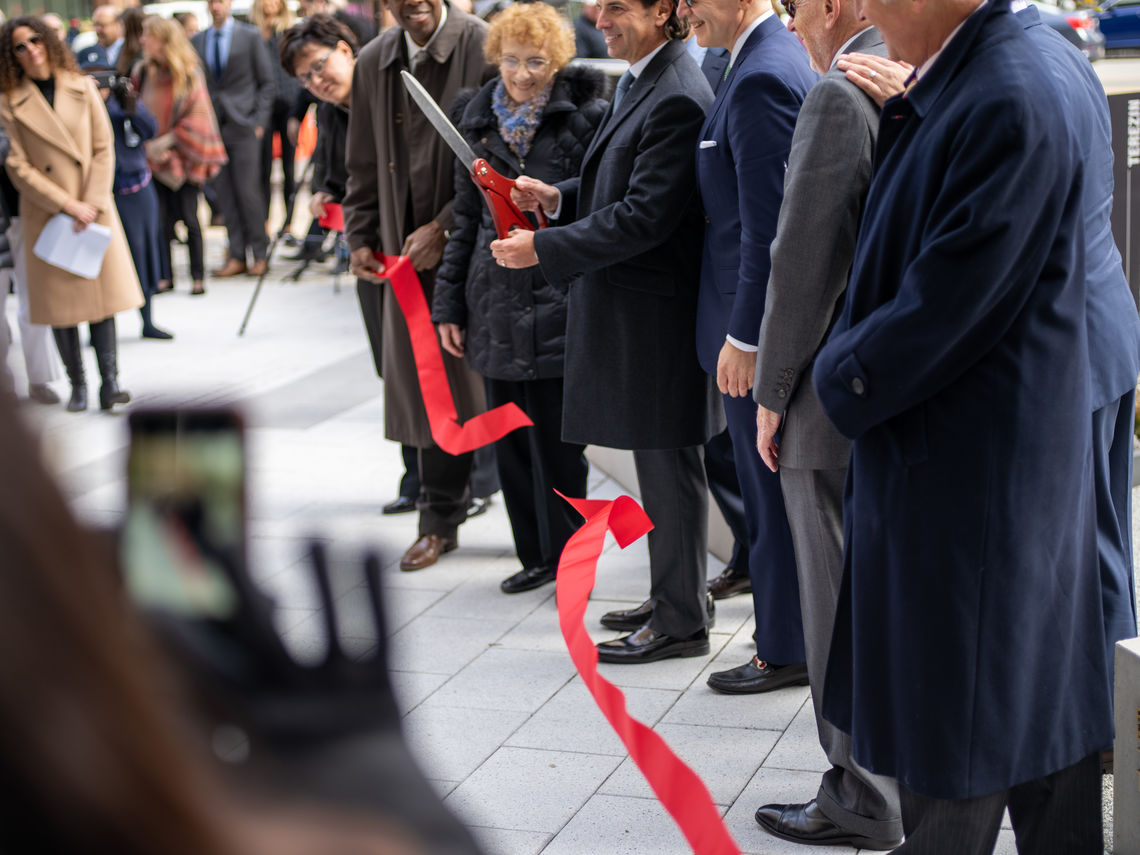 The grand opening event featured opening remarks from the Philadelphia Holocaust Remembrance Foundation Executive Committee: David Adelman, Steven Kessler, Matthew Pestronk, and Jacob Reiter. Other speakers included Kathryn Ott Lovell, Commissioner of Philadelphia Parks & Recreation, Paul Levy, CEO of Center City District, Stephen Cozen, Board Chair of USC Shoah Foundation, representatives from Philadelphia City Council and the Pennsylvania State Senate, and Anneliese Nossbaum, a Holocaust survivor.
WRT principal Keiko Tsuruta Cramer said, "It is tremendous honor for WRT to be part of this long-awaited Memorial Plaza, creating an all-inclusive public space with opportunities to both remember history and look towards the future together."
We invite you to learn more about the Horwitz-Wasserman Holocaust Memorial Plaza and visit when you are in Philadelphia. To supplement the visitor experience, a pioneering mobile app, IWalk, guides visitors through the Plaza using personal testimonials from Holocaust survivors and witnesses. As visitors approach specific features of the Plaza, IWalk presents content specific to these features and customizes it to each visitor's age, language preference, and learning objectives.
Horwitz-Wasserman Holocaust Memorial Plaza (CC) Horwitz-Wasserman Holocaust Memorial Plaza Media Coverage