ISU Research Park Greenbelt
Located in Aimes, Iowa, Iowa State University Research Park (ISURP) was founded to provide the space and resources needed to advance science-based initiatives. WRT was commissioned by Shive Hattery Architecture + Engineering, in cooperation with Great Ecology, Earthview Environmental, and E Resources Group, to develop a vision for a community greenbelt to be located in the latest phase of research park's expansion.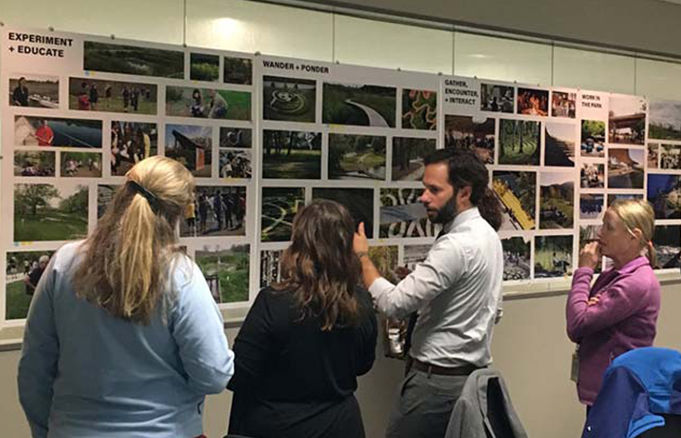 Weaving through the expanding campus, the park represents an opportunity to showcase innovative stormwater solutions, create space for gathering and outdoor meetings, and bring recreational space into the research park for employees and the general public. The greenbelt will also contain interconnected recreational trails that tie into the larger Story County trail network.
WRT recently completed a full day charrette with the Story County Conservation Board, and stakeholders of the Iowa State University Research Park, to discuss concepts for the greenbelt park. The meeting included discussion of program types, desired aesthetics, and restoration efforts. Designs for the park master plan are now underway, and the finished park will have multiple circulation routes, seating areas, gathering spaces, environmental education nodes for school groups, meeting and laboratory/demonstration zones for the adjacent campus, and a restored streambed, prairie landscape, and wetland.
To learn more about Iowa State University Research Park please visit: www.isupark.org