Mariposa Creek Parkway Design Phase Moves Forward
With funding in place, Mariposa County, CA is moving forward with the second step in implementing a linear park and trailway located along the Mariposa Creek in the town of Mariposa.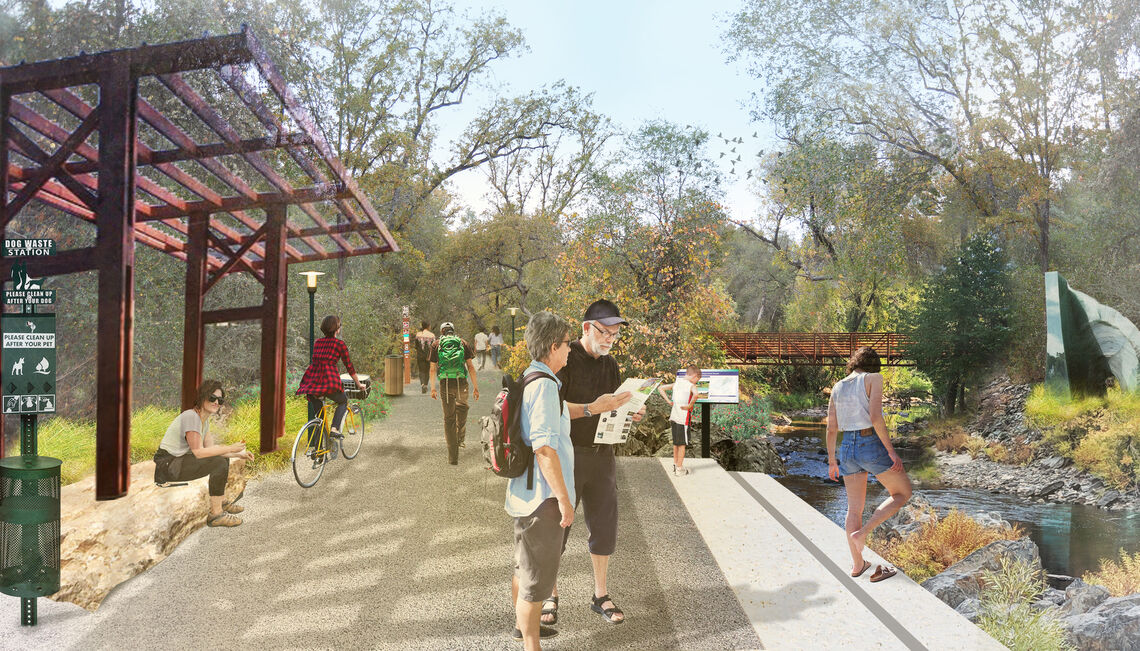 The design team, led by WRT, engineers Provost and Pritchard, ecological consultants Live Oak Associates, and the Sierra Foothill Conservancy will be following the implementation guidelines of the Mariposa Creek Parkway Master Plan, the award-winning community-based vision prepared by WRT in 2019. 
 
The first step, which was habit restoration work within the Mariposa Creek corridor, including the removal of invasive species through hand-cutting, a series of cultural burns, and replanting native riparian species, was necessary to encourage more wildlife and promote better resiliency in time of flood or fire. Additionally, the new plantings will create a better experience for users by opening up viewsheds and creating a better sense of safety and visibility on the future trail.  
When completed, the Mariposa Creek Parkway will function as an active transportation resource, linking residents and visitors to neighborhoods, businesses, and tourist amenities, while conserving and interpreting the distinctive beauty of the Sierra Foothill riparian landscape. It will provide engaging opportunities for creative placemaking projects like public art and performance, and it will build community culture by establishing a unique and compelling space for Mariposa to gather. 
"We're really excited to continue our relationship with the Parkway and the town of Mariposa," said WRT's Andrew Dawson, PLA, ASLA. "We've organized a design and implementation team who is personally committed to the implementation of the Master Plan for the benefit of the community and the ecology of the Mariposa Creek watershed."