Painted Threats on Display at Philadelphia Flower Show
WRT's exhibit aims to raise awareness about the importance of reconnecting with FDR Park's declining tidal freshwater habitats, which are critical to the larger environment in terms of their network of environmental, economic, and social benefits.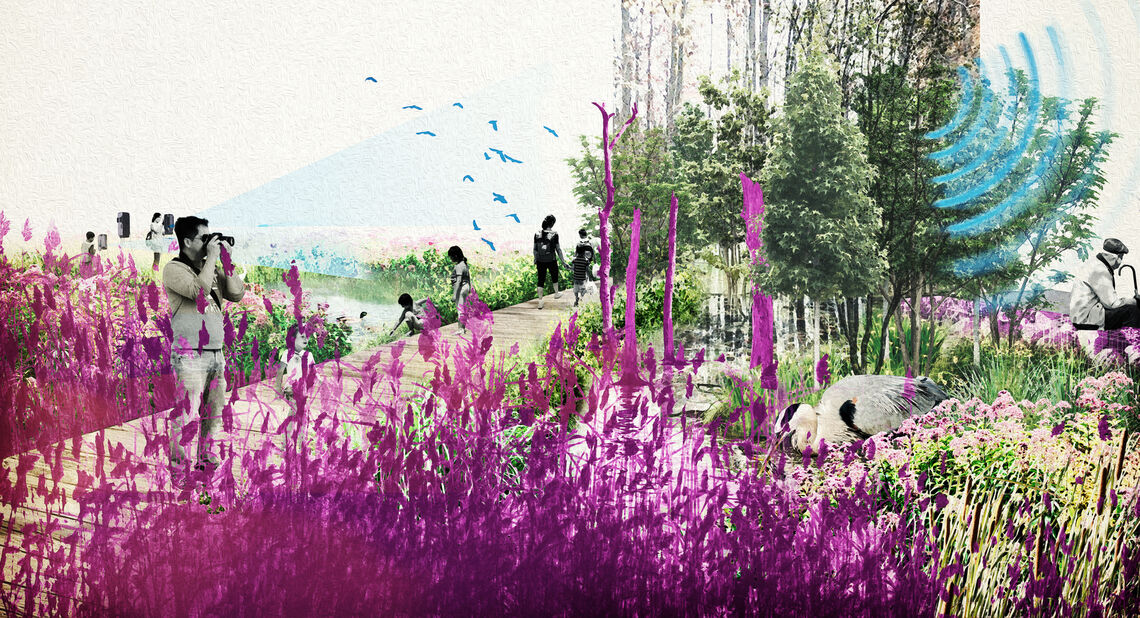 WRT's exhibit, Painted Threats, will be on display at this year's Philadelphia Flower Show, taking place June 5 to 13 at FDR Park. Being held outdoors for the first time, the Philadelphia Flower Show is the nation's largest and longest-running horticultural event.
Painted Threats highlights the benefits of the tidal freshwater habitats while identifying some of the major threats. The threats of "Invasive Phragmites", which reduce biodiversity and alter native habitats, "Ghost Forests", freshwater trees killed by the intrusion of salt water brought on by the warmer temperatures of climate change, and "Runoff Pollution" discarded garbage that threatens water quality, endangering native habitats and local wildlife, have been harvested in FDR Park just feet from the exhibit. They are painted magenta so they contrast with the native habitat.
"We see this year's outdoor Flower Show as a way to reinterpret the native habitat of FDR Park, said Kristine Pedersen, the exhibit's project manager. "Having completed the park's master plan, we are intimately familiar with its unique attributes and opportunities, as well as the challenges."
Even broader threats such as the COVID pandemic, climate crisis, and need for equal justice are forcing us to reset our relationship with nature. Major shifts in our environmental, social, and economic conditions will substantially change the way people live. The exhibit aims to bring attention to the need to recalibrate, restructure, and reorder the way we interact with our planet.
"We're looking forward to sharing this information with the community about the native freshwater tide marsh habitat in FDR Park and hope that it makes people rethink their personal impact on the environment, whether that's picking up trash, reducing carbon emissions or supporting native plant species," Kristine said.