Paseo Verde Wins 2019 Congress for the New Urbanism Merit Award
The 19th annual CNU Charter Awards honor professionals engaged in revitalizing cities through the creation of mixed-use, walkable neighborhood development.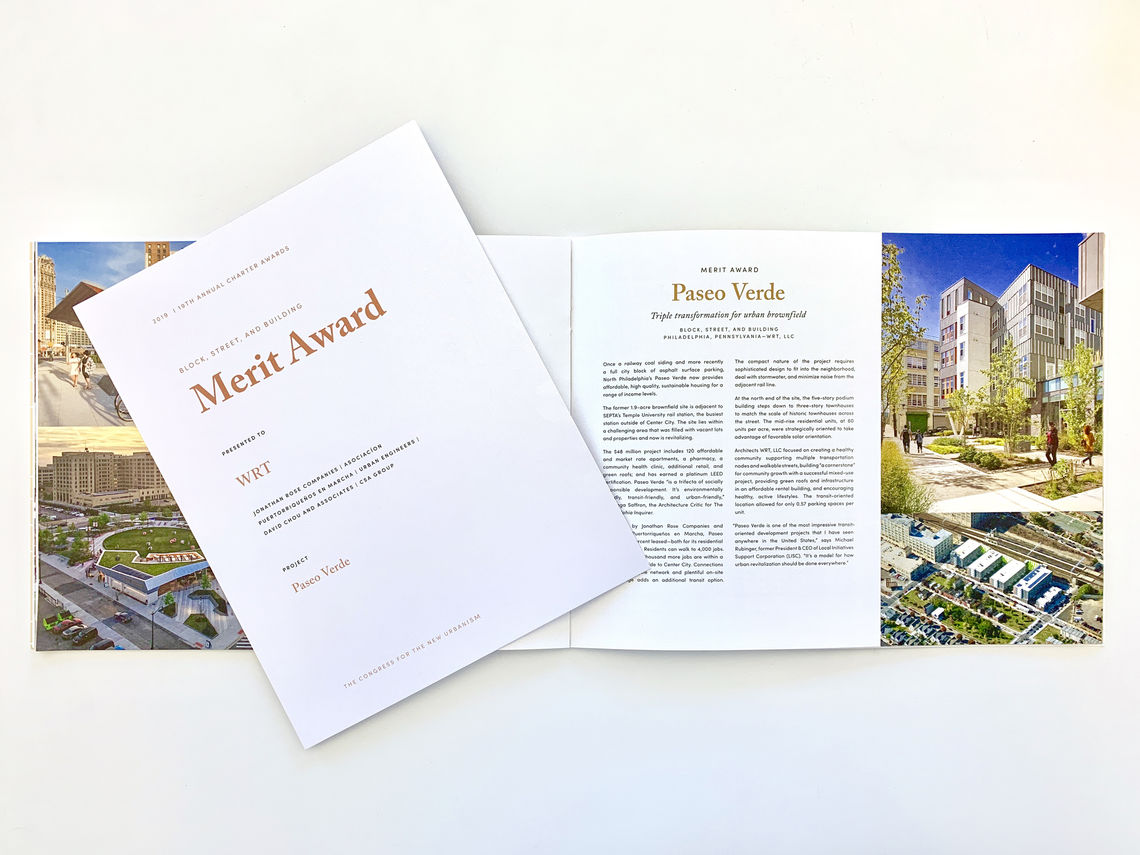 On June 14, 2019, Congress for New Urbanism (CNU) presented Paseo Verde with a Block, Street, and Building Merit Award at their annual Congress in Louisville, Kentucky. The awards jury selected projects that show "the versatility and wide applicability of New Urbanism's principles," and Paseo Verde, an affordable mixed-use, transit-oriented, LEED platinum development in Philadelphia was one of five Merit Award winners.
"For almost twenty years, the Charter Awards have been a watermark of how far New Urbanism has come," said 2019 jury chair Michael J. Busha. "Many projects this year have changed the culture of decision making at local agencies and regional planning councils. These projects encourage us all to redouble our efforts to educate and keep the pressure on key decision makers at all levels."
Located on a former 1.90-acre brownfield site adjacent to a popular university regional rail station, Paseo Verde includes 120 affordable and market rate apartments, a pharmacy, a community health clinic, additional retail, offices, and green roofs. It is the first LEED ND Platinum project under the 2009 standard (a standard that CNU help develop) and is fully leased for both its residential and commercial spaces.
"Paseo Verde is one of the most impressive transit-oriented development projects that I have seen anywhere in the United States," says Michael Rubinger, former President & CEO of Local Initiatives Support Corporation (LISC). "It's a model for how urban revitalization should be done everywhere."
WRT worked in conjunction with co-developers Asociación Puertorriqueños en Marcha and Jonathan Rose Companies and engineers David Chou and Associates, CSA Group, and Urban Engineers to complete Paseo Verde, which opened to the public in 2014.