Resurgence in Bethlehem Continues with Pedestrian Bridge Feasibility Study
The bridge will bring safer connection to major trails, promote economic development, and present an opportunity to create a distinctive city commons.

Throughout the City of Bethlehem's recent history, grassroots efforts driven by residents in partnership with the City and area organizations have defined a resurgence that has enhanced the vibrancy of the City, its north and southside neighborhoods, and its arts and cultural communities.  
 
And as far back as 2016, the vision for one of these projects, a pedestrian bridge over the Lehigh River, was being advanced by local partners such as the Sierra Club and South Side Initiative.  
Viewed as a safer connection for pedestrians and bikers to major trails such as the Delaware & Lehigh National Heritage Corridor with the South Bethlehem Greenway, it was also conceived to connect the two halves of the city's downtown and harness economic synergies. Forming a human-centered connection also presents a unique opportunity to create a distinctive civic commons⁠—a welcoming central gathering place for the entire community to come together.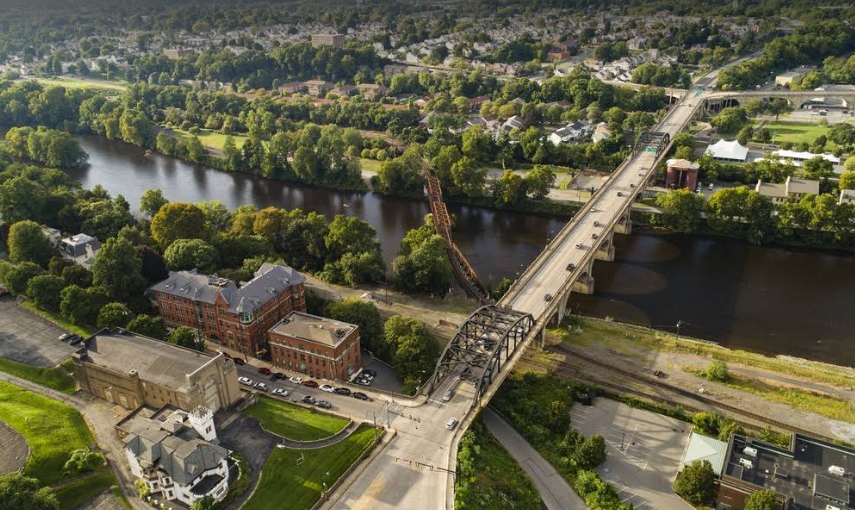 "The Lehigh River has played a vital role in shaping the city's development and is an invaluable natural resource offering stunning views and recreational opportunities, but it also poses a physical barrier that has traditionally made it difficult to connect and unify the two downtowns into a cohesive whole," said the City of Bethlehem's Director of Planning, Darlene Heller. 
To identify a suitable location, develop a conceptual design, and understand the full scope, permitting, and cost implications, the City has engaged WRT to lead a feasibility study, in collaboration with the national transportation engineers, Michael Baker International, Inc., and Philadelphia-based economic consultants, Econsult Solutions.  
 
WRT, which is bringing its planning, landscape architecture, and urban design expertise to the project, is already familiar with the area context, having been involved in some of the City's most innovative placemaking efforts over the past 10 years, including SteelStacks, the Hoover Mason Trestle, the Northside 2027 Plan, and South New Street.  
 
"Ensuring that the feasibility study continues the great work started by the community and organizations in Bethlehem will require the study to not simply look at the structure of the two downtowns separated by the Lehigh River, and their adjacencies, but also to look to the people and organizations who make up the active community of participants who will ultimately use and benefit from the introduction of this new bridge," said WRT's project manager Stacey Blankin. 

Project updates can be found at  https://www.bridgebethlehem.com/.
"We look forward to building on the passion, enthusiasm, and hard work of the Sierra Club, South Side Initiative and other grassroots partners and the City to physically link the north and south sides together as one "walkable" City of Bethlehem," said Blankin.