Robinson Terminal North Gains Alexandria City Council Approval
WRT has announced that the Alexandria City Council voted unanimously on October 17th, to approve the construction of the redevelopment of Robinson Terminal North.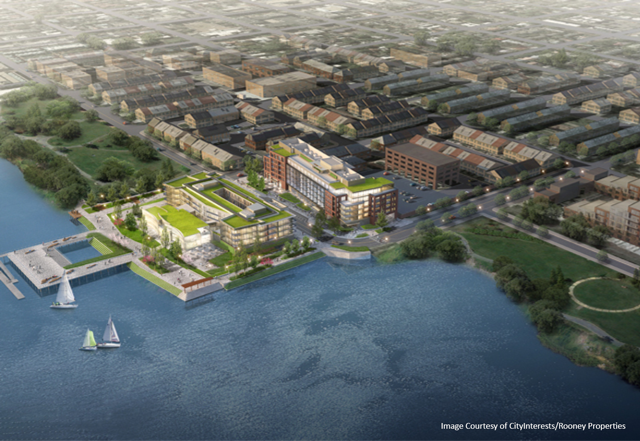 WRT in collaboration with Hickok Cole Architects for City Interests and Rooney Properties, is transforming approximately 6 acres on the Alexandria Waterfront, formerly known as Robinson Terminal North, into a mixed-use community. 
The two building development will include 66 multi-family units, 25,000-square-feet of retail space, up to four restaurants, and a 132-room hotel in addition to design features such as recessed bays, fritted glass, a two-story pavilion, and approximately 2.2 acres of public open space. 
WRT's landscape design features a streetscape along North Union Street that celebrates Alexandria's history, a waterfront promenade that connects Founders Park and Oronoco Bay Park, a railroad-inspired native plants garden, and a public pier with views of the nation's capital and the Potomac River. 
In addition to the public spaces, WRT is also designing the tranquil private residential courtyards and green roofs on both buildings. The redevelopment of Robinson Terminal North is expected to be completed in 2018. 
"The redesign for Robinson Terminal North is part of the city's new waterfront and open space plan," Misa Hsinyi Chen, ASLA, RLA, Associate at WRT, "We assisted in designing a plan that not only embodied modern architecture but also the history and authenticity of Alexandria, VA."
The timeline of Alexandria's history is filled with events that helped shape the state of Virginia and the nation. The West's Point, which runs from the water west up Oronoco Street to North Union Street, was the earliest continuously occupied site in the city. The West's Point represents the origins of Alexandria — and the idea of America — in the early to mid-18th century, and the importance of tobacco to the development of the town.