Second Phase of Village at Park River Achieves Passive House Certification
Village at Park River is a transformative redevelopment of Westbrook Village, a 40-acre former public housing site in Hartford, CT. When all phases are complete, there will be 420 units of mixed-income housing designed to meet Passive House standards.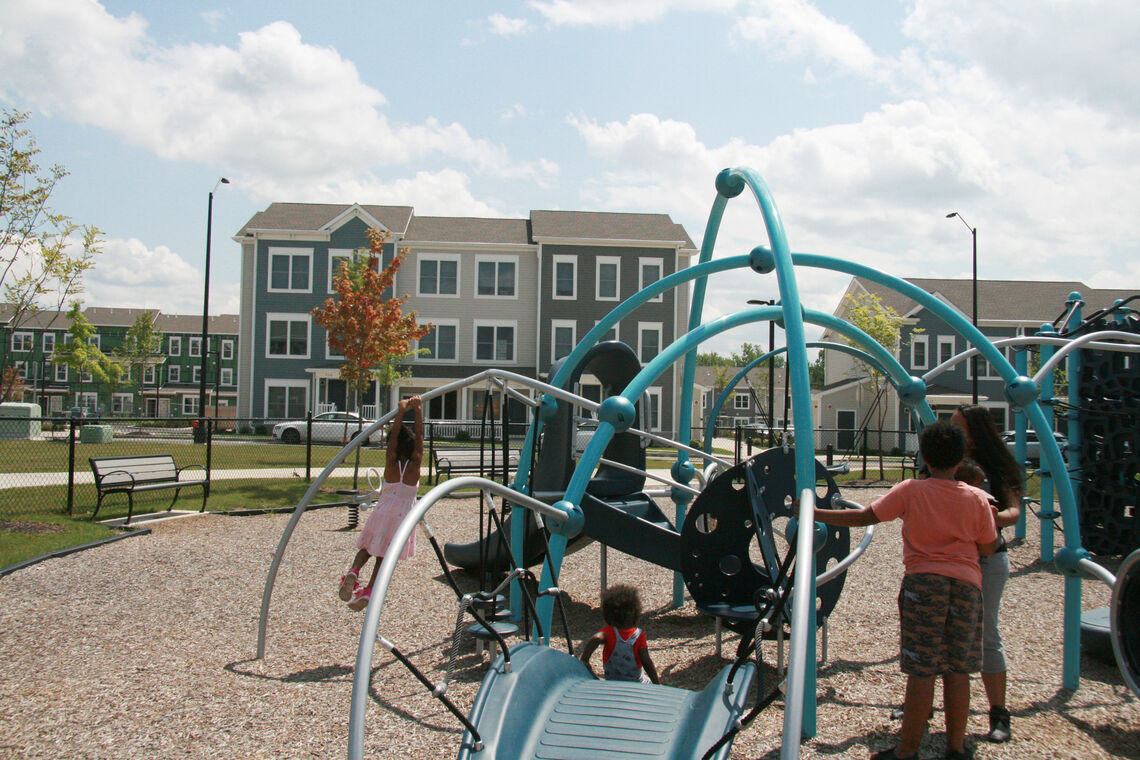 Upon completion, Village at Park River will be one of the largest Passive House certified affordable housing projects in the state of Connecticut.
The second phase of Village at Park River has achieved Passive House Institute US+ (PHIUS) 2015 certification.  
  
As an organization committed to making high-performance passive building the mainstream market standard, PHIUS certifies that buildings with the PHIUS+ standard use 40-60 percent less energy for space conditioning than conventional buildings.
Passive House certified buildings provide residents with superior indoor air quality, resilience during power outages, and quiet, comfortable indoor environments for their homes.  
Building to meet the Passive House standard will allow these residents to live in a comfortable and healthy environment where low energy costs will help ensure affordability for years to come.

The construction includes an airtight building envelope with a continuous air barrier, exterior continuous insulation, thermally broken detailing, extensive perimeter air sealing, Passive House certified triple-glazed windows and high-efficiency Energy Recovery Ventilation systems coupled with smaller, more efficient heating and cooling systems. The development also includes a solar PV system to partially offset the site lighting energy requirements.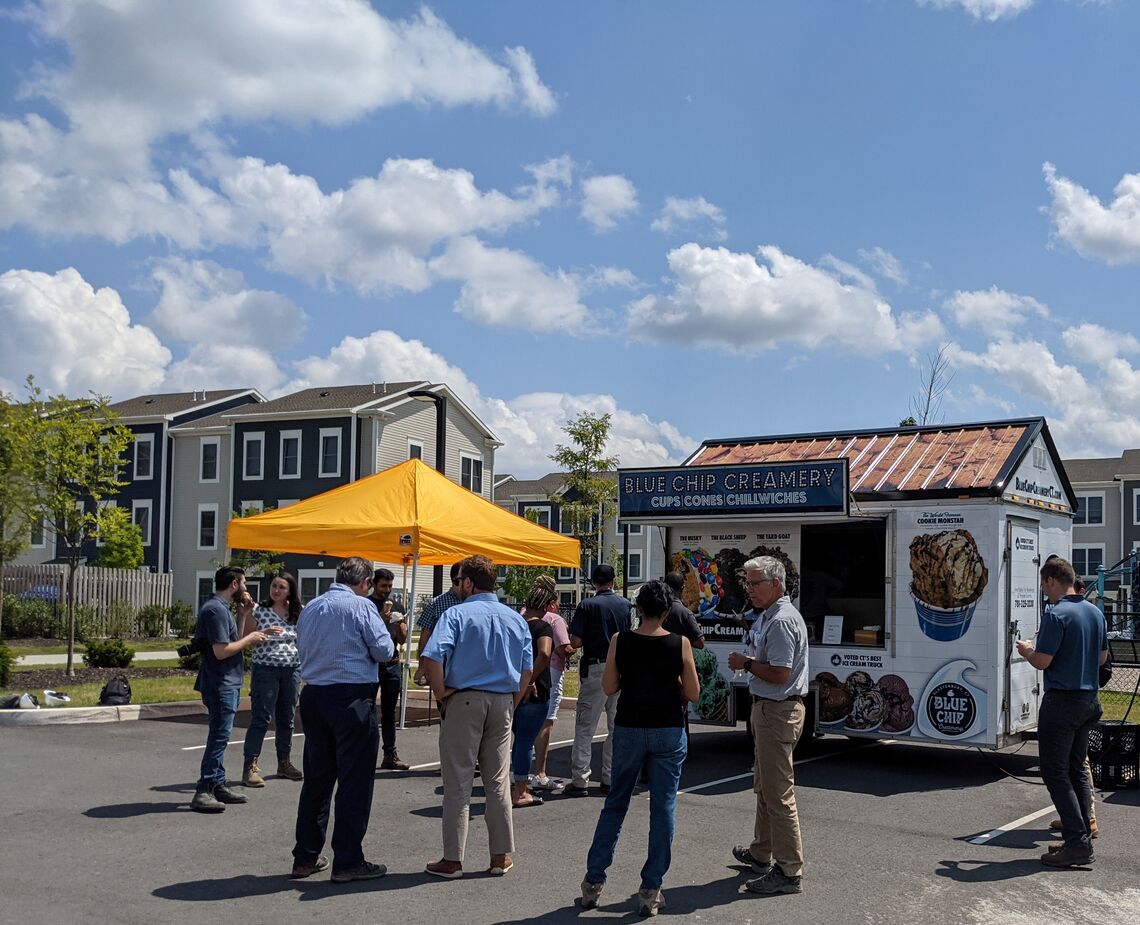 Residents discuss the Development with members of the project team during an Ice Cream Social.
Engaged by co-developers, Pennrose Properties and The Cloud Company, WRT developed the master plan and is the architect for seven phases of the development. In addition to new homes, residents will be able to enjoy bike paths, community gardens, playgrounds, a dog park, a community building with a fitness center and meeting space, and central park.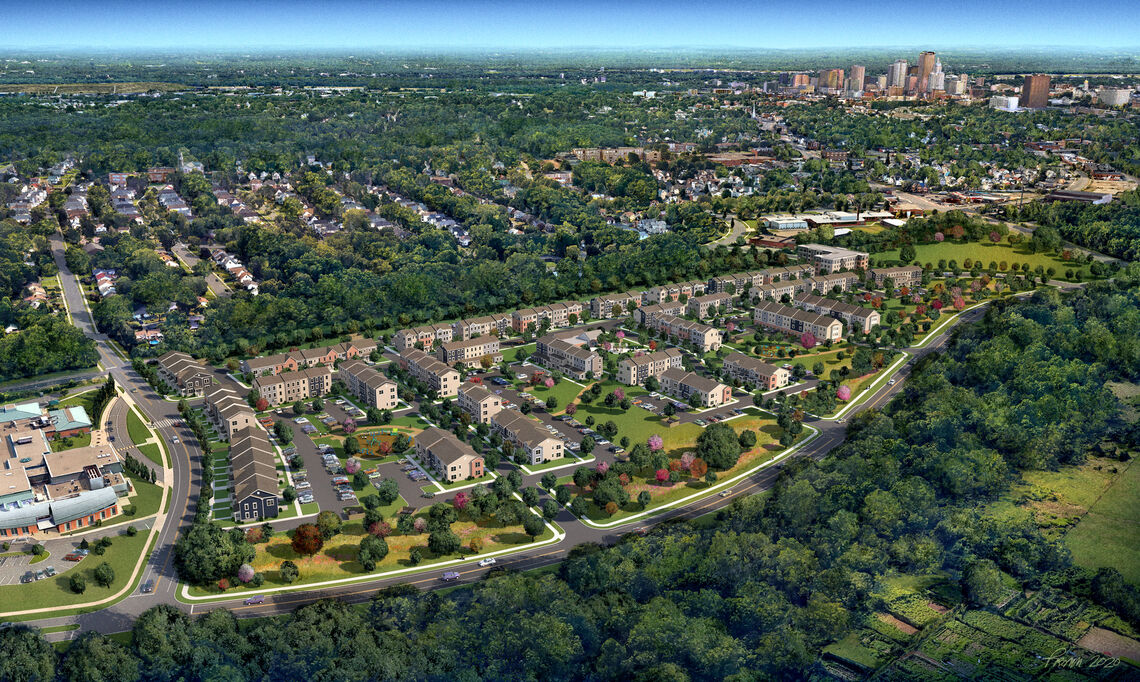 The master plan  interweaves carefully scaled, charming, walkable streets with public open space, trails, gardens, play and gathering spaces that promote resident interaction, health, and wellness. 
According to Gov. Ned Lamont, "Helping all Connecticut residents afford high-quality housing in the community of their choice supports families, kickstarts the economy, and makes neighborhoods vibrant places to live and work. The Village at Park River is an excellent example of what can be accomplished when the community collaborates with developers to create a vision that will work for all."  
"Not only is this project transforming a neighborhood, but it is also transforming the very concept of affordable housing," said Suzanne Piacentini, U.S. Department of Housing and Urban Development (HUD) Field Office Director for Connecticut. "Projects like this provide a template for cities throughout New England and the country, looking for ways to convert dated, obsolete housing complexes into thriving, walkable, affordable neighborhoods and communities." 
Village at Park River Transformation