Strong Visions Help Downtowns Stay on Track for Success
In the California communities of Castro Valley, Santa Clara, and Millbrae, WRT is working with stakeholders to put strategic elements in place, allowing them to flourish and grow while retaining the character and identity that makes them unique.
Strong downtowns are at the heart of thriving communities with a rich mix of uses that provide opportunities for people to live, work, shop and recreate. To stay relevant over time, downtowns must have a few key ingredients – a strong vision for the future, strategies for ongoing attraction and investment, a degree of nimbleness in how they respond to market trends and issues, and a well-crafted place.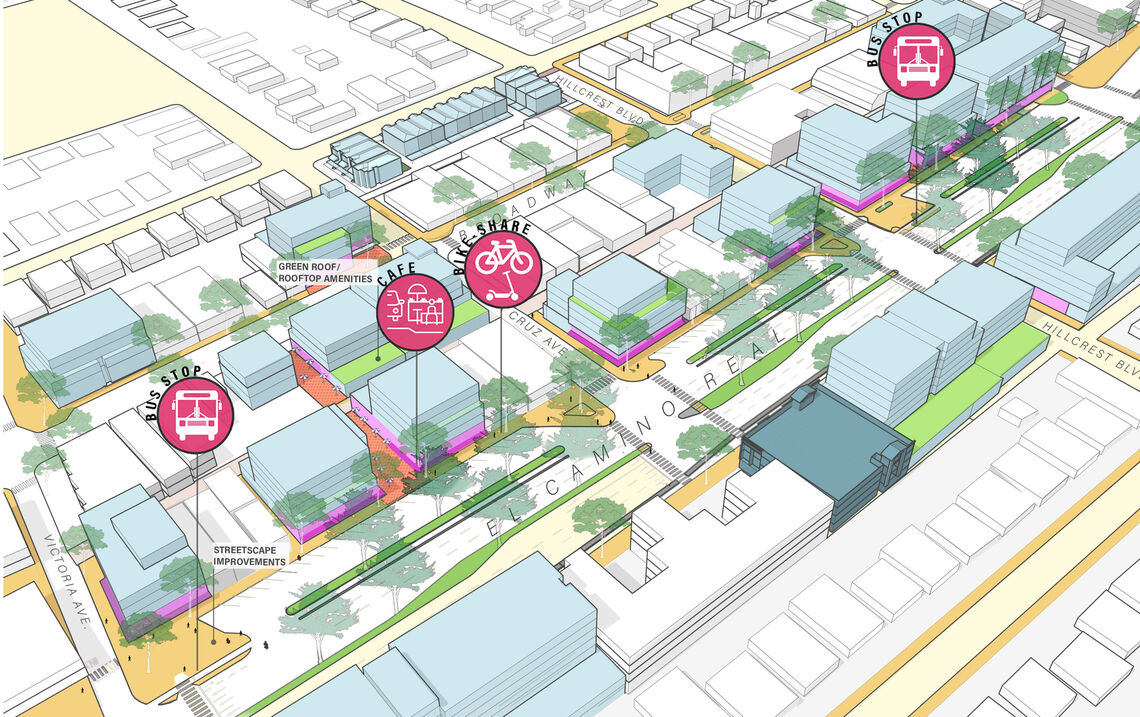 The Millbrae Downtown and El Camino Real Specific Plan and Streetscape Plan build on the assets of this tight-knit downtown district and sets a framework for accommodating a rich mix of businesses, restaurants, housing, and social spaces while maintaining its quaint character. The Plans recommend bold moves to transform El Camino Real from a six-lane auto-oriented thoroughfare into a Grand Boulevard lined with shade trees, wide sidewalks, protected bike lanes and gracious transit stops and a rich mix of uses that support economic vitality, active mobility, and a thriving social life.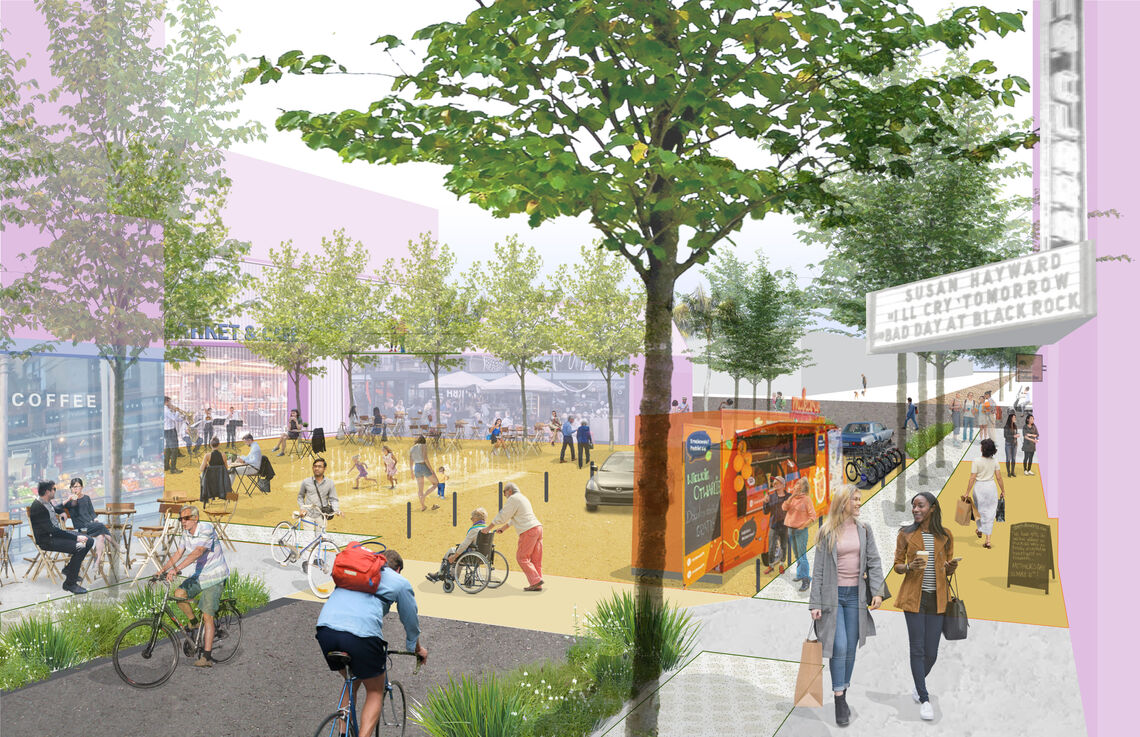 Celebrating history while simultaneously looking into the future, the downtown Santa Clara Precise Plan is working on bringing back the historic downtown that was substantially  demolished in the 1960s to make way for a mall that was never built. Working closely with a team of subject matter experts and a deeply engaged Task Force, we are crafting a plan that will establish the essential components of a thriving and unique Downtown—cultural catalysts, everyday, affordable retail, quality public spaces, and urban building heights and massing—while allowing flexibility and promoting adaptability over time.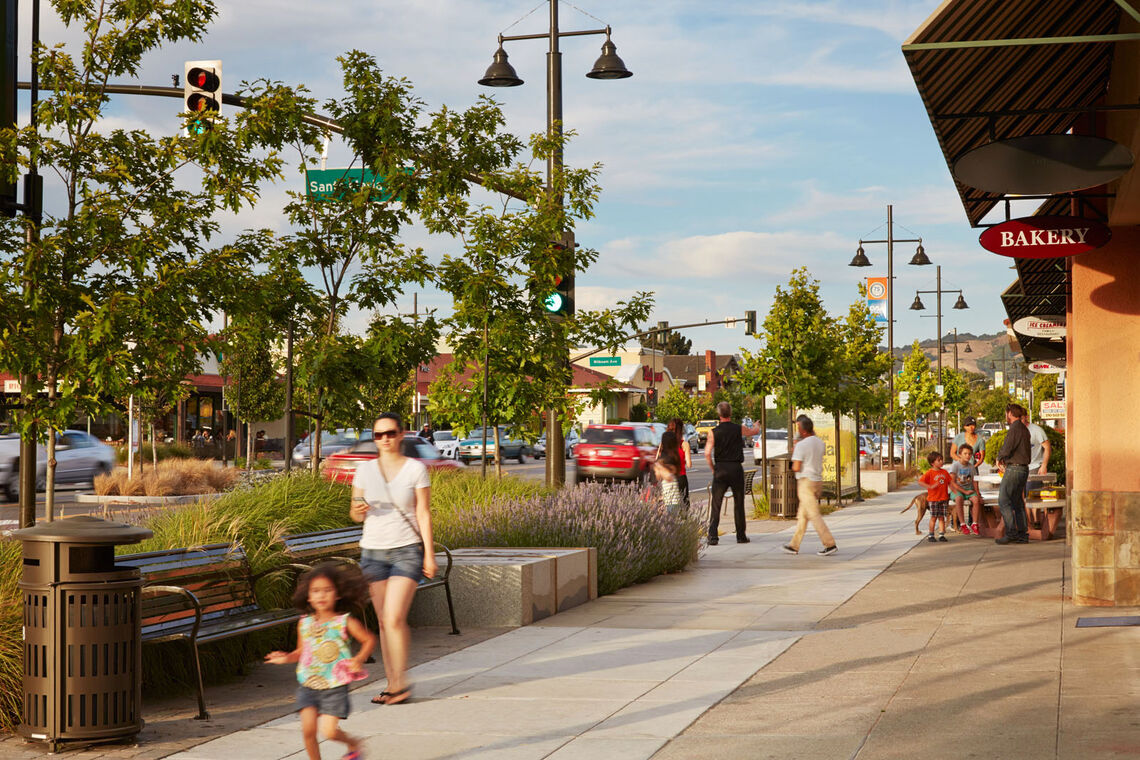 In Castro Valley, the implementation of the Redevelopment Strategic Plan led to a dramatic re-invention of the Castro Valley Boulevard streetscape and has led to the cultivation of their downtown area through a number of private initiatives, as well as an overall safer and more inviting main street. 
Downtown Castro Valley is benefiting from places like this marketplace from Main Street Property Services.
While maintaining their unique character, each of these downtowns will continue to implement the series of design visions where communities will embrace growth and continue to thrive.