Empowered Adaptations Selected as Super Studio Curated Project
WRT's project was one of 55 plans selected internationally by the Green New Deal Superstudio "to catalyze conversation and illustrate the wide variety of issues, innovation, scales, and geographic regions represented in the 670 Superstudio submissions."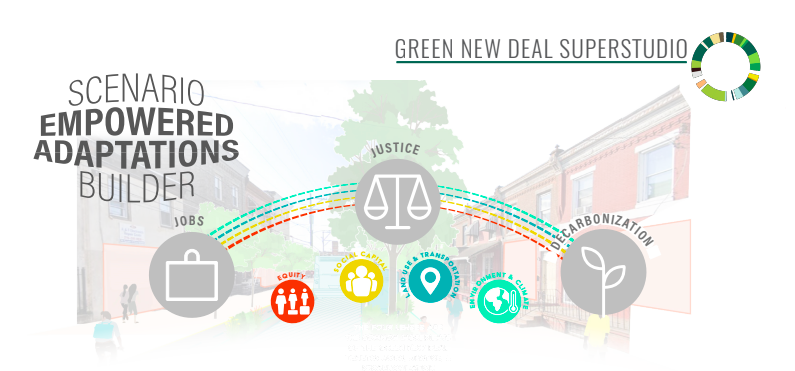 The Landscape Architecture Foundation (LAF) in association with the Weitzman School of Design McHarg Center, the Center for Resilient Cities and Landscapes, the American Society of Landscape Architects (ASLA), and the Council of Educators in Landscape Architecture invited designers to be part of a historic, national initiative to translate the core goals of the Green New Deal—decarbonization, justice, and jobs—into design and planning projects for their respective regions.
The Superstudio was an open call for designs that spatially manifest the principles and policy ideas of the Green New Deal with regional and local specificity. Some 670 projects were submitted as part of the year-long initiative, which attracted the participation of over 90 universities in 39 states and 10 countries, as well as hundreds of practitioners from across the design disciplines. The projects range from pragmatic to speculative and cover a wide variety of issues, innovation, scales, and geographic regions.

A curated set of 55 projects were selected to illustrate the breadth of work submitted. The projects are organized into 6 categories: Adapt, Empower, Energize, Remediate, Retrofit and Cultivate. Empowered Adaptations was chosen among 55 others in the "Empower" category of projects, which are said to be "projects illustrating how designers have attempted to align their work with the movements for climate, housing, economic, and racial justice."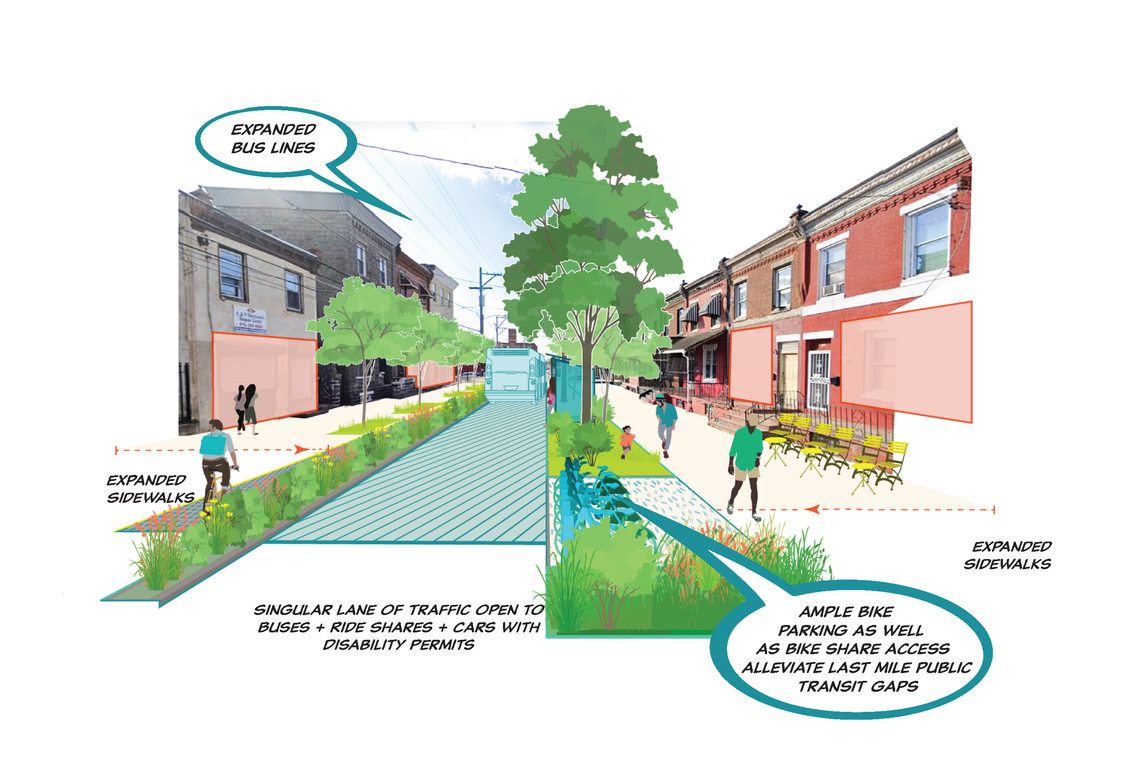 Empowered Adaptations is a replicable methodology conceptualized by WRT that uses a data-driven decision-making tool to help communities and policymakers identify innovative strategies, prioritize initiatives, and direct resources to support equity and resilience in climate mitigation and adaptation work. The tool ensures a holistic approach to reducing carbon emissions through socially equitable interventions that stabilize communities. 

The tool uses the four lenses: [Equity], [Land Use + Transportation], [Environment], and [Community + Social Capital] to develop metrics to identify priority investment areas and assess potential intervention impacts. Mapping highlights areas with the greatest need and the greatest opportunities for catalytic and sustainable change across the four lenses.
A toolkit of interventions for each of these four lenses draws from best practices to mitigate the risks that additional environmental stresses may place on already burdened communities and to increase social equity while reducing "whole community" carbon footprint. This toolkit provides inputs for the scenario builder which assesses options for advancing a carbon neutral future without the human and environmental toll that can accompany urban sustainability initiatives.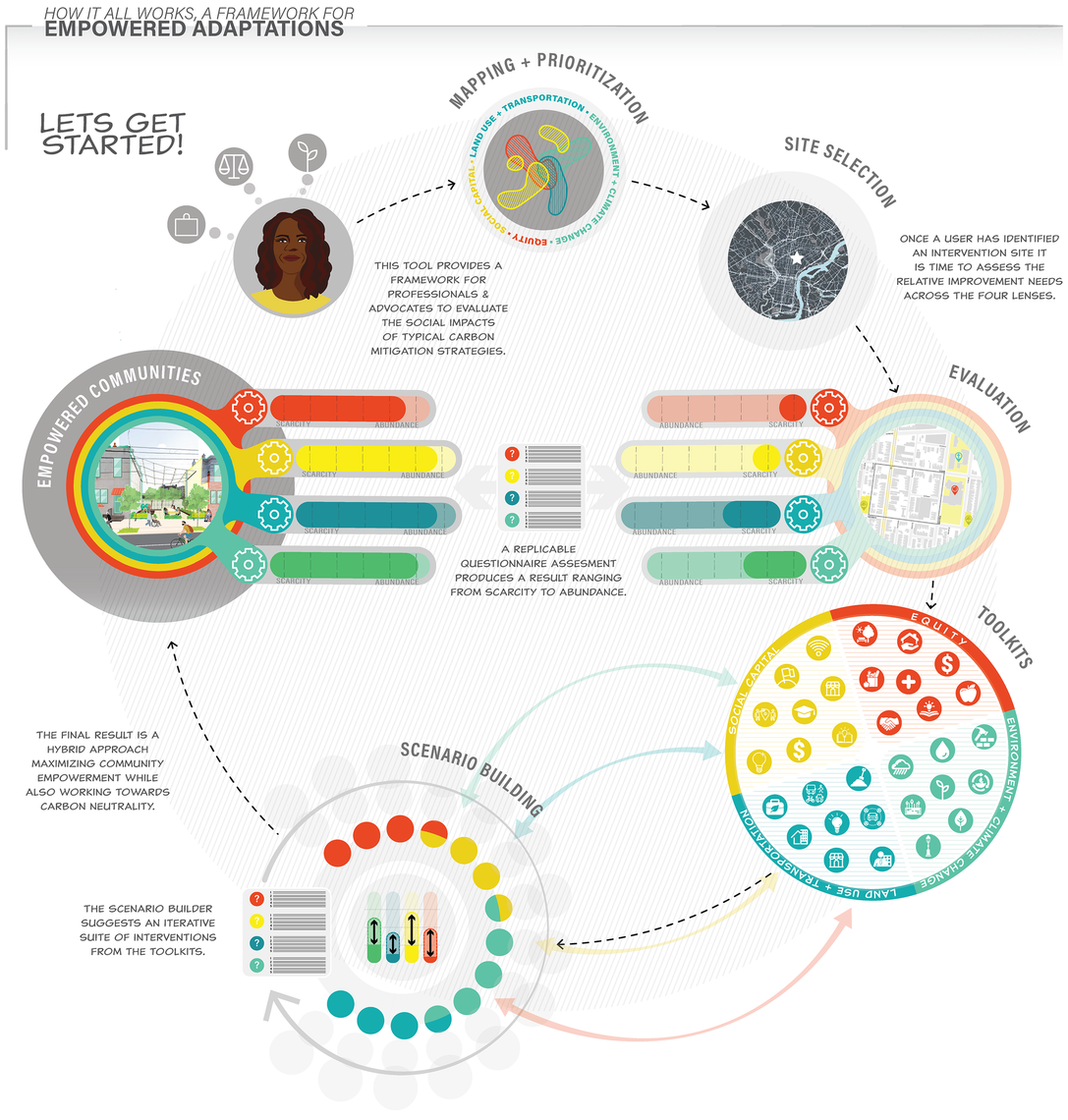 The scenario builder assesses potential interplays between interventions – where some tools might multiply or invert the effects of other tools, or where the positive impacts of one intervention on some lenses might be counteracted by unintended negative impacts on others. This assessment of interplays identifies social/equity interventions that can be instituted to mitigate the potential displacement impacts that a carbon footprint can have on a community, ensuring that all populations can benefit from a cleaner, greener, and safer environment.
Congratulations to WRT team members Garlen Capita, Zoe Cennami, Keiko Cramer, Zuzanna Drozdz, Charles Neer, Amie Patel, William Wellington, and Shuning Zhao on this exciting accomplishment!