Taller Puertorriqueño Celebrates Grand Opening of El Corazón Cultural Center
Taller Puertorriqueño, Inc. (Taller), WRT, and Antonio Fiol-Silva, the founding Principal of SITIO, celebrated the grand opening of El Corazón Cultural Center, a 25,000-square-foot cultural hub in North Philadelphia, on December 7th.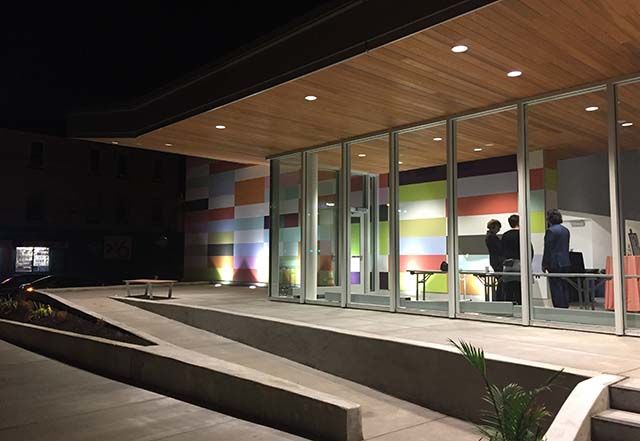 WRT served as Architect and Landscape Architect for the state of the art building located at 2600 N 5th Street in one of the city's largest and poorest Puerto Rican/Latino neighborhoods. Occupying half of the city block, the one-story structure is sub-divided into several finely scaled volumes that are assembled into one aggregate building. As a result, El Corazón Cultural Center fits into urban fabric while embracing the neighborhood scale; this can be seen in the multi-colored panels on the façade which reference the colorful palette of many Puerto Rican households in the surrounding community.
Run by Taller, a nationally recognized non-profit organization that uses art as a vehicle to promote social change, the new Center is designed as a multifunctional space around one central indoor patio to support a multitude of activities.
The new community center includes performance space with a capacity of more than 250 people that can be subdivided into drama, dance and tutoring classrooms; an art gallery to showcase the work of local and national artists; a bilingual book and gift shop; and multiple classrooms that will allow for the expansion of art and information technology programs and after school activities. Two commercial grade kitchens support a meal service for after-school programs and summer camps allow for a gourmet café serving Puerto Rican cuisine to the community.
"This initiative started in 2009 when Taller embarked upon a formal Capital Expansion Program and commissioned WRT to complete the feasibility study for the development of the center," said Vera Kiselev, WRT Senior Associate and Project Manager "By identifying Taller's needs and realistic strategies for the development and operations of the center early in the planning process, we were able to deliver a center that serves the community, Taller, other local businesses, and the City as a whole."
The community center also houses Taller's administrative staff and offers an additional 2,000-square-feet of "office incubator" space for lease to support the operational costs. Taller will use this new location to create new commercial, tourism, marketing and cultural opportunities to attract, retain and develop additional traffic from within and outside the neighborhood.
"This center and its impact represent the first of its kind in Philadelphia, the state, and the region.  It also represents the most comprehensive endeavor Taller has undertaken in its 42-year history," said Dr. Carmen Febo-San Miguel, Executive Director of Taller.  "We thank the many funders and individuals who have made this dream a reality including, the State of Pennsylvania and City of Philadelphia, Philadelphia LISC, the Connelly Foundation, and so many others."
"The realization of Taller Puertorriqueño's new Cultural Center is a dream long in the making," said Antonio Fiol-Silva, the building's architect working in partnership with WRT "All of the elements are in  place for the new building to become a vessel for the extraordinary array of offerings and programs that are destined to make El Corazón Cultural Center the cultural heart of our region's Latino community."