Three Cities to Address Tough but Important Questions in Equitable Planning Processes
Tulsa, Houston, and Newark are part of a growing sense of urgency and commitment from cities across the country to bridge community divides and make investments toward a brighter and shared future for all.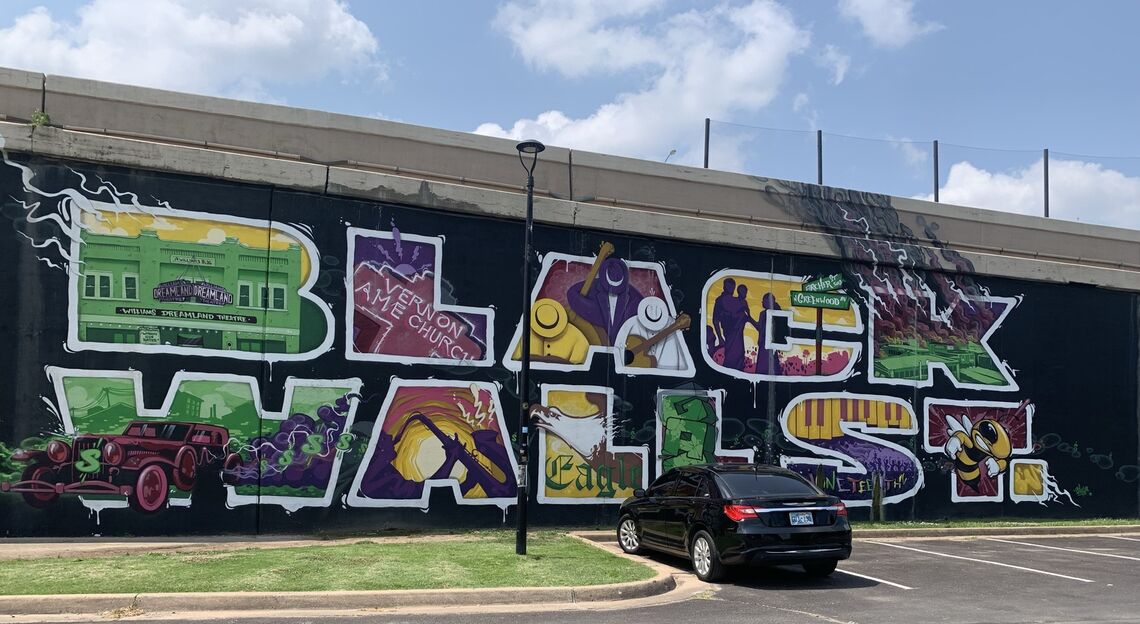 The Thriving Black Community in Tulsa's Greenwood Area achieved much success in the face of adversity, earning the name Black Wall Streeet.
Across the country, our cities share a history – one of prosperous times, and of challenging times. What is clear today, however, is that this history of prosperity and challenge has not been shared equitably between communities. Today, many of our cities share common themes of racial segregation and uneven investments, rooted in a dark legacy of racism that the country is grappling with again. However, this is a moment unlike any other. The COVID-19 Pandemic has magnified disparities, while the national social justice movement has raised the stakes. A nationwide consensus is building – it's time to plan for a better and more equitable future.
WRT is embarking on new work with communities in three notable cities with shared histories of inequity – Tulsa, OK, Houston, TX, and Newark, NJ.
While each city is unique in its location, specific history, and the stories of the people who live there, they all share common themes that have led to the present moment—a history of black and brown hard work, success, and entrepreneurship, stifled by malicious policies and practices, disinvestment, discrimination and segregation along racial and economic lines.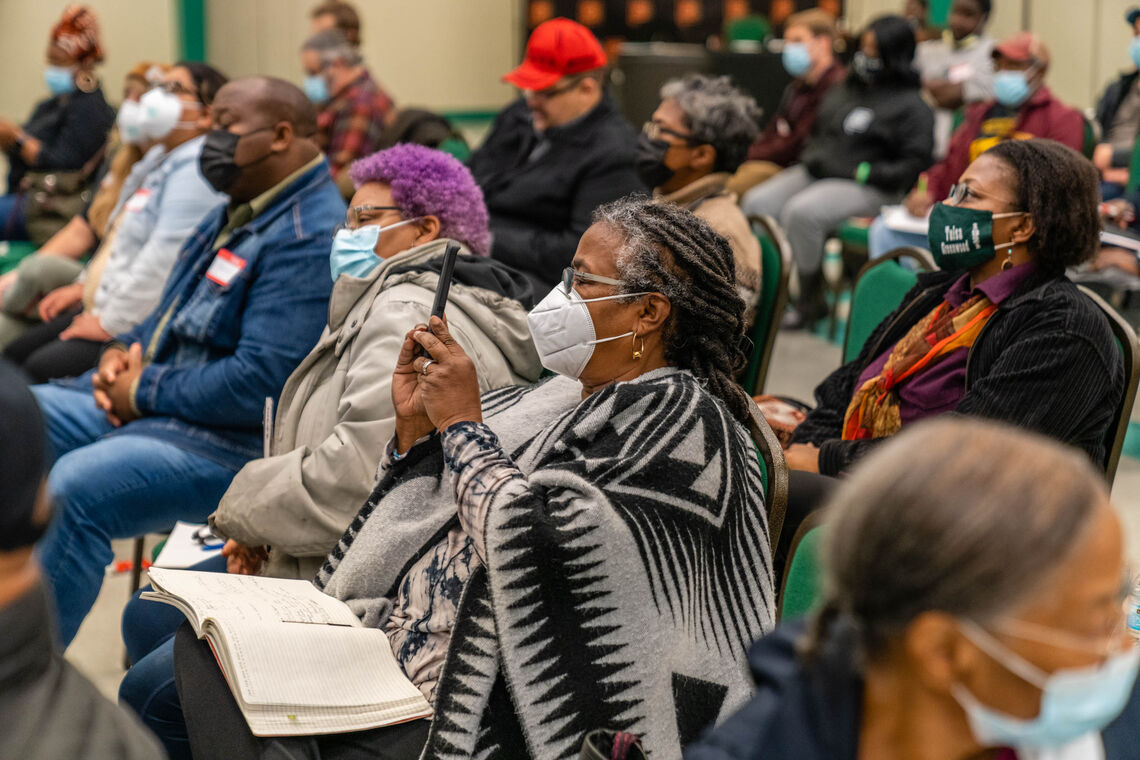 Tulsa Residents attend a public meeting to learn about the Planning process.
In the 1920s and 1930s, the Greenwood neighborhood of the Tulsa area became known as Black Wall Street – a vibrant corridor of small businesses and a beacon of black excellence. Standing in the way, however, was white rage – first in the form of violent white mobs as part of the Tulsa Race Massacre, and next in the form of predatory lending, public disinvestment, and other factors—which led to the mid-century decline of the area. Today, those disparities remain while investment and growth in downtown Tulsa continue.
Between 1910 and 1930, Houston's Third Ward became the cultural, political, and economic epicenter of black life in Houston. The growing black community faced physical and economic segregation and discrimination yet met these obstacles head-on with hard work and creative pooling of resources to build thriving, self-sufficient communities. However, just like the Greenwood District in Tulsa, Houston's Third Ward eventually succumbed to similar patterns of neglect, disinvestment, and decline.
Newark experienced incredible demographic changes in the post-war years, with deindustrialization and suburbanization leading to widespread white flight. As black and brown people began to move to the city, they were faced with racial discrimination, substandard and overcrowded housing, and community disinvestment. These factors pushed many black and brown Newarkers into poverty and eventually led to the infamous 1967 Newark Rebellion as tensions boiled over.
These three projects will lay the groundwork for a more equitable future for citizens in each of these cities and provide strategies on how to get there.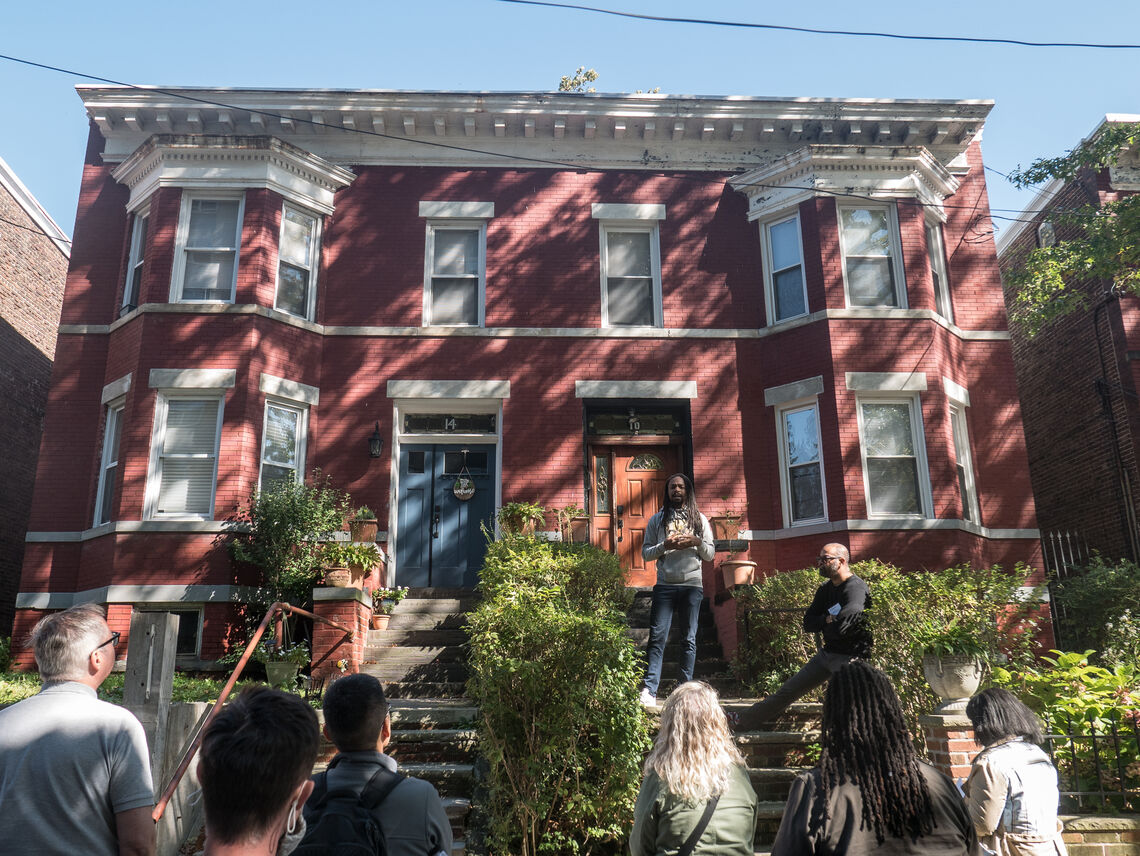 The WRT Team tours Newark, NJ alongside Stakeholders and residents - the early steps of establishing an understanding to guide the planning process. 
In Tulsa, the Kirkpatrick Heights/Greenwood Master Plan will provide an action-oriented redevelopment strategy that ensures Black Tulsans, descendants of the Race Massacre, and all future generations experience social and economic benefits.
In Houston, the Third Ward Choice Neighborhood Plan presents a significant opportunity to leverage existing local efforts and future investment to lay out the equitable and inclusive framework for the next 50 years.
Finally, in Newark, the Newark 360 Master Plan will guide the physical development and policy framework of Newark for the next decade with a focus on mitigating the City's historical inequities. It will be an opportunity to listen to Newarkers and develop a collective vision for the next decade.
As these important projects kick off, we are humbled by the opportunity to play a role in envisioning and planning for more equitable futures for these three cities. More significant than these three individual projects, however, is the growing sense of urgency and commitment in cities across the country in working to bridge divides between communities and making investments toward a brighter and shared future for all.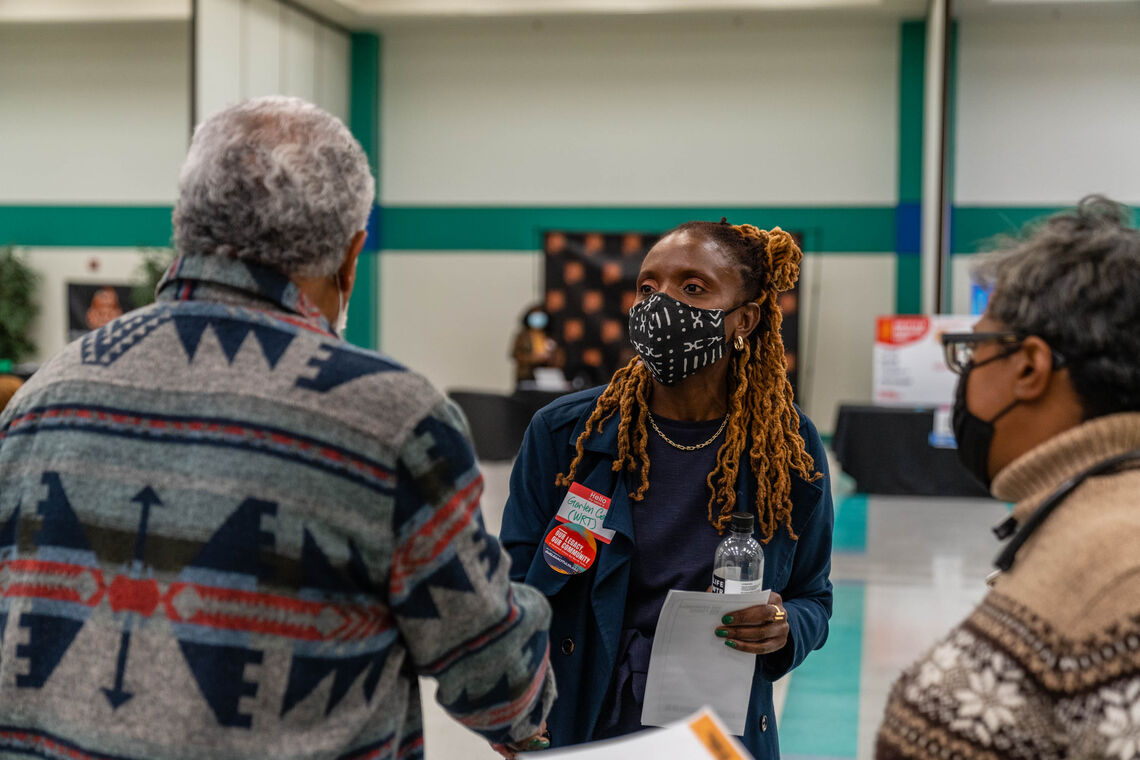 WRT's Garlen Capita speaks with Tulsa residents at a community event.
Through these three projects, we will address tough but important questions, such as:
How do you restore ownership to the community and create an avenue for sustainable wealth building?
How do we right past wrongs through equitable planning and development?
And specifically: how will the Kirkpatrick Heights/Greenwood Master Plan guide how measurable economic benefits of redevelopment are experienced by Black Tulsans, by descendants of the Race Massacre, and by future generations and their heirs?