Tulsa community to re-envision the former site of Tulsa Race massacre
The Kirkpatrick Heights/Greenwood Master Plan will provide an action-oriented redevelopment strategy that ensures Black Tulsans, descendants of the Race Massacre, and all future generations experience social and economic benefits.
A century ago, the Greenwood District in North Tulsa was known as "Black Wall Street" because of its affluent African-American community. It flourished until the Tulsa Race Massacre, perhaps the single worst episode of racial violence in American History. The incident left 35 city blocks in ruins, injured more than 800 people, and left hundreds dead.  
Amazingly, nearly nine years later, the Greenwood District rebuilt and exceeded the amount of businesses they had prior to the massacre. But predatory lending, public disinvestment, Urban Renewal programs, and the redistribution of spending and wealth combined to ultimately lead to the mid-century decline of the area.
Even today as Tulsa's downtown continues to experience growth and investment, many residents fear displacement as property values increase.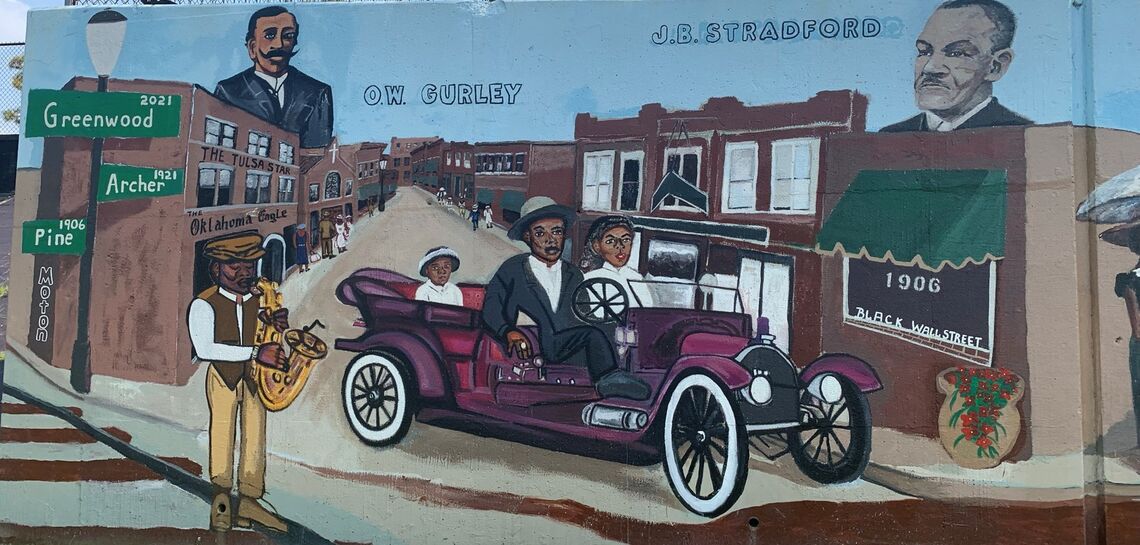 THIS BLOCK-LONG MURAL DEPICTS THE HERITAGE, HISTORY AND HOPE OF THE GREENWOOD COMMUNITY INCLUDING THE MOMENTOUS HISTORY AND WEALTH OF BLACK WALL STREET.
In 2018, however, Tulsa Development Authority regained control over a portion of the land after plans for a multi-university campus didn't meet expectations. The 56-acre acquisition helped set the stage to revitalize the area in and around Greenwood, including the adjacent Kirpatrick Heights neighborhood.
Working with the City of Tulsa, Tulsa Authority for Economic Opportunity (TAEO), and Tulsa Development Authority (TDA), WRT will lead a master planning process to help define the community's vision and create a framework for redevelopment.

"This is one of the most historically important pieces of land in all of Tulsa, and it is crucial that we move forward with its revitalization in a way that benefits the surrounding community," Mayor G.T. Bynum said.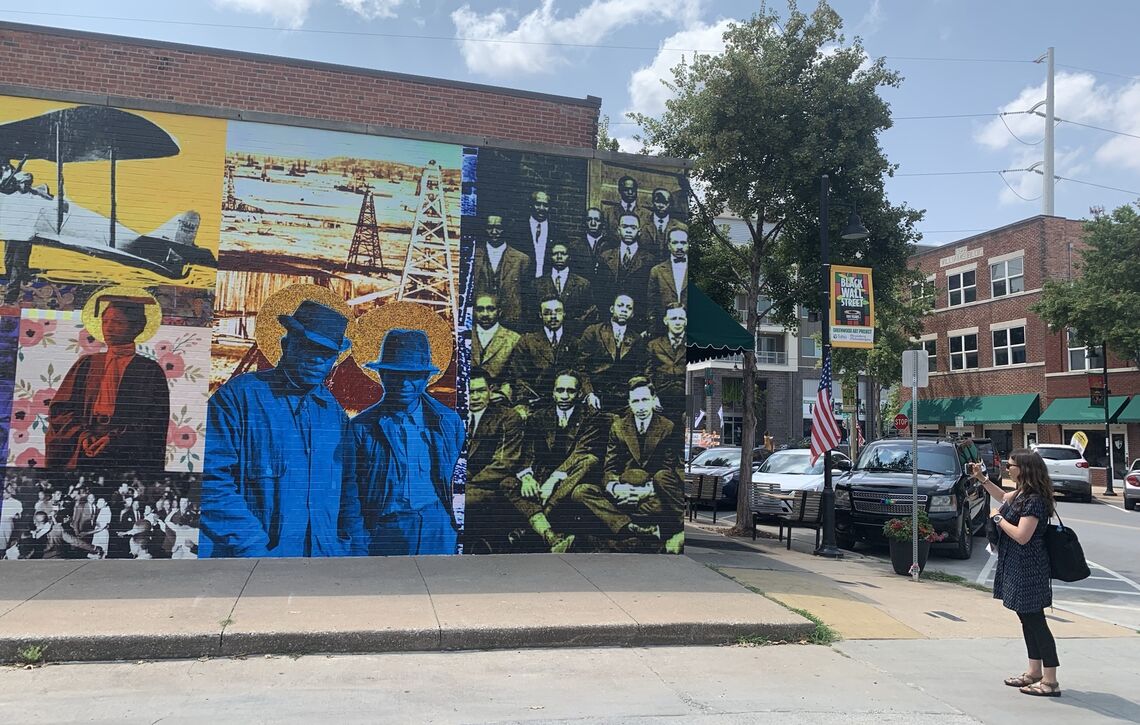 WRT'S PROJECT MANAGER NANCY O'NEILL EXPLORES THE GREENWOOD DISTRICT.
"To that end, I have asked 11 Tulsans who have committed years to this part of our city to guide this process through a Leadership Committee. Through this process, they will work with community stakeholders to determine how we as a city can best put this land to the use of area residents." 
Leadership Committee members were selected based on their current and past leadership in Greenwood and North Tulsa and will be responsible for critical oversight over project strategy and direction.  Leadership Committee members will serve as a key working group and ongoing community ambassadors, leveraging their relationships and networks to engage residents and stakeholders in the project.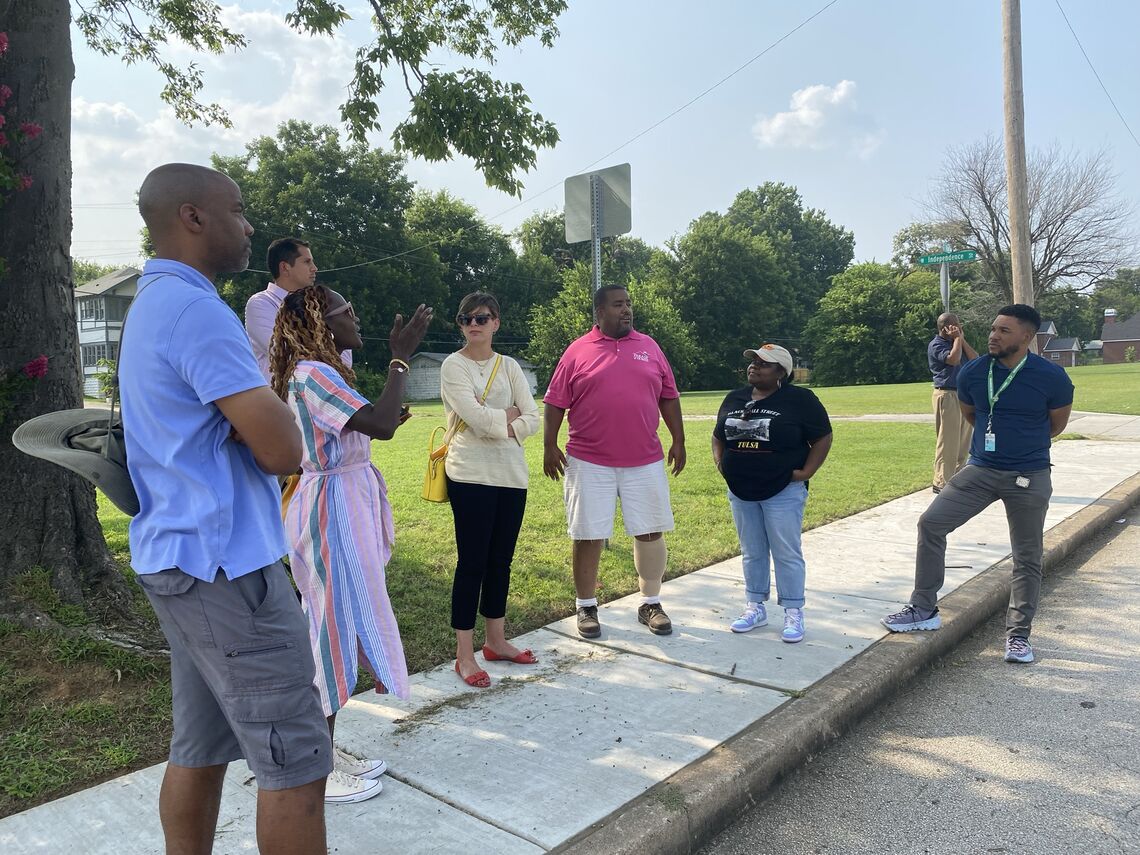 CITY STAFF, STAKEHOLDERS, AND WRT'S GARLEN CAPITA AND NANCY O'NEILL TOUR GREENWOOD AND THE SURROUNDING AREA.
WRT and its team will host a series of community meetings, workshops, charrettes, and informal conversations, as well as small focus groups and interviews that will directly inform development of the master plan over the next year.  

"We are working to ensure the Kirkpatrick Heights/Greenwood Master Planning process offers an opportunity for direct community engagement potentially resulting in development that truly addresses the needs and desires of the community that historically has not been prioritized," District 1 City Councilor and Leadership Committee member Councilor Hall-Harper said.
The 12-month process kicked off officially in August with community inclusion and involvement events planned througout the year.
"This initiative has the potential to repair historical inequities and build on the momentum of local advocates to develop a plan that creates avenues for equitable investment and build generational wealth," said Garlen Capita, WRT's Urban Designer and Professional-in-Charge. "We are committed to a transparent planning process that ensures that the voices, memories, and history of the Greenwood neighborhood are central to the conversation in developing a vision for the future." 
More information on the project can be found at: www.OurLegacyTulsa.org