Village Square on Haverford Receives $1M NSF Grant for its Arts-Centered Model for Intergenerational Co-Housing
Village Square on Haverford is a mixed-use affordable housing development which is part of a pilot program developed to test the benefits of intergenerational co-living in creating pathways to Black homeownership.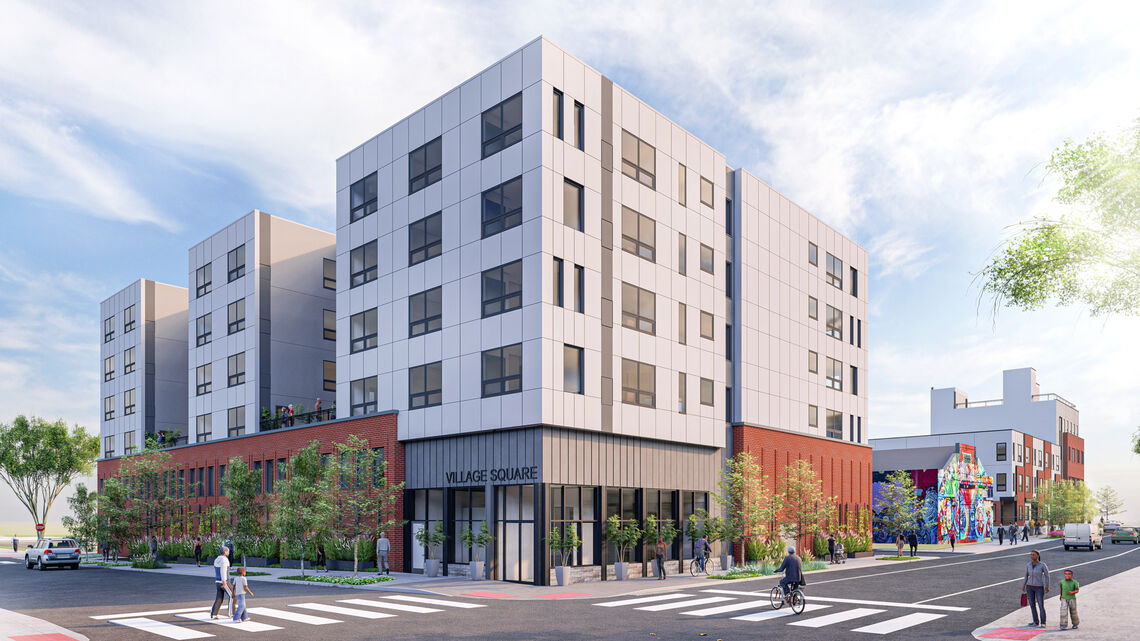 Second Story Collective, a collaborative venture of Drexel's Writers Room, announced today that its Placekeeping project has received a $1 million Civic Innovation Challenge (CIVIC) Stage Two Award from the National Science Foundation.
Second Story Collective is the only group of NSF Civic Innovation awardees addressing inequities in housing. The NSF award will support Second Story Collective's implementation of a one-year pilot, "The Co-Creation of an Intergenerational Network of Homesharers in West Philadelphia." 

Village Square on Haverford, a $65 million multi-use development by Lomax Real Estate Partners, is the focus of the pilot developed in partnership with the Mantua Civic Association. The pilot aims to explore the potential of intergenerational co-living to create pathways to Black homeownership, a potential recognized by Charles Lomax, CEO of Lomax Real Estate Partners, after discussions with Rachel Wenrick, the co-principal investigator and executive director for Arts & Civic Innovation in Drexel's Office of University Community Partnerships.
"This is an opportunity to change the narrative of university-adjacent development from one of displacement of long-term residents to engagement and community building," said Charles Lomax. "And we have the team around the table to do it."
The pilot was launched in Mantua, a historically Black and rapidly gentrifying neighborhood. This Civic Stage Two Award recognizes the potential of the arts-centered model for intergenerational co-housing to be replicated throughout the United States.

"Our placekeeping strategy aims to preserve homeownership for long-term residents, create affordable opportunities for new homebuyers, and reduce student housing costs," said Ayana Allen-Handy, PhD, principal investigator, associate professor and interim department chair in Drexel's School of Education.
"Through this work, we are seeing how public arts programming strengthens civic infrastructure and promotes civic innovation," said Wenrick. "This is arts-centered community action at work – and it's powerful."