Woodrow Wilson Commons Wins Readers' Choice Award
WRT announced that Woodrow Wilson Commons, a mixed-income 173-unit community consisting of townhouses, flats, and duplexes, has been named the overall winner in Affordable Housing Finance's 2015 Readers' Choice Award.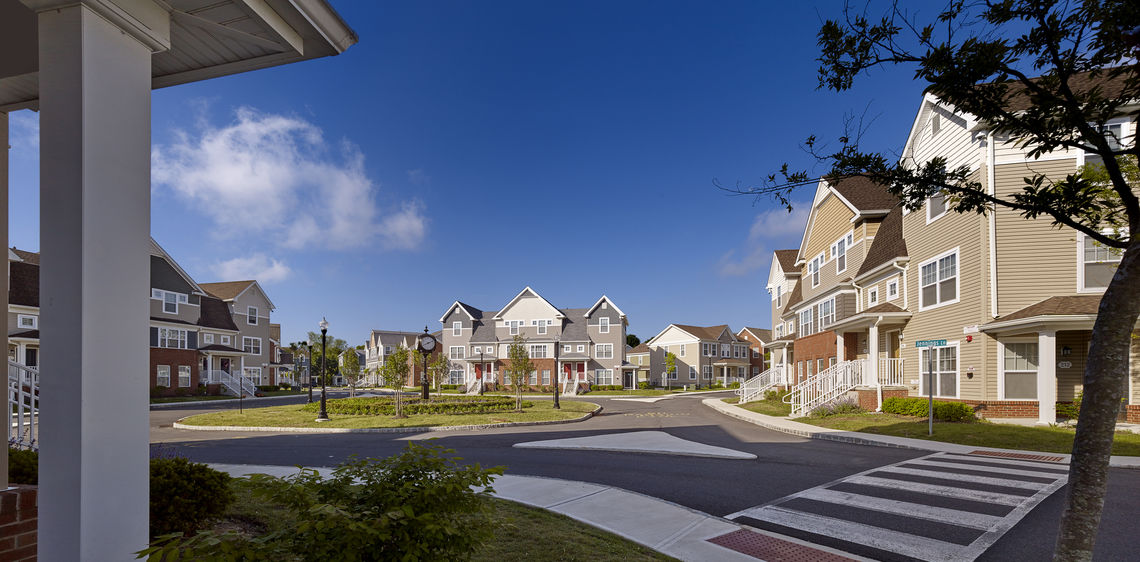 Woodrow Wilson Commons was completed in October 2014 and was developed by Pennrose Properties, LLC and Maestro Community Development Corp., the development subsidiary of the City of Long Branch Housing Authority. The community features a diverse mix of public, affordable, and special-needs housing, with a few market-rate units. In addition to the new housing, the $45.8 million project has a community center, a management office, and space for the housing authority's maintenance department. 
The redesign of Woodrow Wilson also involved the reconfiguration of streets to reconnect the development to the surrounding neighborhood. 
"The apartments in the old public housing site didn't face towards the street, most faced in or towards other buildings, it was designed as a campus," noted Alex Morris, AIA, Senior Associate at WRT, "there were limited entrance and exit points into the complex. The new internal street system provides enhanced connectivity to the surrounding neighborhood, furthering the goal of creating a pedestrian-friendly neighborhood." 
All of the new homes are Energy Star V3.0 Certified. Two phases in the three-phase project achieved LEED for Homes Gold standard. One of the unique green design features of the project was the innovative approach to stormwater management. At the center of the site is a ¾ acre vegetated infiltration basin which serves a dual purpose as a constructed meadow, providing a recreational amenity for the residents and a naturalized wildlife habitat.
The complex was chosen for the Readers' Choice Awards by subscribers to Affordable Housing Finance Magazine who voted between 34 finalists. To learn more about the awards and Woodrow Wilson Commons click here.