WRT and Cabrini University Athletic Pavilion Receive American Institute of Architects Merit Award
WRT and Cabrini University, a coeducational Catholic liberal arts university in the Philadelphia metropolitan area, are pleased to announced that the Cabrini University Athletics and Recreation Pavilion was awarded the 2016 American Institute of Architects (AIA) Philadelphia Merit Design Award in the Built Category.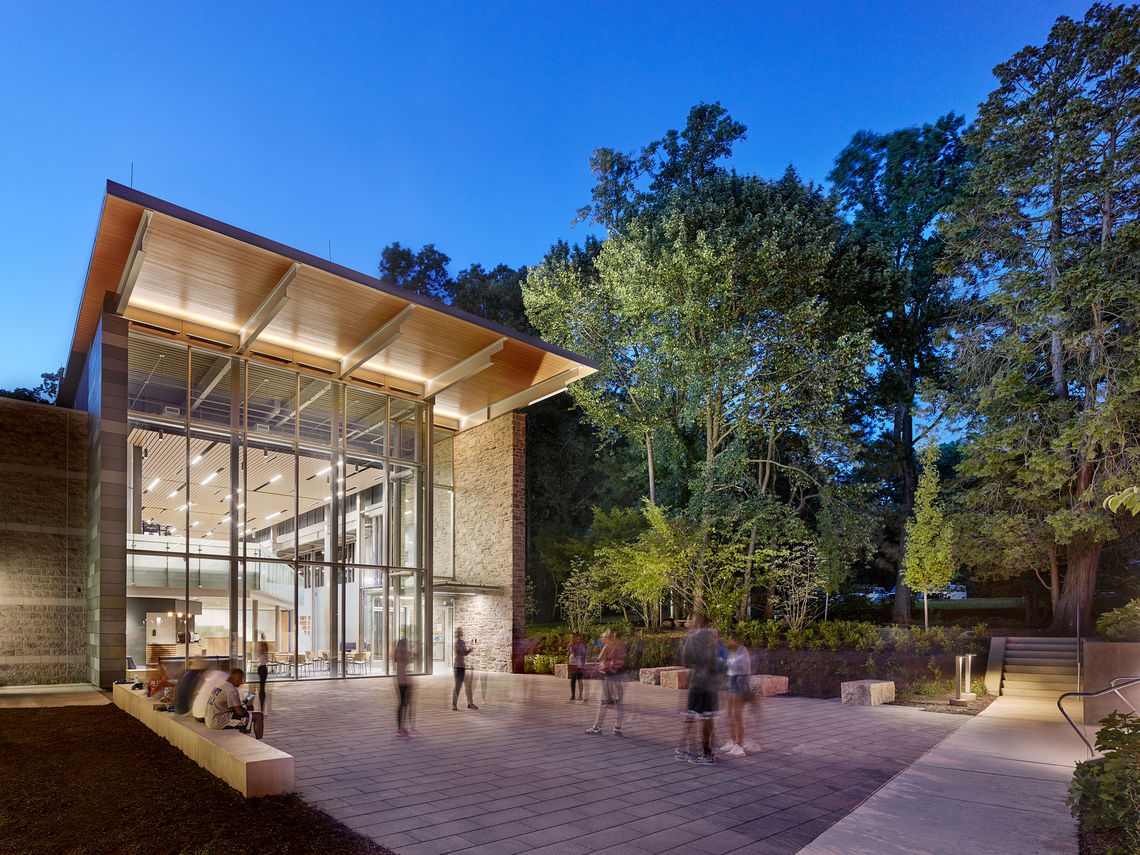 The Design Awards recognize the best in architectural design and includes a design competition, divine detail award, exhibition, and awards gala.
"Our goal working with Cabrini University was to provide the student body with a state-of-the-art Athletics Pavilion that fosters health, wellness, holistic student learning and growth, and social connections," said Richard King, AIA LEED AP, Senior Associate at WRT. "We are thrilled that the project has been included among the top architectural projects in the region and look forward to continuing our partnership with Cabrini University."
Completed in August 2016, the pavilion was the first phase of WRT's master plan for the University, enhancing and expanding their current athletic facilities. The new pavilion provides space for team sports through the creation of dedicated state-of-the-art fitness facilities. It also expands Cabrini's fitness, studio, and classroom space for their expanding health and wellness programs.
"We were fortunate to partner with WRT to create a welcoming space that highlights the natural beauty of campus through its open floor plan and spectacular window exterior," said Brian Eury, Chief of Staff and Vice President of Community Development and External Relations at Cabrini University. "Students are immediately attracted to the Pavilion as a space to gather, socialize, and focus on fitness and wellness."
About Cabrini University
Founded in 1957 by the Missionary Sisters of the Sacred Heart of Jesus, Cabrini University is a Catholic institution that empowers students to become advocates of social change through an Education of the Heart, focusing on academic excellence, community engagement, and leadership development.
Cabrini enrolls approximately 1,300 undergraduates in more than 35 majors, pre-professional programs, concentrations, and minors on its serene 112-acre campus located 30 minutes from Philadelphia. The University also enrolls 900 students in graduate, doctoral, and professional studies programs at its main campus in Radnor, PA, and at five off-campus locations. For more information, visit cabrini.edu.