WRT and Capital Region Water Hold the First in a Series of Public Meetings to Address Green Stormwater Infrastructure
WRT, in conjunction with Capital Region Water (CRW) will be holding the first of two public meetings on Thursday, January 28, to gain public input in finding opportunities for green projects in Harrisburg.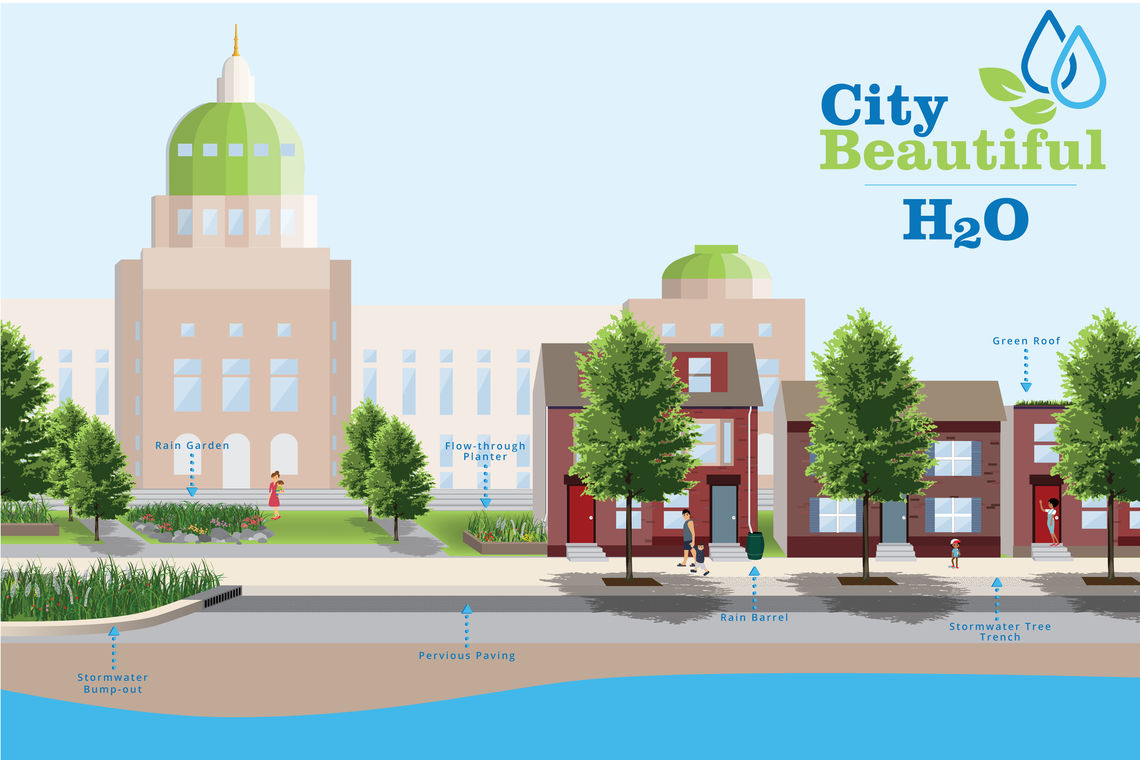 In 2014 Capital Region Water was awarded a grant from the Department of Conservation and Natural Resources (DCNR) to develop a Green Stormwater Infrastructure Plan for Harrisburg. Built over a century ago, Harrisburg's combined sewer systems receive both rainwater and wastewater and overflow into Paxton Creek and the Susquehanna River during large rainfall events. 
Green stormwater infrastructure, a broad term for trees, rain gardens, and other technologies that are designed to reduce the runoff by absorbing rainwater where it falls, will assist in reducing the impact of runoff on the Harrisburg community by limiting the amount of water that gets into underground infrastructure, and eventually Paxton Creek and the Susquehanna River. 
WRT and CRW are in the process of developing a Community Greening Plan that aims to increase the benefits provided by public investment, reduce the volume of stormwater entering the sewer system, foster a network of partners, and enhance and revitalize Harrisburg. 
The WRT team is currently analyzing and mapping potential opportunities for managing stormwater and prioritizing sites by their potential for green stormwater infrastructure.
"Green infrastructure can provide great social, economic, recreational, and environmental benefits," said Andrew Dobshinsky, AICP CUD, Associate Planner and Urban Designer at WRT, "With input from CRW's Community Ambassadors and the community at large, we are confident that we can determine where green infrastructure can produce the largest benefits for the City of Harrisburg."
WRT and CRW are hosting a series of public meetings to gain public input on where opportunities for green projects may be available. Information for the two upcoming public meetings is below:
Thursday, Jan. 28, 5:30-8:30 pm at Camp Curtain YMCA, 2135 N 6th Street, Harrisburg, PA
Tuesday, Feb. 2, 5:30-8:30 pm at Lincoln School, 1601 State Street, Harrisburg, PA
To learn more about the Community Greening Plan visit: www.capitalregionwater.com/cbh2o