"Throughout each year, the firm's Principals discuss potential candidates for promotion and leadership positions to meet our practice and business goals. This year's candidates are unique individuals and exceptional leaders with some important things in common:
They embody the firm's values of professionalism, respect, and collaboration
Their drive for excellence, creativity, and innovation is evident in both their projects and their        leadership within the firm
They are actively building the organization and advancing the firm
We're proud to announce the promotion of one new senior associate and four associates to the WRT team." -- Joseph W. Healy, AIA, LEED AP BD+C, Managing Principal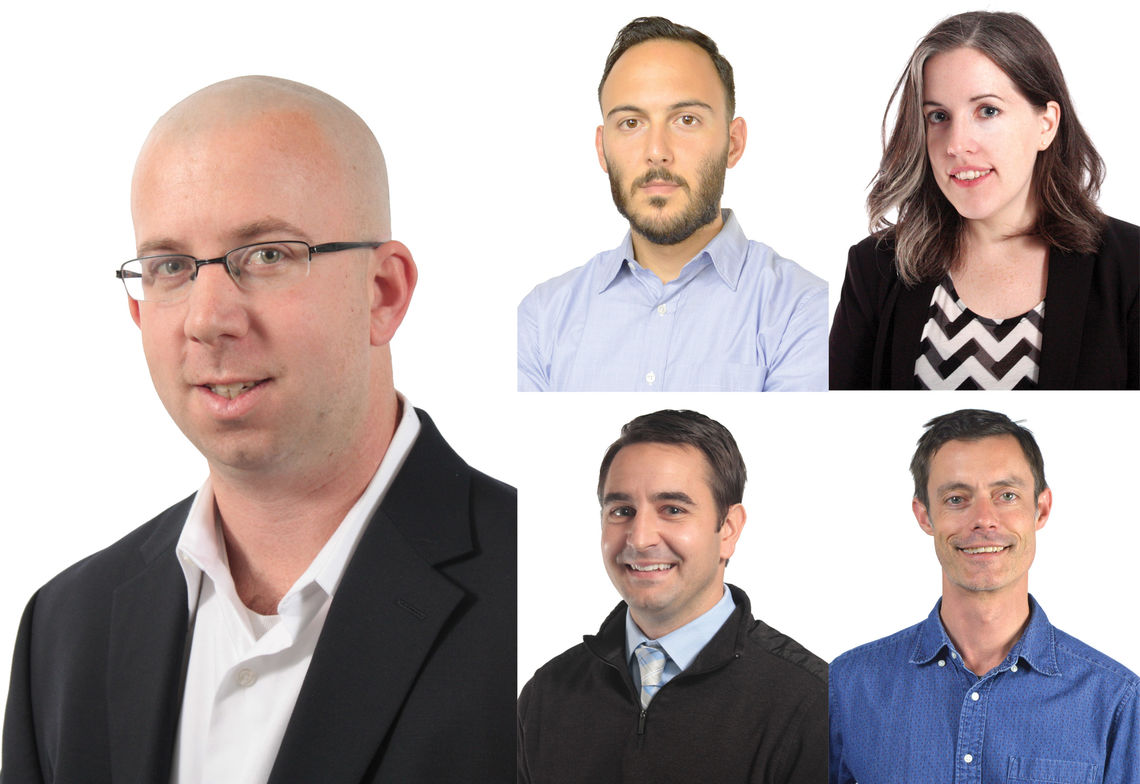 Senior Associate:
Jeremiah Appleton
Senior Associate | Director of Operations, Philadelphia
As part of a strategic action initiated by the Principals in 2011, Jeremiah has grown to fully embrace his firm-wide Director of Operations role. He is an integral part of moving the firm forward to achieve our longer term strategic goals and objectives. With a common sense approach and calm demeanor, Jeremiah supports project teams, project managers and senior leadership by providing a professional, informed perspective, with his characteristic directness. He deeply cares about the work and impact that WRT has on the world and this authenticity is one of the key qualities that makes him such an effective leader, teacher and coach. The transparency and "openness" that Jeremiah nurtures has become an important cornerstone of the firm's culture.
Associates:
Alessandro Colavecchio
Associate | Landscape Designer, San Francisco
Alessandro brings 11 years of experience to WRT's San Francisco landscape practice where he has provided leadership in project design and project management to guide some of our most complex projects to completion. His leadership is key as landscape architecture continues to play an increasingly important role in WRT's Workplaces practice for visionary clients like Microsoft, Google and Dolby. Alessandro brings a high level of design talent, technical abilities, and collaborative work ethic and has advanced innovation in our practice in the areas of public space design, high performance landscapes and technical documentation. His interest in landscape planning for climate change has led to a personal goal to develop new practice methods that incorporate climate science into our planning and design work.
Mary Morton, AICP
Associate | Planner + Urban Designer, Philadelphia
Uniquely talented and a strategic thinker, Mary has quickly risen to become an integral part of WRT's planning and design practice. Her creativity, depth of knowledge and excellence in execution is visible in the successful outcomes in numerous planning and community engagements, like the Logan Comprehensive Neighborhood Plan in Philadelphia and the recently completed Community Greening Plan for Capital Region Water to address stormwater runoff and reduce combined sewer overflows in Harrisburg. She was also part of the core team leading WRT's recent rebranding and new graphic standards. Mary is an exceptional listener and communicator, who builds trust within her teams and elevates the caliber of our work.
Matt Beuke
Associate | Designer, Philadelphia
With his natural leadership style and broad range of skills, Matt is actively raising the bar at WRT, in terms of design and building performance. Firm-wide, Matt plays a strategic leadership role guiding the firm's implementation and integration of BIM across all disciplines. His strong client relationships and positive impact spans both our Education Practice, in projects such as the very complex Merion Cricket Club transformation, and our Housing Practice, in affordable housing projects such as Sugar Estate in St Thomas and several Passive House buildings in Meriden CT. Matt nurtures an energized, collaborative spirit that brings out the best in his teams.
Peter Winch, AICP
Associate | Planner, San Francisco
Peter's analytical planning skill set and his sense of spatial relationships at the district and city scales position him to serve clients across WRT's interdisciplinary planning and design practice. His understanding of General Plan policies and long range urban planning expands the firm's expertise to more effectively guide our clients, ranging from conceptual site planning for a walkable, small town to policies for new park development for a large, growing city. Peter makes the planning process accessible and enjoys connecting with community members through public engagement.