WRT Announces the Groundbreaking of Miller Avenue "Streetscape" Project
WRT celebrated the groundbreaking of the Miller Avenue Streetscape Project, a major redesign of one of Mill Valley's two primary arteries, on June 21, 2016 in Mill Valley, CA.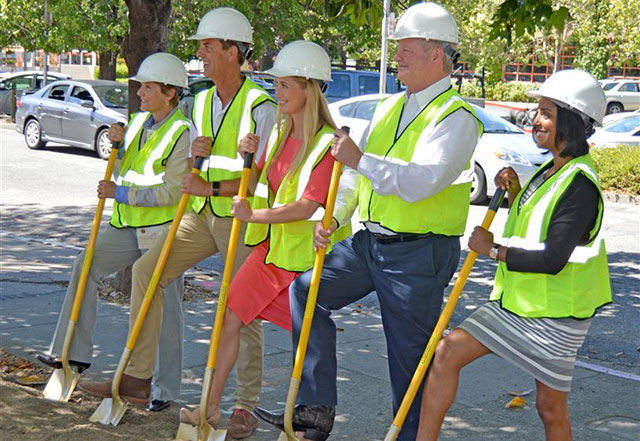 Originally approved in 2011, the Miller Avenue "Streetscape" refers to roadway and sidewalk elements located in the public right of way, including sidewalks, bike lanes, travel lanes, curb areas, medians and landscape design, with an overall goal of making Miller Avenue a safe, efficient, and enjoyable street for all users. The main components of the Streetscape Project include  continuous bike lanes from Sunnyside to Almonte, sidewalk enhancements in shopping areas, improved pedestrian street crossings, and rain gardens to treat stormwater while protecting creeks.
WRT, in conjunction with BKF Engineers, Nelson Nygaard, and Parisi Transportation, created the Streetscape Plan for Miller Avenue and subsequent construction documentation. On March 21, 2016, City Council approved the final plans which reflect the unique and often quirky character of Mill Valley.
There are five "distinct rooms" within the 1.8 mile long project corridor, from Almonte Boulevard near Tamalpais High to Sunnyside Avenue near downtown, along Miller Avenue. These rooms represent the different sections and distinct functions and character of the corridor: passage, parkway, main street, gateway and marsh.
"The Miller Avenue design enables safe biking and walking on Mill Valley's primary corridor, " said John Gibbs, ASLA, LEED AP, Senior Associate at WRT. "Through the design process we have had the pleasure of collaborating with a community advisory committee to ensure that the end result reflects the community's needs while retaining and enhancing Miller Avenue's current character."
The $14.8 million project is the biggest road renovation the City has undertaken in decades and is slated for completion in August 2017.