WRT Project Mt. Ephraim South Neighborhood Transformation Receives Choice Neighborhoods Implementation Grant
On Tuesday December 13, 2016, HUD Deputy Assistant Secretary Dominique Blom, Camden Mayor Dana Redd, US Senator Robert Menendez, US Senator Cory Booker, and US Congressman Donald Norcross announced the award of $13.2 million to the Housing Authority of the City of Camden and the City of Camden to catalyze neighborhood transformation in Mt. Ephraim South. This federal grant will be leveraged by an additional $280 million in local and regional dollars to fund a 5 year implementation program that includes 226 units of new housing, a Critical Community Improvements program and targeted outcomes in community health, education, and economic self-sufficiency.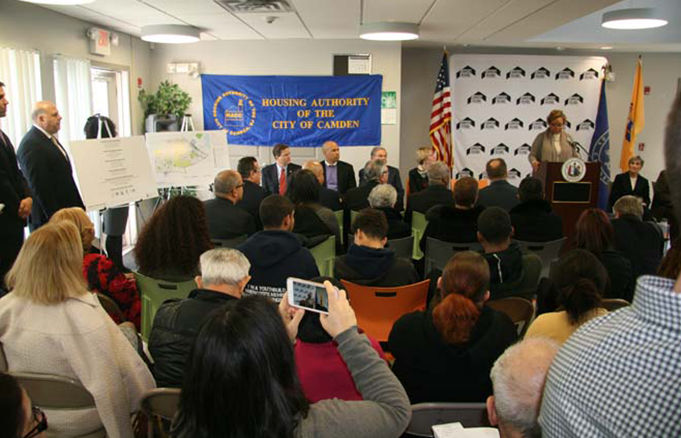 The journey of neighborhood transformation in Mt. Ephraim South began 15 years ago under the leadership of the city and housing authority with a redevelopment plan for Centerville that served as a blueprint for a new mixed-income community implemented partly by HUD HOPE VI dollars. Building on this momentum, the city and housing authority underwent a 2 year Choice Neighborhoods planning process with the community who outlined their vision to link mixed-income housing to strategic People and Neighborhood investments that support Branch and neighborhood residents. WRT has been a committed partner every step of the way.
Moving ahead, WRT will serve as architects and planners to fulfill the community's vision and the planning partners' pledge to rebuild Mt. Ephraim South into a neighborhood of choice. WRT is honored to be included in the Implementation team and play a role in Camden's rising.
"Planners, urban designers, landscape architects and architects at WRT work passionately to revitalize and rejuvenate cities and communities. Neighborhood transformation work is built into our DNA. This award reminds us of that ethos and it's definitely something to celebrate," said Woo Kim, Senior Associate at WRT. "Investing in our inner cities is more important now than ever."
WRT has worked on numerous Choice Neighborhoods projects in various stages of the planning and development process, and is currently implementing neighborhood transformation in multiple communities nationwide.