WRT's Kings Court at Freedom Village Honored with MultiFamily Executive Award
WRT has announced that the King's Court at Freedom Village in Paterson, NJ has been awarded the 2016 Multifamily Executive Award in the Senior category.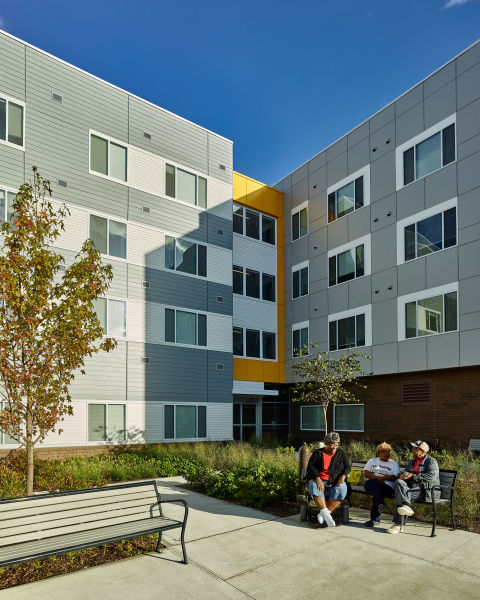 Designed as a courtyard building that responds to its post-industrial architectural context, the King's Court at Freedom Village senior residences is a 70-unit affordable independent living facility featuring a lush private garden, neighborhood-serving community room, and internal health care suite.
Residents also benefit from rooms for computer training, fitness and games, as well as lounges for communal and private enjoyment. Robust supportive services encourage the residents to be active and engaged with one another and the surrounding community while creating an environment in which the senior residents can age-in-place.
"Our goal working with Pennrose and the City of Paterson was to provide seniors with lower utility costs and a healthy home," said Kenneth O'Brien, Associate at WRT. "We are very excited to have not only achieved that goal, but have the project recognized as a top development of 2015."
The building achieved LEED Silver for Multifamily High Rise certification through the use of environmentally responsible materials which were selected to balance the factors of longevity, durability, maintenance, aesthetic appeal, and the impacts of acquisition, transportation, and manufacturing, and a projected 17% reduction in energy use.
WRT, in conjunction with Pennrose Properties, LLC, and the Housing Authority of the City of Paterson, developed the urban infill project, reclaiming a transit-adjacent brownfield site and advancing Smart Growth principles as part of the New Jersey State Plan.
Funds for the project were provided by the HOPE VI program, a program meant to revitalize failing public housing projects into mixed-income developments, and a Low-Income Tax Credit allocation. The residences are located within a 10-minute walk to regional rail, less than 15 minutes to downtown shopping and public services, and on regular local bus service, providing the seniors with better access to local services and regional amenities than their former isolated, superblock public housing site; a key component of the HOPE VI revitalization plan.