WRT Selected as Landscape Architect for Holocaust Memorial
WRT has announced its selection as the designer of record for the new Holocaust Memorial Plaza in Philadelphia, PA. The plaza will be created at the location of The Monument to the Six Million Jewish Martyrs on Philadelphia's Benjamin Franklin Parkway, as a tribute to those lost in the genocide.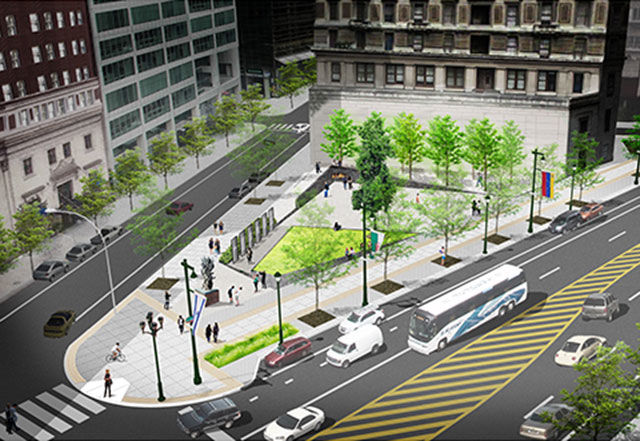 The WRT team, lead by Principal Keiko Tsuruta Cramer, in conjunction with The Philadelphia Holocaust Remembrance Foundation ("the Foundation"), Center City District and Michael Berenbaum, the leading national expert on the Holocaust, designed a concept that creates a plaza around the memorial to bring an amplified presence, and a place of contemplation, and education to this sacred Memorial which was originally erected in 1964.
The Memorial plaza consists of six major design features with symbolic themes integrated:  a tree grove represents the woodland forest and the theme of resistance; an eternal flame is a reminder that we must never forget; six panels with interpretive contents; the Theresienstadt Tree, an inspirational tree that tells the story of life and hope; a remembrance wall with family names honoring those lost; and the Monument to Six Million Jewish Martyrs. 
The park's compelling and distinguished venue at the heart of the city where American liberty was founded will constitute a place for dialogue and growth and serve as a beacon of understanding in an often hostile world. To learn more about the Holocaust Memorial Plaza visit http://www.thephrf.org/