WRT Selected as the Design Team for Congress Square Redesign
WRT announced its selection as the design team for the Congress Square Redesign project, a large-scale renovation in the heart of the Arts District in Portland, Maine.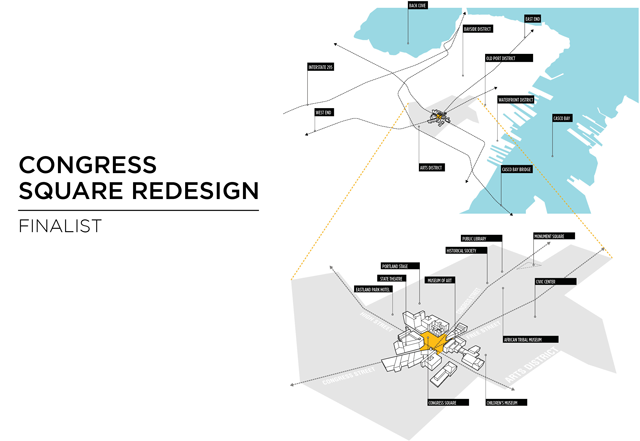 The WRT team, in conjunction with urban horticulturalist Patrick Cullina, graphic designer BlueCadet, and civil and traffic engineers Sebago Technics, will redesign Congress Square, a New England urban square that currently gives priority to motor vehicles at the expense of the pedestrian experience. The 1.3-acre public space consists of a five-way intersection, one public park, two public plazas, two traffic islands, and surrounding sidewalks.
"The redesigned Congress Square will be the product of collaboration of numerous firms, artists, and the City of Portland," said Keiko Tsuruta Cramer, ASLA, Principal at WRT. "Once complete, Congress Square will make a difference for people and the places where they live, work, and play. We are proud to be a contributing factor in revitalizing this section of the city."
The redesign comes after Portland City Council's vote to sell about two-thirds of Congress Square Park in 2013. The sale encountered strong neighborhood opposition, and residents collected signatures calling for a citywide referendum which passed in 2014, to undo the sale and increase protections for all city parks.
This project has a high level of community interest and participation, including neighborhood organizations, residents, nonprofits, arts organizations, and the business community who have worked with the City of Portland for more than five years to develop a vision for the Congress Square Redesign.
To learn more about The Congress Square Redesign visit http://www.congresssquarepark.org/.