CSU Fullerton Campus Master Plan
The dynamics of every campus, the economics of higher education, and the learning styles of every generation give rise to planning solutions that can differ tremendously. At California State University, Fullerton (CSUF), a routine master plan update has given rise to its search for breathing more relevance and energy into its campus at the heart of Orange County, CA where students, faculty, employers, and neighborhoods surrounding the campus all depend on the creative and critical skills it takes to build their community over time.

WRT's approach to the CSU Fullerton Campus Master Plan was to provide a flexible framework for transforming CSU Fullerton incrementally over the next 20 years while holding true to the values, the vision and the pride of the University.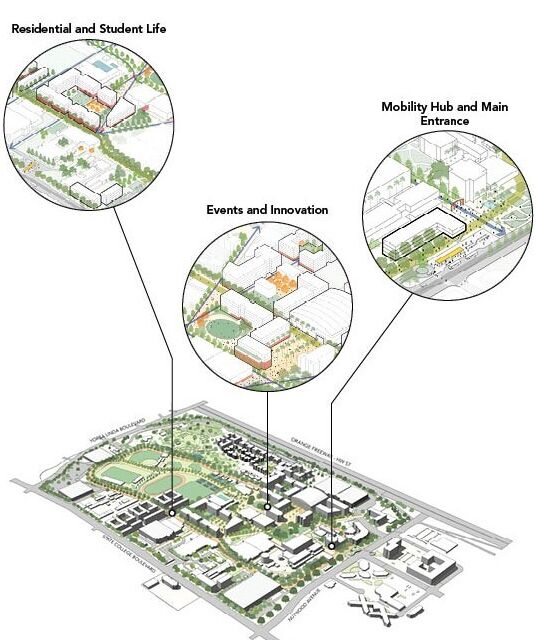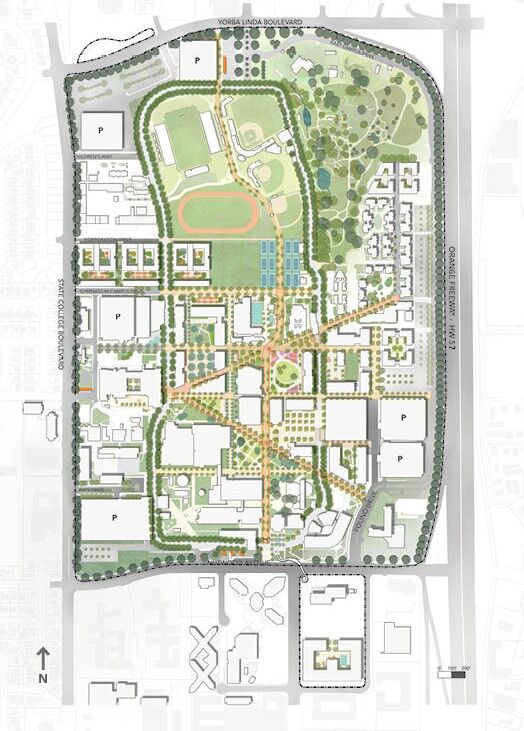 The largest CSU campus in the system and home to 40,000 students, CSUF was faced with challenges in timely graduation rates, in serving shifting teaching/learning modalities that affect program vigor, and the need of greater emphasis on student innovation and health-based initiatives. 

There were five interconnected areas of focus which guided the master planning effort: Learning, Connection, Values, Identity, and Activation. The plan's specific goals are aspirational, operational and experiential in nature:
Allow for growth at the rate of 1 percent/year as developed in conjunction with the planning efforts of the CSU Campus System;
Create a campus setting that can host the future of higher education with greater flexibility and a physical framework that can be realized over time in response to ever-evolving needs;
Compose a campus setting that can support efforts to improve our graduation rates;
Refocus the future of academic space to allow for problem-based learning and to host research as learning for more of our students;
Provide settings, formal and informal, that embrace cross-disciplinary collaboration and increase the quality of student-to-student and student-to-faculty interactions, helping everyone feel the benefits of connection and support; and
Strengthen CSUF's abilities to connect to and increase support from neighbors, the residents of the greater LA communities and the institution's partners.

These goals respond to extensive listening and dialogue in a variety of settings, using tools and methods that made it easy to gain feedback from students, faculty and staff, and neighbors.
On-campus living, with lifestyle and support, will boost the daily campus life experience for everyone, essentially transforming CSUF into a 24-hour community.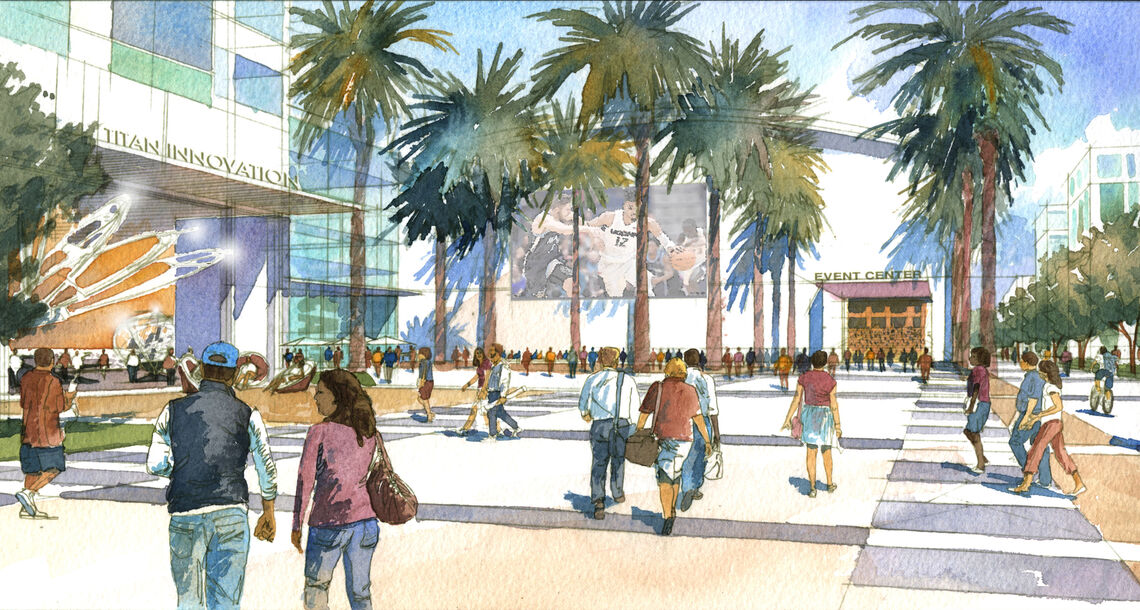 A center for innovation will be close to the campus core and newer academic buildings will replace aging and outmoded structures with more active learning and research space.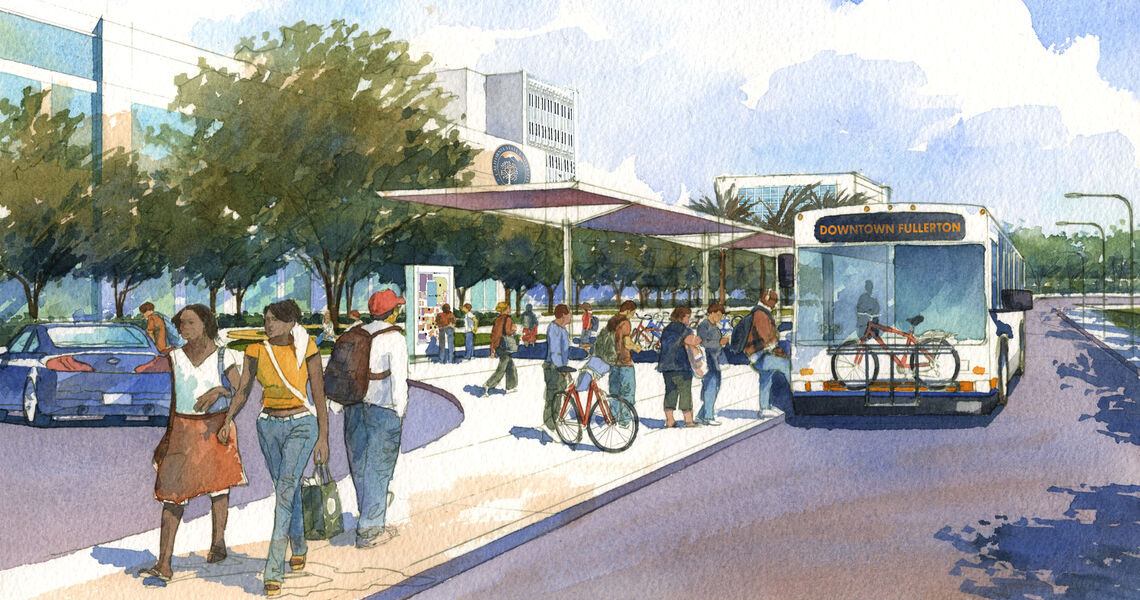 Pathways connecting to transit hubs and updated campus open spaces will reduce the need for new parking structures and serve to grow a sense of campus identity and pride.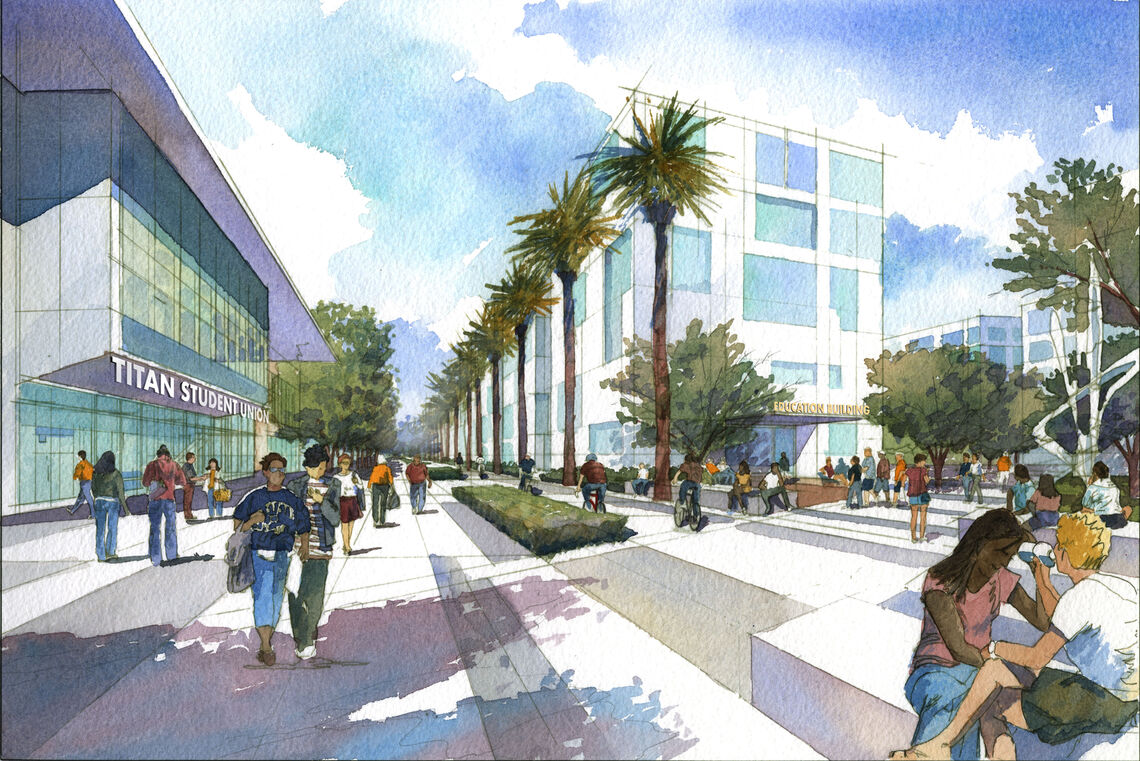 With the 20-year time horizon of the master plan to 2039, the roll out of academic and non-academic projects will be strategic and flexible, balanced, and responsive to funding opportunities.  The sequencing considers the addition of housing as a major driver to achieving many of the plan goals. Incremental growth and housing additions are anticipated so that housing absorption rates can be monitored and coordinated with the required additional campus life programs that are critical to developing a well-balanced campus community. 
Proposed open space components and connectivity needs will be implemented as part of the site work for each building project and external spaces should be leveraged for informal learning to help achieve student success and identity creation. A full Transportation Demand Management program that combines physical improvements, incentives, outcome tracking, and scales consistently will be formalized over time to help reduce parking demand.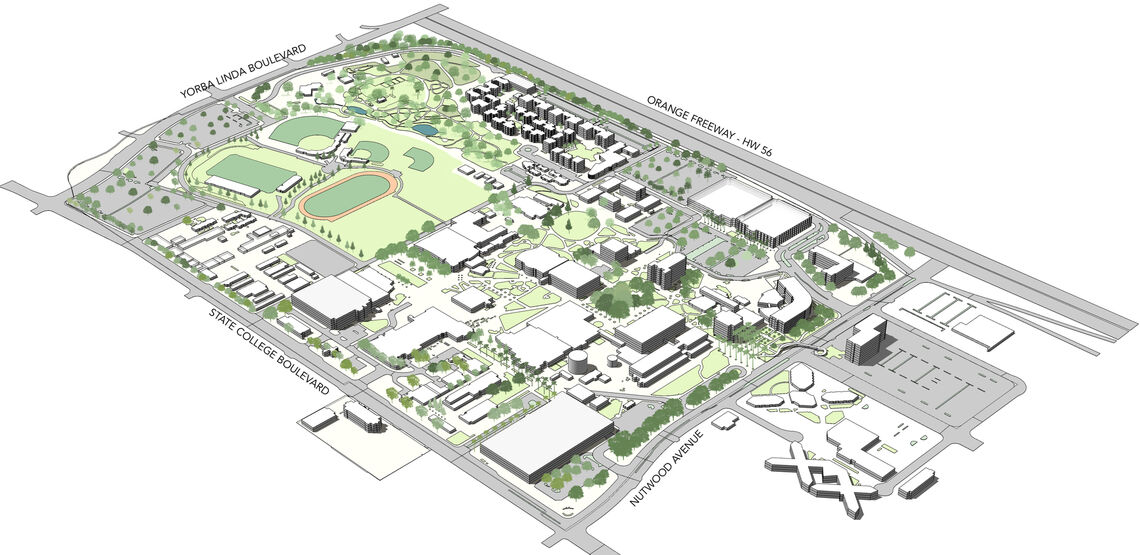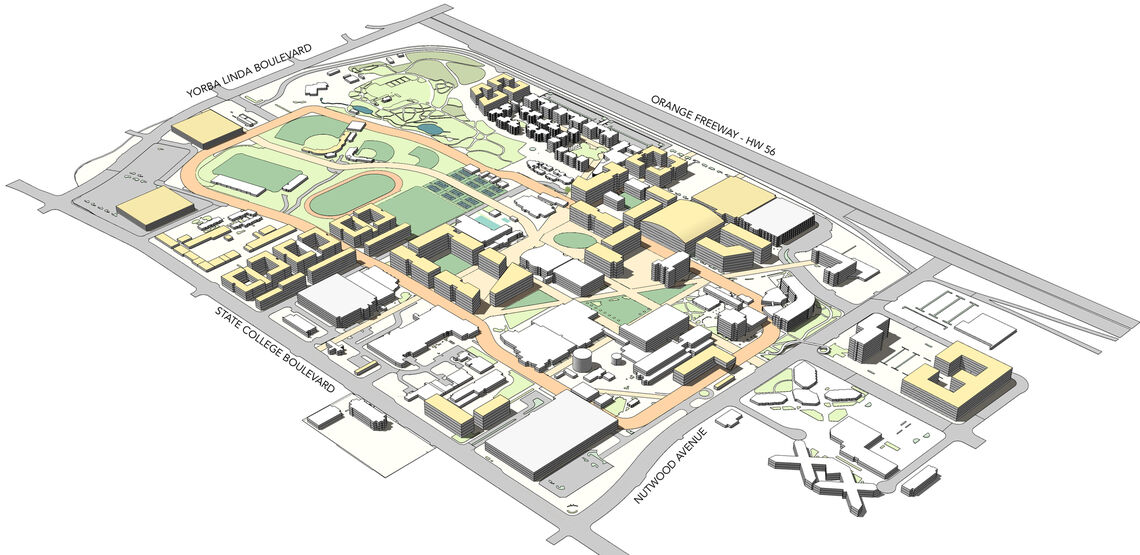 "Cal State Fullerton has a storied history of not only evolving to provide a safe and sustainable learning environment that supports student success into the future, but doing so in a way that is thoughtful, transparent, and inclusive of our surrounding communities.

This Master Plan enhances that legacy with a vision that aims to meet and exceed the needs of our entire campus community while creating a stronger link between our academic mission and beloved Arboretum."
- President Framroze Virjee