The St. Thomas Donoe Redevelopment is a new hurricane-resistant, energy-independent residential community for residents displaced by the terrible hurricanes Marilyn ('95) Irma and Maria ('17).  
WRT provided the master planning and design for Donoe's fifteen buildings and nearly eleven acres of landscaped areas with a focus on community, sustainability and resilience.  Lessons learned from the recent devastating storms led to hurricane-hardened concrete construction, buildings designed for passive survivability, and strategies to minimize post-storm service disruptions. 

The community's electricity needs will be served by an on-site microgrid powering high-efficiency lighting, appliances, water heating and space conditioning.  An array of photovoltaic panels with battery storage provides renewable energy, and back-up LPG microturbines will help ensure a consistent and dependable supply of electricity.   The on-site system also allows for faster repairs of any storm related damage, helping to minimize the number and duration of power outages.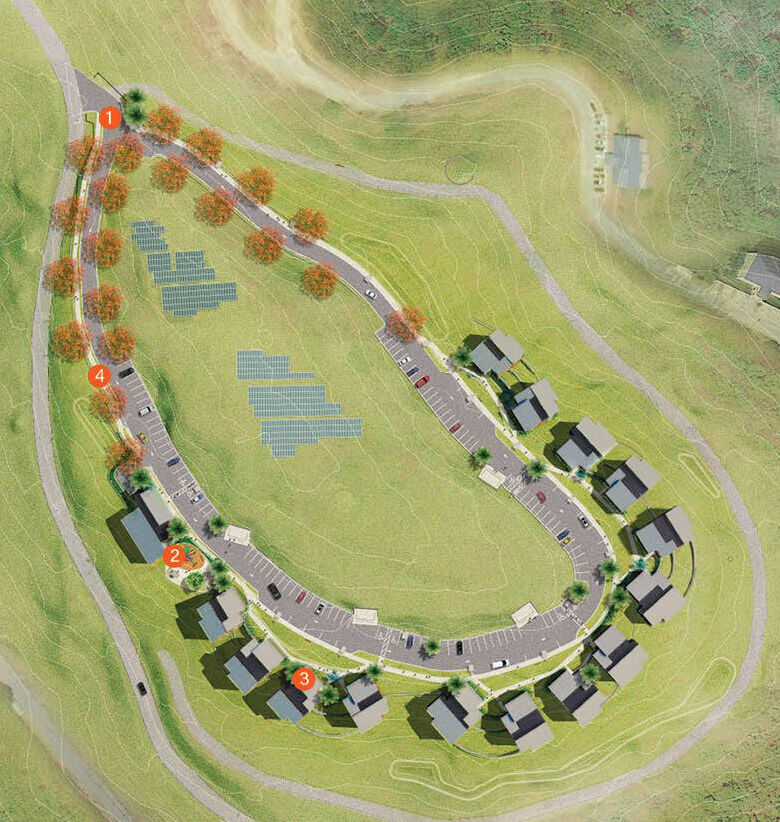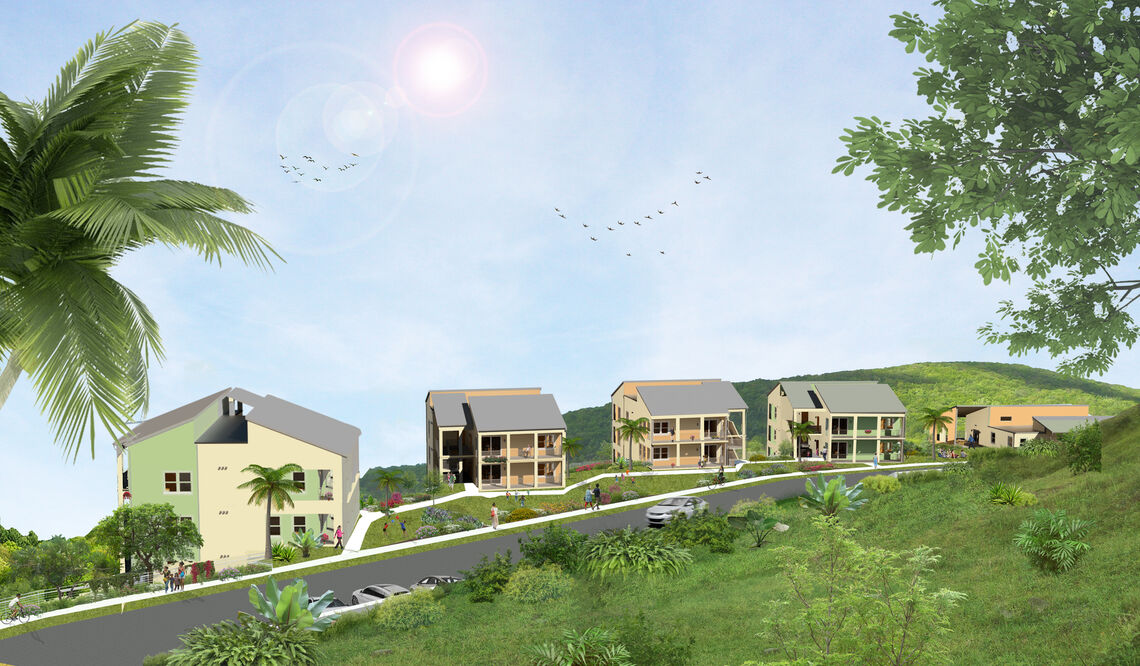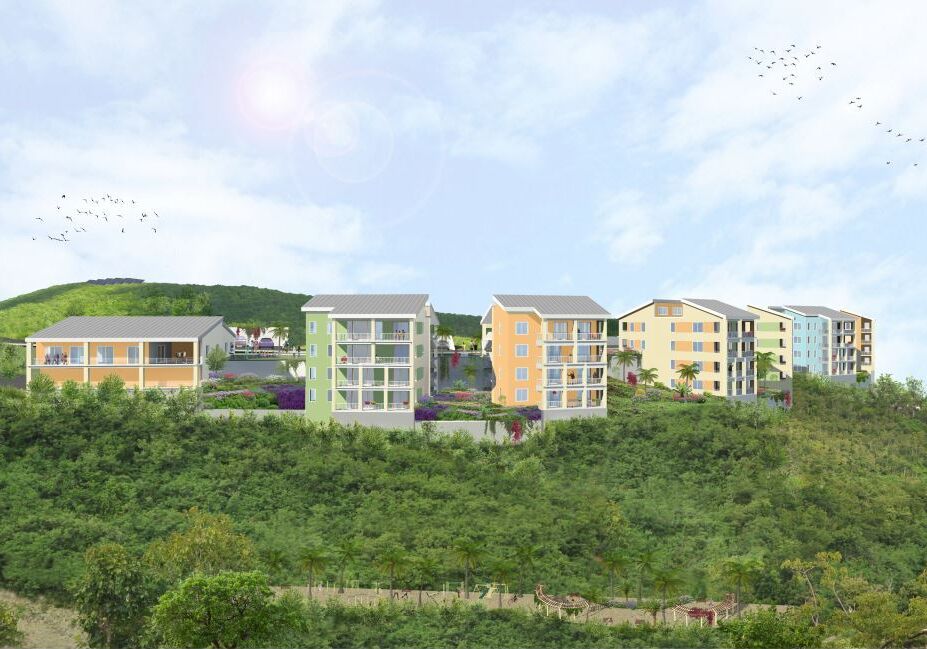 St Thomas' temperate climate and high cost of energy on the island made it a priority to integrate passive strategies for thermal comfort into the designs.  All units are designed to maximize opportunities for natural ventilation in all living spaces. 

Large, covered balconies create shaded outdoor living spaces for each unit and allow for generous daylighting and ventilation from balcony doors and windows while protecting the interior of the unit from excessive solar heat gain.  3D energy modeling was used to determine the most favorable orientation for the buildings based on prevailing breezes at the site, sun angles, and shading for maximum daylighting with minimal solar heat gain. 
Due to the steep incline of the building, units had to be back-to-back, rising two stories on the uphill, street side, and four stories on the downhill side.  The two ground floor units at each building are accessible or visitable. 

In addition to providing an added level of post-storm resilience, these passive strategies for occupant comfort will improve affordability and energy efficiency year-round.
The scale of the individual buildings, the "clustering" of buildings on the site around a series of carefully planned outdoor play and gathering spaces, and the design of the community building and surrounding outdoor spaces were all intentionally focused of fostering connections between neighbors at the building, site, and community scales.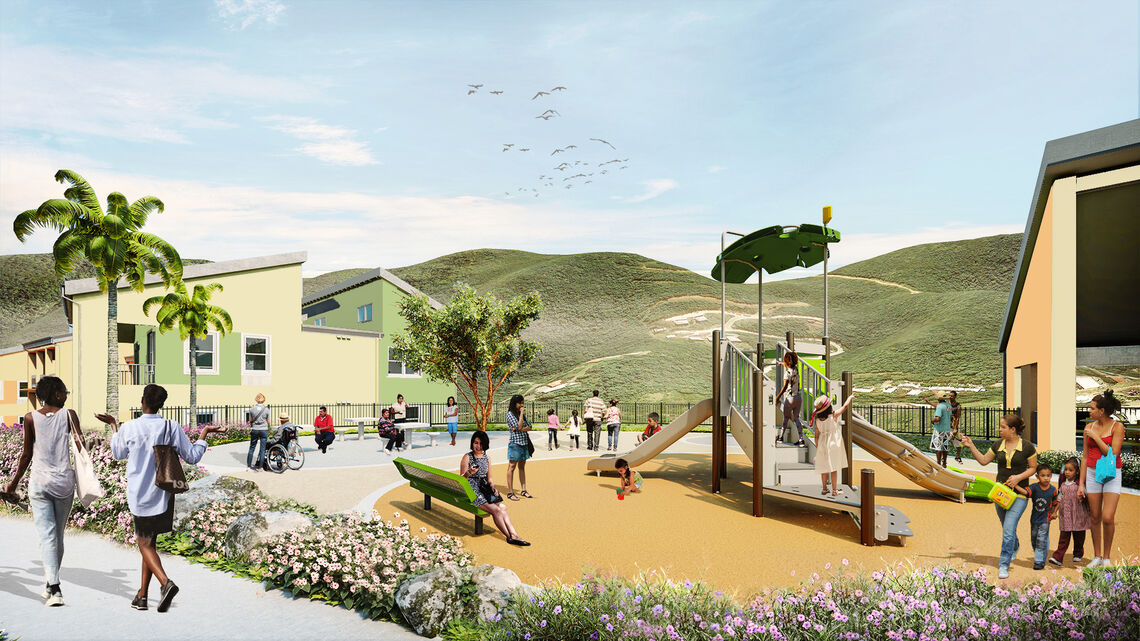 Initial master planning for the project was based on extensive input from VIHA, sharing what has and has not worked in the communities they serve.  Emphasis was placed on creating a safe, healthy, and cohesive community, connected to and complementing the neighboring communities.