Microsoft Silicon Valley Campus
As one of the defining tech companies of the last few decades, Microsoft has been a prominent figure in the accessibility of technology. Since 1981, it has occupied a 515,000-square-foot campus in Mountain View, CA that supported its 2,000 employees. Since then, the company has grown and will continue to do so. To accommodate growth, the campus has been expanded to 643,000-square-foot / 32-acre (13 ha) to support up to 3,000 employees in a state-of-the-art, sustainable facility. 
WRT served as the landscape architect for this new campus, the grounds for which now emphasizes ecological restoration adjacent to the Stevens Creek riparian corridor and strong connections between the landscape and interior collaborative spaces and dining facilities. The riparian ecology of the creek is extended through a series of wetland depressions punctuated by Oak Uplands and Savannah. In addition to integrating natural habitat into the campus itself, the design helps restore natural habitat with 30 native species and utilizes stormwater collection, filtration, reuse, and redistribution to help improve the creek.
WRT worked to redevelop Microsoft's offices into a sustainably built, net-zero, non-potable water certified campus.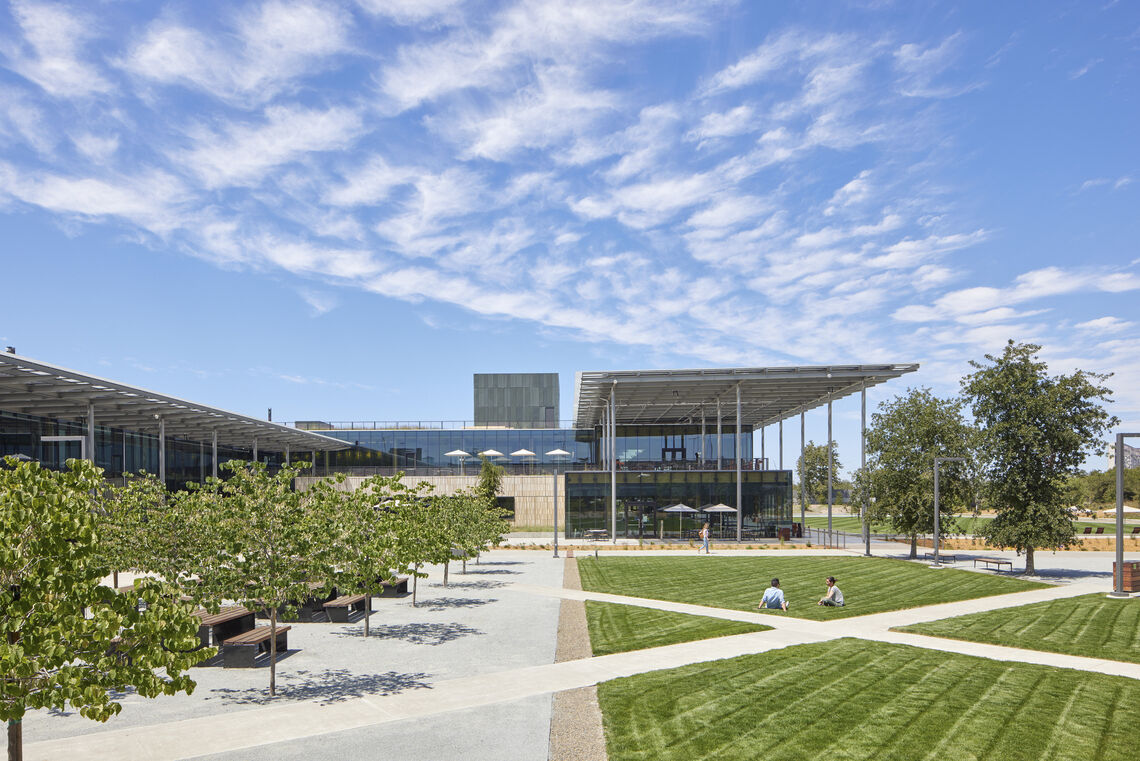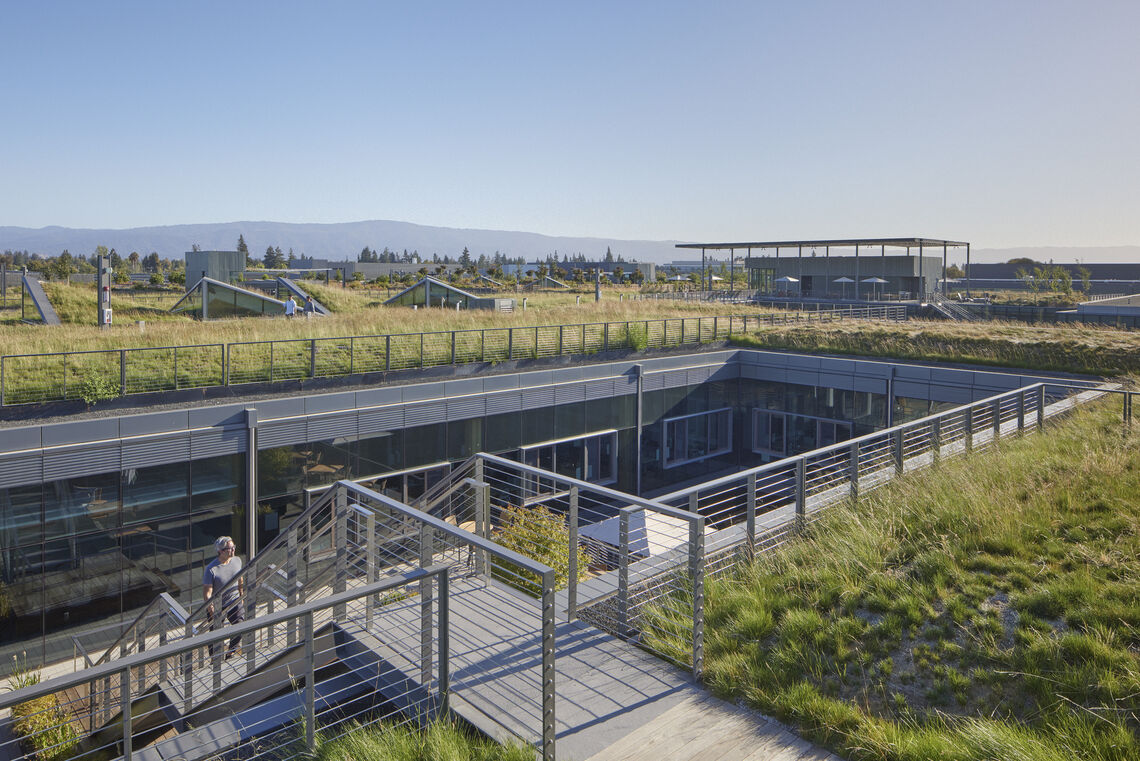 Photographs by Bruce Damonte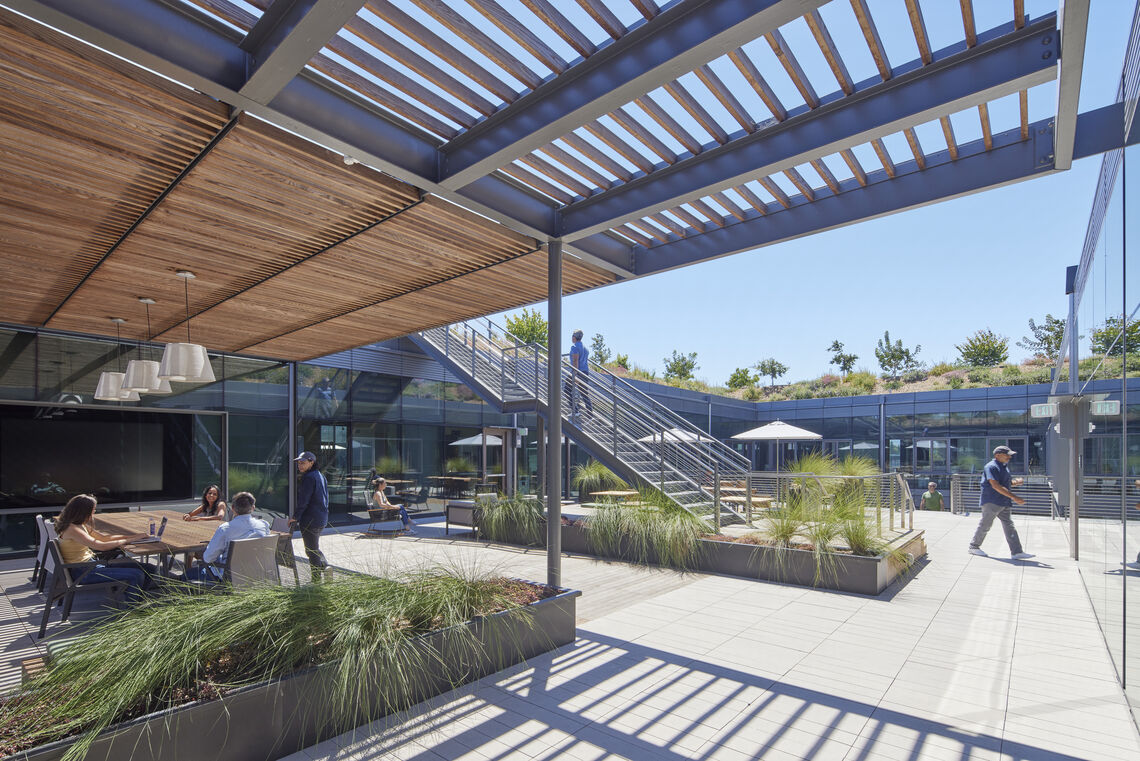 While the majority of the campus features native planting species, including the scrub and grassland ecologies of the green roof and inner campus private zones, unique botanical plant collections from other subtropical and Mediterranean climates around the globe are showcased through the interior courtyards. This symbolizes Microsoft's global presence.
The extensive green roof can be accessed by employees for outdoor dining, casual gathering, individual contemplation as well as point-to-point circulation to key stair/elevator points down to work spaces and other destinations. The courtyards punched into the green roof give access to both working levels and bring fresh air and light into the team workspaces.
The project seeks high levels of LEED, Living Building Challenge, and Well Building Standard certifications. The project was completed in 2020.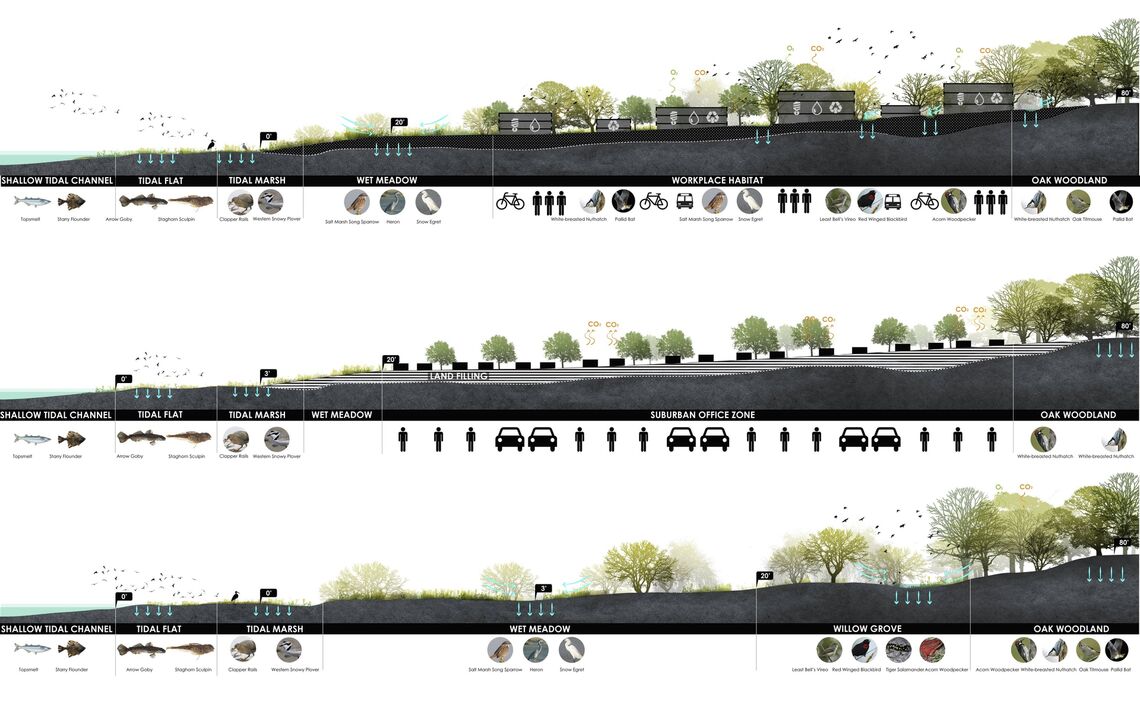 Regaining Ecological Function
Regaining Ecological Function - Pre-Development, Original Campus, Reimagined Campus Environment