Penn's Landing Conceptual Design
The Master Plan for the Central Delaware set in motion an ambitious and far-reaching effort to reclaim a long-neglected Philadelphia asset—the Delaware River waterfront. Guided by recommendations of this foundational plan, the Delaware River Waterfront Corporation (DRWC) have advanced the planning and design that have led to investments in parks, trails, retail, residential and other improvements that have helped extend Philadelphia to the river's edge, making it a recognized destination for residents and visitors, alike.  Within this context, DRWC identified Penn's Landing, located at the center of the waterfront, as a priority for new mixed-use development.
As part of a multidisciplinary planning and design team, WRT helped create a conceptual design proposal for Penn's landing—an integrated redevelopment and public realm strategy to create one of the most welcoming and livable neighborhoods in Philadelphia, with quality affordable and mixed-income housing, community parks with beautiful riverfront views, and verdant planting that creates habitat and supports the health and well-being of its residents.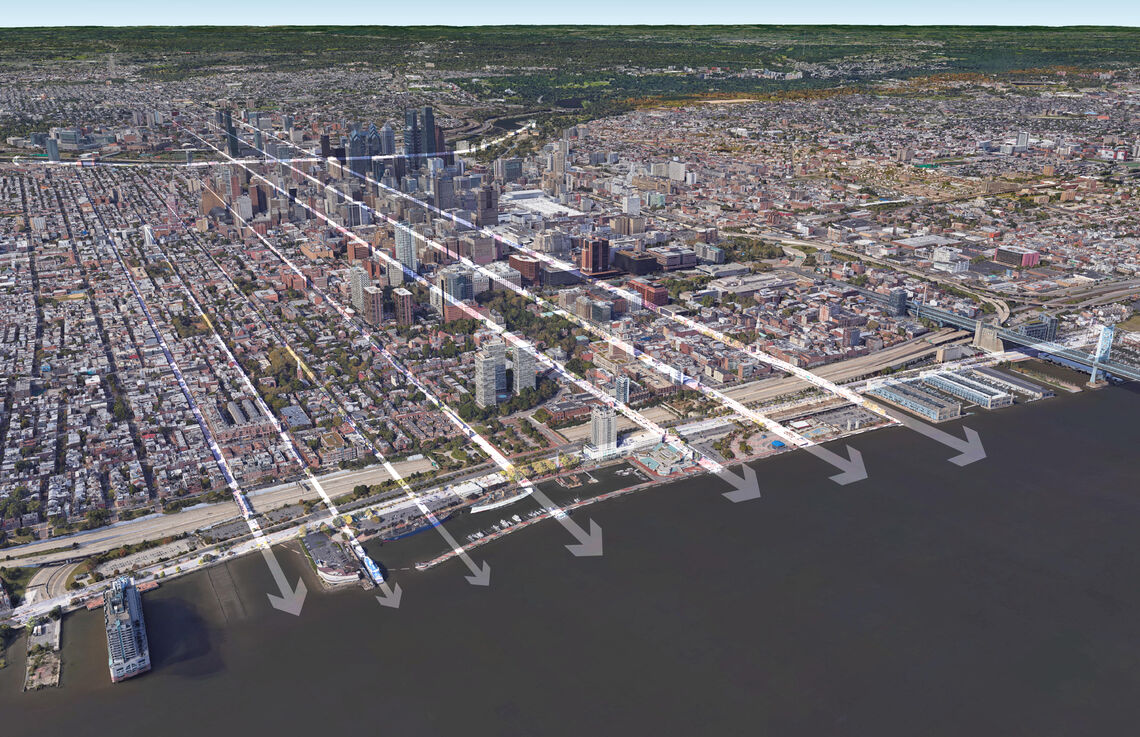 The framework starts by extending the city grid and connecting to the River's EDGE.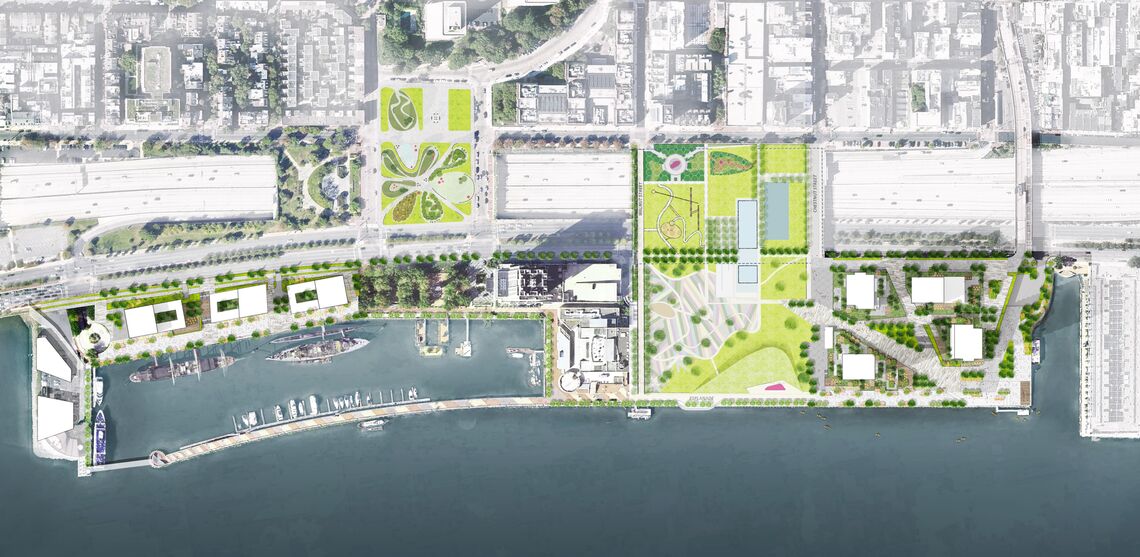 The design concept follows William Penn's utopian ideal of neighborhoods built around civic greens and broad streets that created the identity of the city's historical core. It embodies the present-day, place-based translation of Philadelphia's essence—a place for innovation, civic dialogue, and diversity. 
The visitor experience is defined by a dynamic urban-scale environment that facilitates everything from intimate, human-scaled spaces to larger civic waterfront amenities, through its promotion of sustainable site design, cultural resiliency, and flexible placemaking.
Ultimately, the design aims to achieve a CONNECTED, PUBLIC, and AUTHENTICALLY PHILADELPHIA waterfront.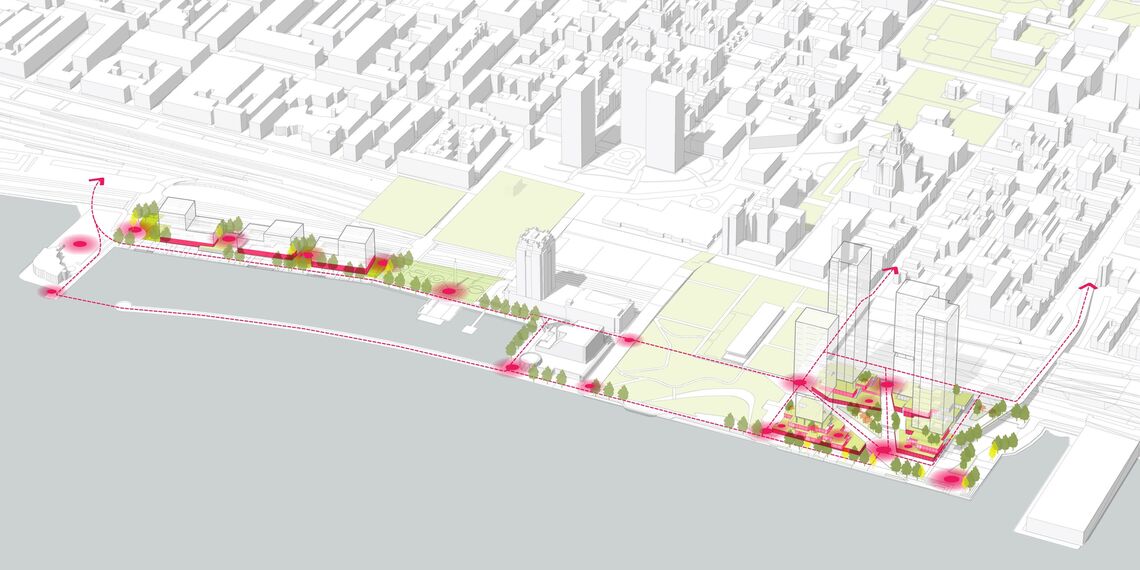 A universally accessible open space system supports a rich and diverse collection of activities and experiences.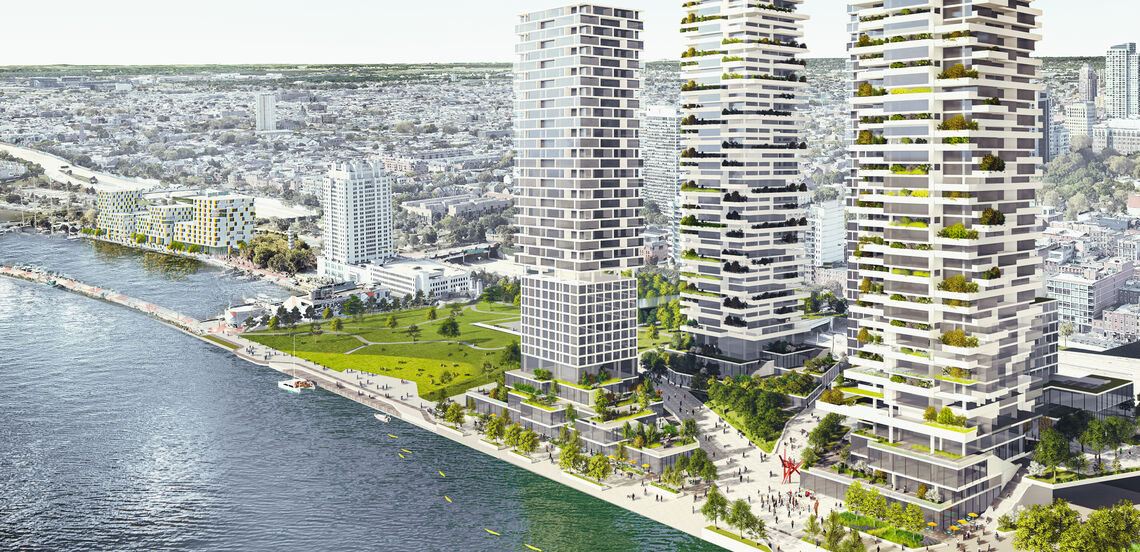 Towers with planted balconies dissolve into lush park spaces, extending public space and creating a sustainable mixed-use waterfront neighborhood.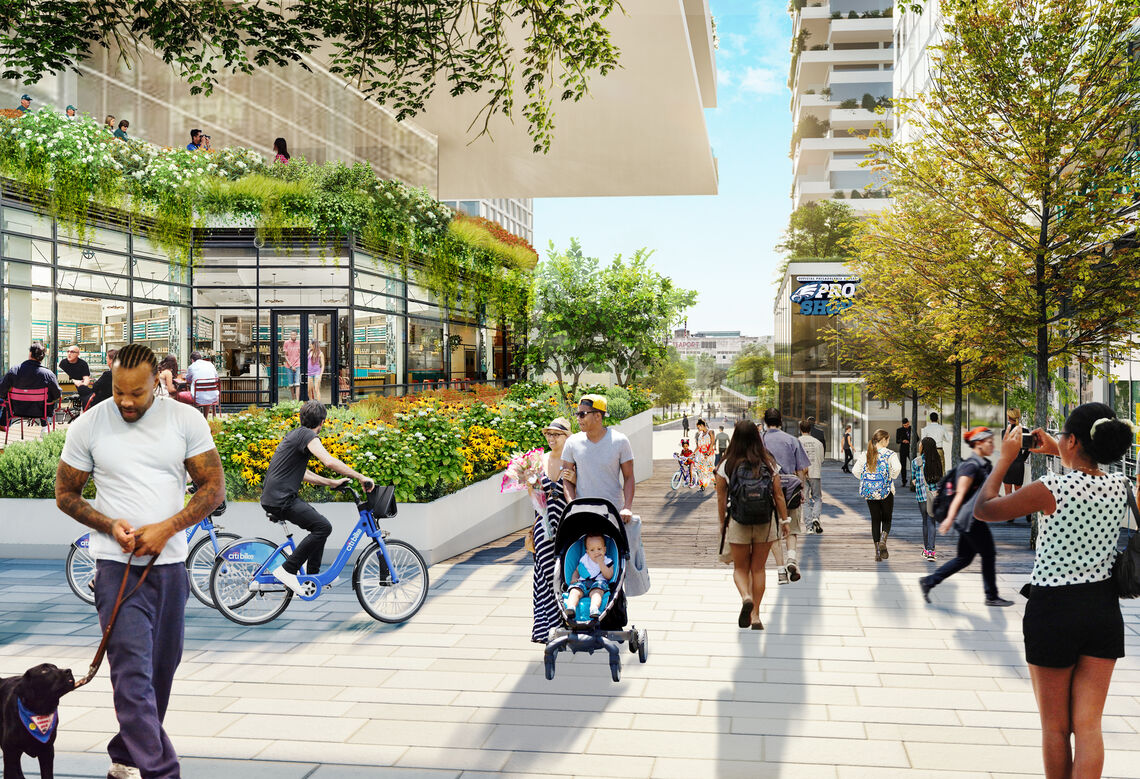 indoor and outdoor activities are curated to meet the price points for locals and visitors.
As a waterfront neighborhood integrated into landscape, the design brings sustainability and resiliency into all elements, thus creating a neighborhood that will last long into the future.  Through a combination of parkland, rain gardens, natural revetments, urban forests and manmade structures that facilitate access to the water and enhance biological activity, the site's landscape not only mitigates the grade change for enhanced accessibility to the waterfront, but also functions to maintain the human-scale. The system is designed to filter rainwater, clean the air, and promote a healthy urban environment. 
The new building construction utilizes innovative "green" technology—visible inside and out. All the buildings on the site consider Passive House standards. The neighborhood will be linked by public spaces complete with public art, placemaking and activation strategies that celebrate the City's rich history and cultural diversity. Ground floor spaces will showcase Philadelphia's local flavors, and places for creatives and innovators. The site honors its history through use of materials, public art, environmental graphics, paving systems and the integration of interpretive elements into the landscape design.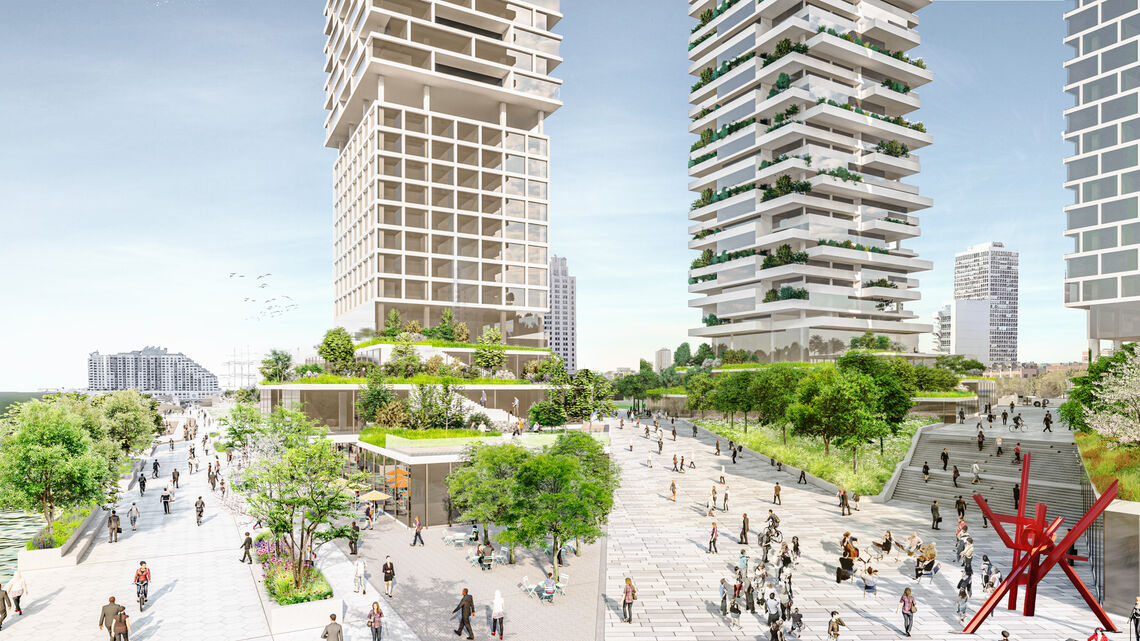 This project proposal was led by Penn's Landing Community Partners, LLC owned by The Republic Family of Companies, as well as Keystone Property Group, Hersha Hotels & Resorts, Parkway Corporation, Toll Brothers, and Lomax Real Estate Partners. The planning and design team included:
Hassell: Architecture
WRT: Master Planning, Landscape Architecture and Urban Design
Kittelson & Associates, Inc.: Transportation Planning
BuroHappold: Resilient Infrastructure
Pennoni: Civil Engineering
PennPraxis: Engagement and Outreach Strategy