Pinellas Gateway/Mid-County Area Master Plan and Memorandum of Understanding, National Planning Award Nomination – Planning Excellence Category
The Gateway/Mid-County Area is a primary economic engine of Pinellas County, Florida, and the Tampa Bay region. The area includes four local government jurisdictions and is home to a large number of higher wage jobs and professions, including manufacturing and other industrial elements. The area suffers from the challenges of a disparate, disconnected and disinvested automobile-centric development pattern without any real sense of identity. The area is also vulnerable to sea level rise and coastal storms, faces competition for adequately trained workers to meet area business and industry demands, and lacks quality affordable housing and amenities that can retain its current employee base and attract future employees.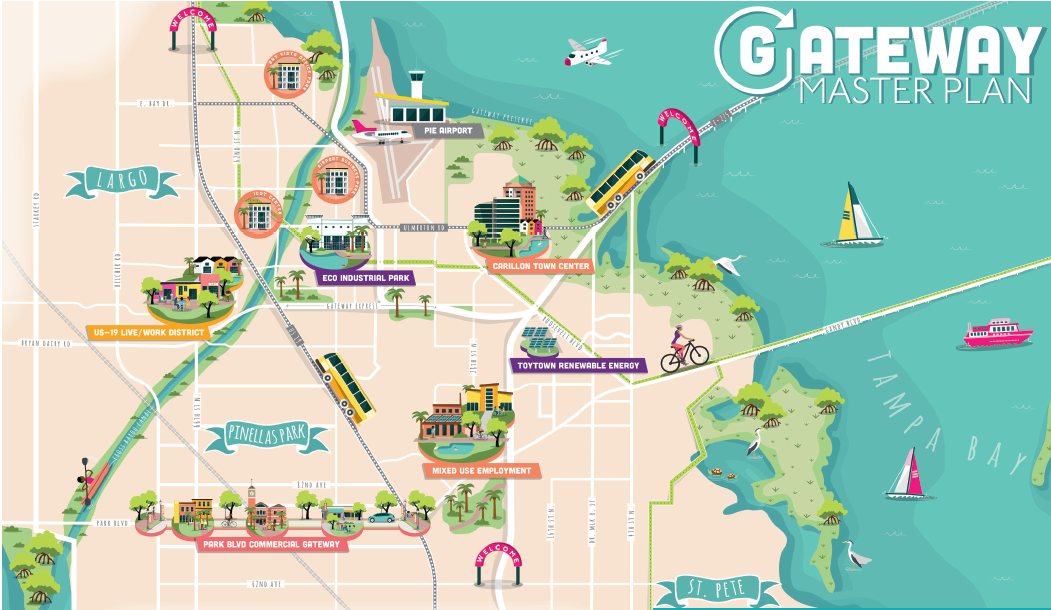 About the Planning Process
In 2018, with financial support committed from Pinellas County, the cities of Largo, Pinellas Park and St. Petersburg, and the Florida Department of Transportation, Forward Pinellas engaged a consulting team, led by WRT, to begin development of a master plan for the Gateway/Mid-County area. The plan identifies opportunities for more efficient, economy-enhancing land use patterns that will preserve industrial lands while also providing more housing options that put people closer to their destinations, reduce congestion, enable investments in transit and produce safe bicycle and pedestrian connections.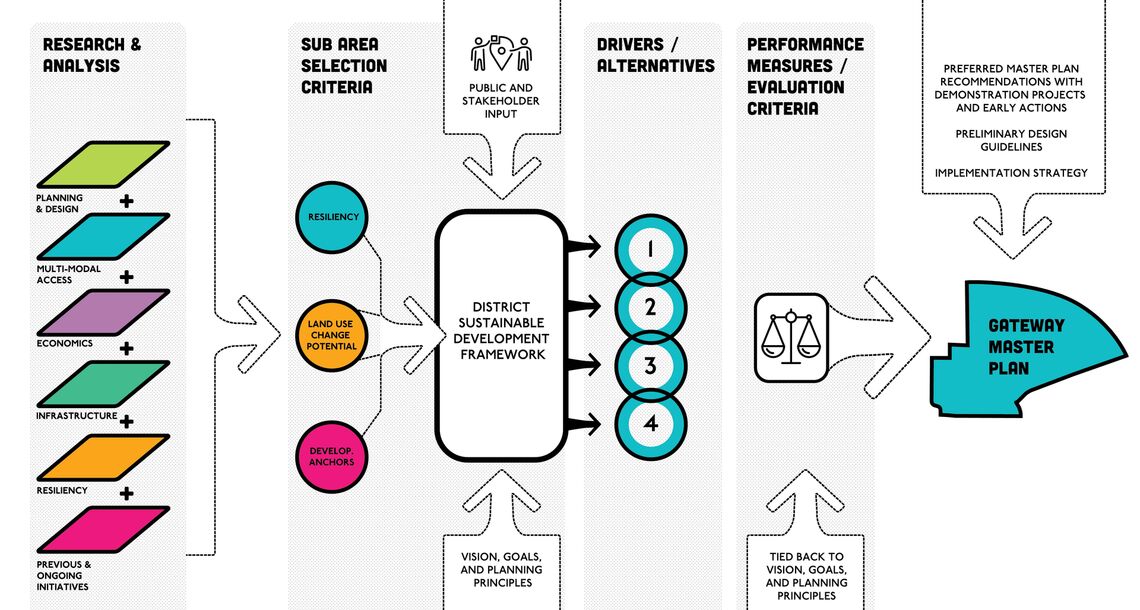 Planning and design was guided by public engagement activities which included open house sessions, dozens of stakeholder interviews, charrettes, community briefings, roundtable discussions, and online surveys. In terms that matter to residents' daily lives, the master plan is about creating a livable area that continues to attract ample jobs and includes multiple options get to work and other destinations safely and conveniently.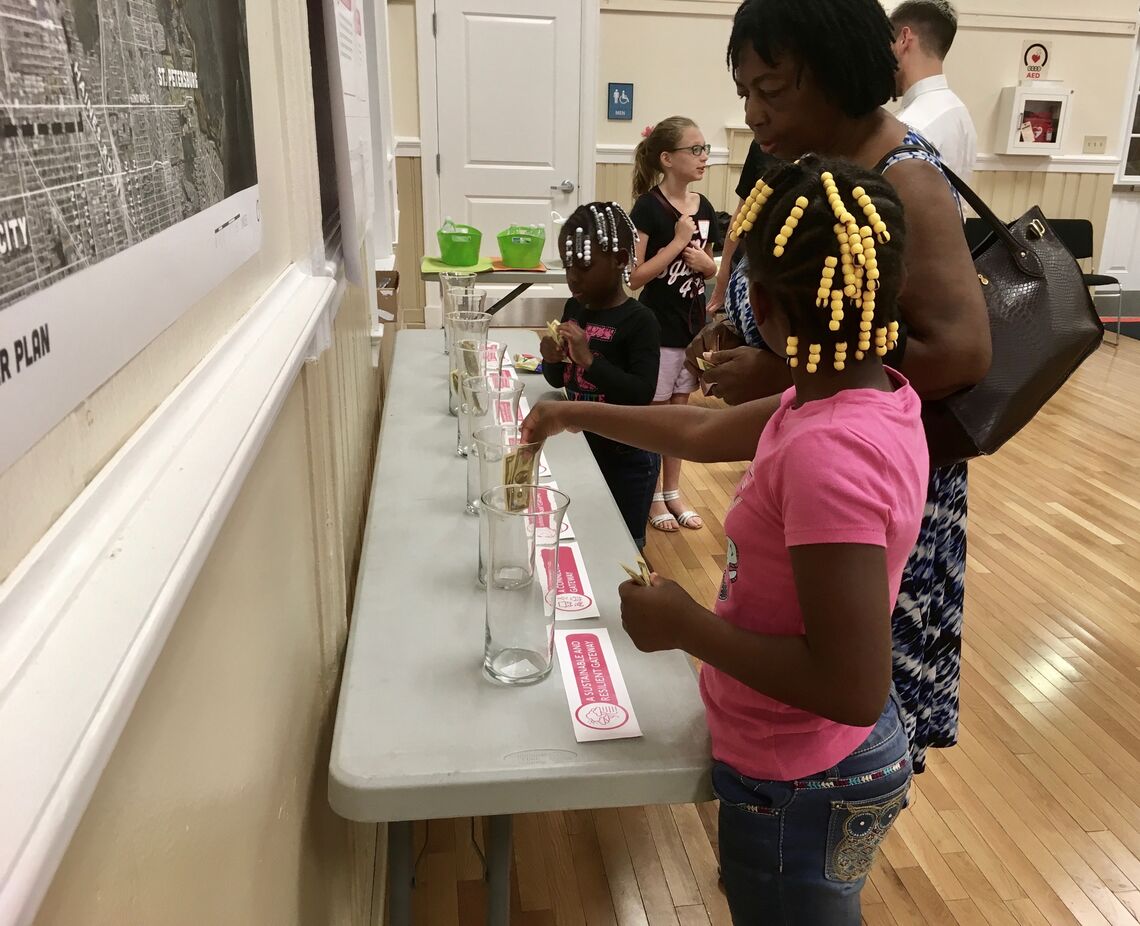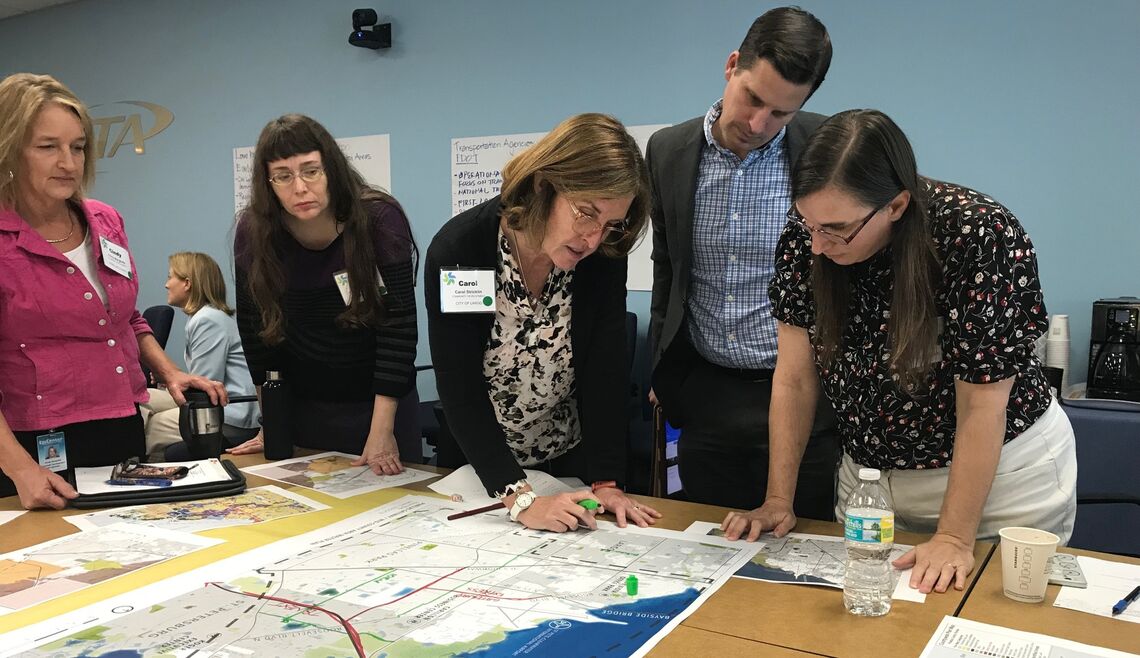 About the Vision
The 25-year community vision is for the Gateway to evolve into several distinct, sustainable, mixed-use districts that celebrate its regional geography and leverage its central location on Tampa Bay to retain and encourage job growth while providing new housing, services, and a host of amenities for employees, residents, and visitors. Each district will include vibrant nodes that are connected to transit, with safe walkable and bikeable streets, trails, and blue ways.
One of the overarching planning and design principles is to create a sustainable and resilient Gateway that will sustainably manage water, energy, and other environmental resources and protect the diverse ecosystem that makes up the county's natural resources and contributes to the county's public health, quality of life, and local economy. A triple bottom line resiliency toolkit was developed in support of this goal that employs flood mitigation strategies, multi-functional open space, thermal comfort, resiliency hubs, renewable energy, and resilient codes.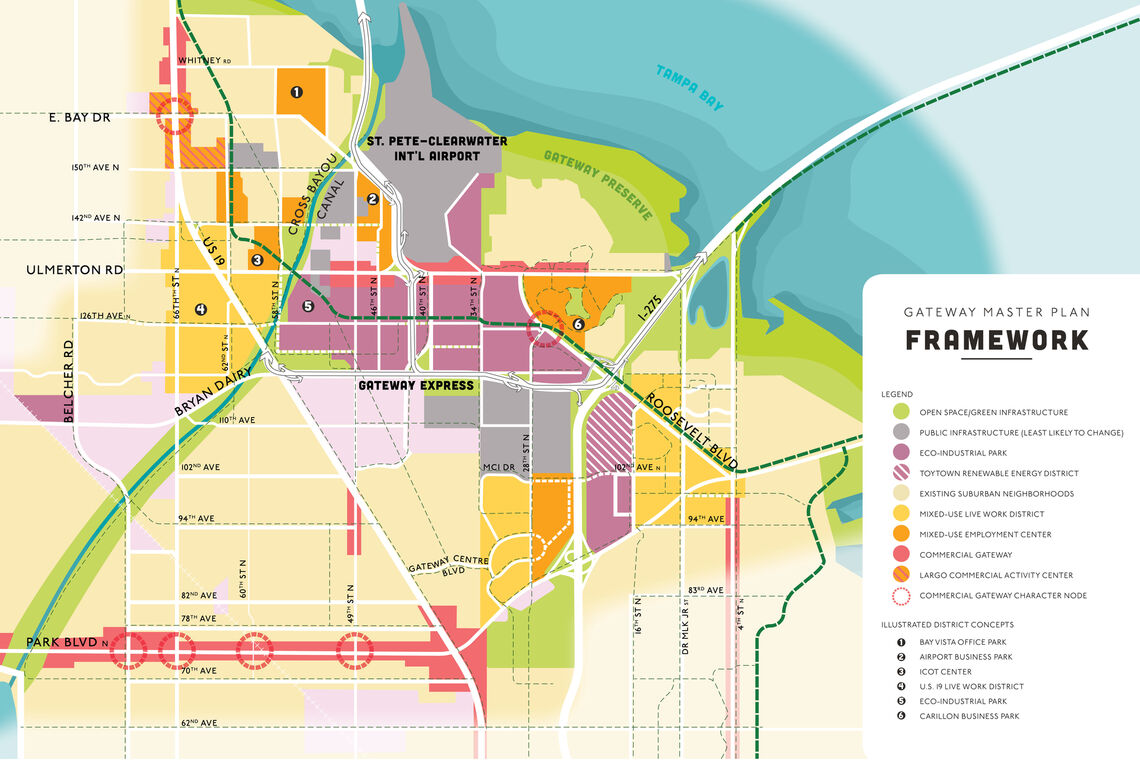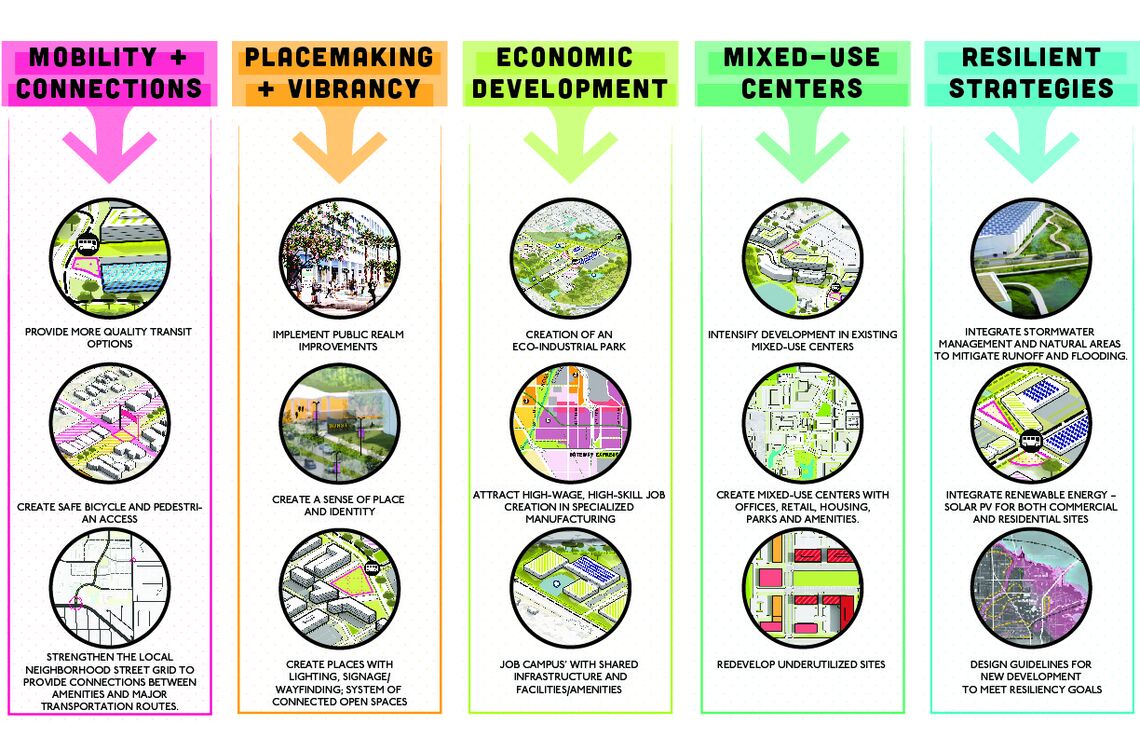 The Plan presents strategies to build on existing assets while  integrating transportation and land use for a more socially, environmentally, and economically sustainable future.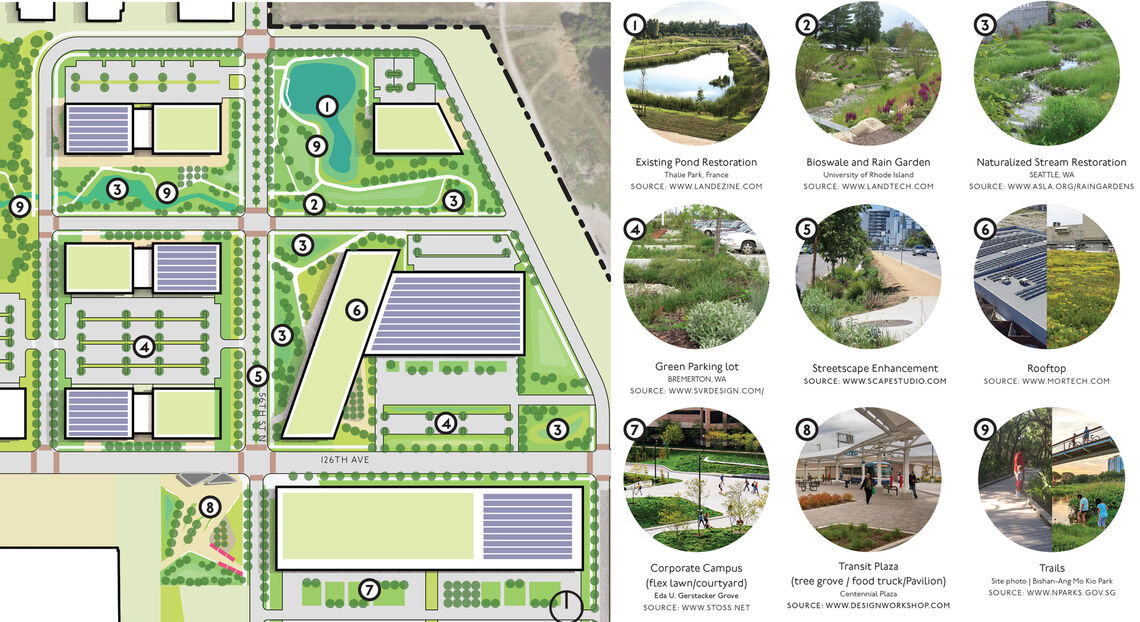 ECO INDUSTRIAL DiSTRICT SITE PLAN
ECO INDUSTRIAL DISTRICT RENDERING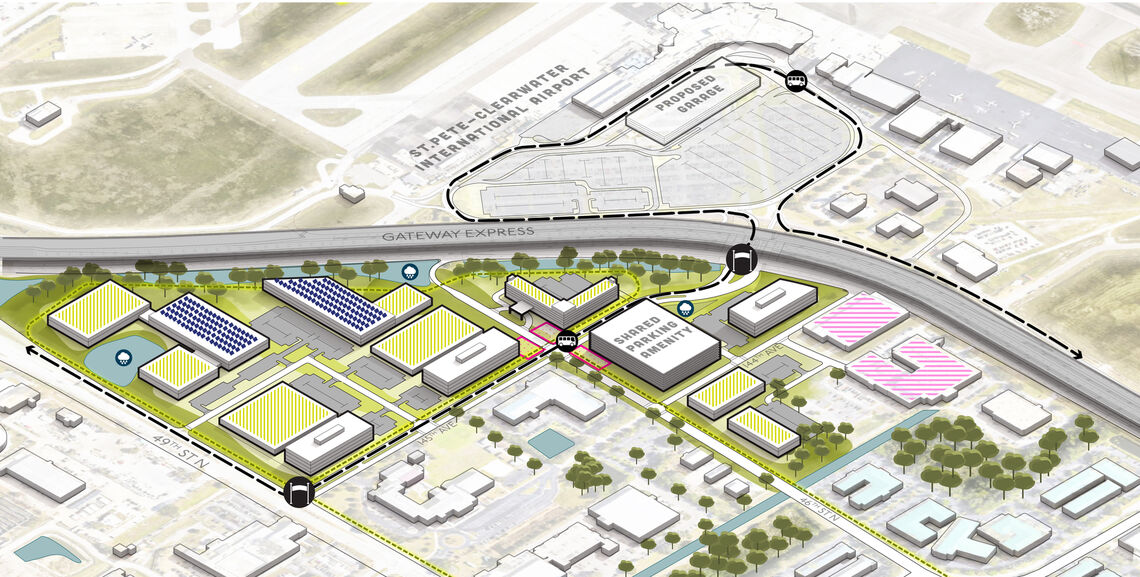 Airport Business Park Concept
The County's goals of creating a hub of economic activity at the crossroads of the Gateway Area's greatest regional assets, The Gateway Expressway and St. Pete-Clearwater International Airport are realized with this innovative industrial manufacturing and commercial district featuring an interconnected system of shared green infrastructure, placemaking, signage, and other amenities connected to transit.
Final Plan 
The Pinellas Gateway/Mid-County Area Master Plan promotes the creation of a sustainable and resilient Gateway, a connected Gateway, a vibrant Gateway, an economically robust Gateway, a Gateway with a variety of safe, healthy, affordable neighborhoods, an equitable Gateway that incorporates Health In All Policies, and a smarter, more innovative Gateway.
Memorandum of Understanding
The plan was completed in September 2020, and Forward Pinellas and their local government partners are now moving toward the implementation phase. As part of this process, a Memorandum of Understanding (MOU) was developed and signed by the local jurisdictions and Forward Pinellas. It documents the commitment between all the partners to implement the Gateway Master Plan. The MOU has allowed for the creation of a collaborative forum for the local government partners to share ideas and coordinate efforts that cross jurisdictional boundaries. Forward Pinellas and the local jurisdictions found innovative ways to collaborate and move forward with these efforts to develop and implement this MOU in the midst of a global pandemic, which amplifies the importance of the Gateway Master Plan and its impact on the region.
Related Links
Forward Pinellas BlOG