Reimagine San Geronimo: Vision Plan
In 2018, the Trust for Public Land (TPL) undertook a massive effort to reimagine San Geronimo Valley's former 157-acre golf course with new uses that prioritize conservation, habitat and creek restoration, wildlife connections, nature interpretation, passive recreation, and community spaces. Past uses of the land have degraded many of the natural features and functions of the property - meadows that were once a habitat mosaic of oak woodlands, expansive graddlands, and dense riparian forests, were converted to rangeland then golfing uses by previous owners.
WRT led the preparation of the Vision Framework and the stakeholder/community engagement process. The framework establishes a broad planning foundation to guide future uses of the San Geronimo Commons, with the primary goals to restore its ecological health and resilience, supporting public access including multi-use trails and compatible recreational uses, and making space for a Marin County fire station and community-serving amenities.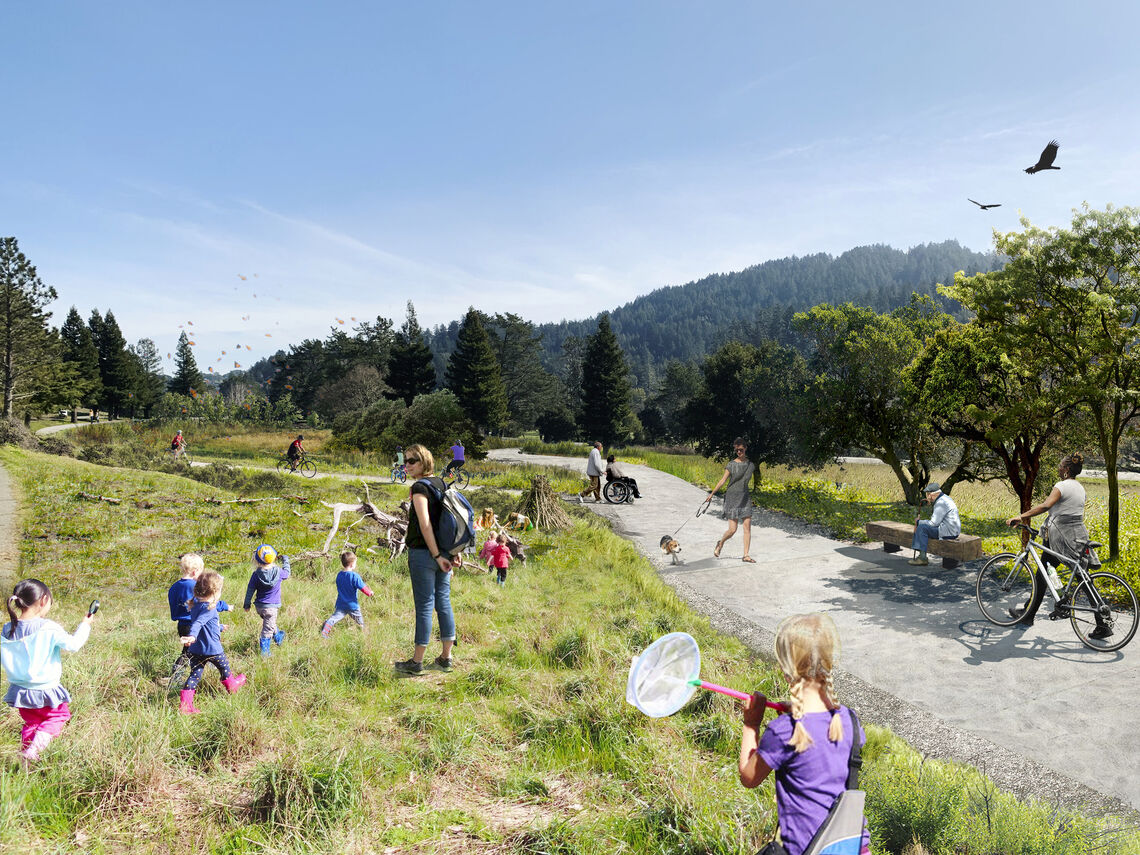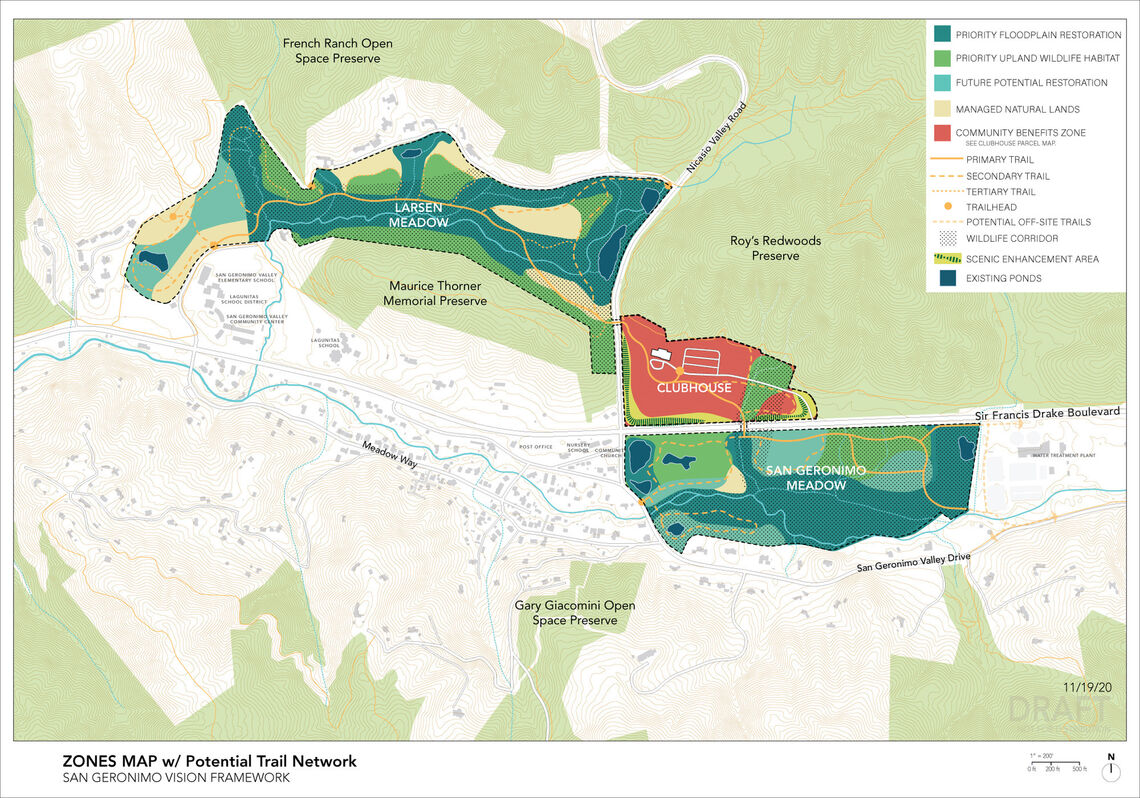 The San Geronimo Commons property includes three large parcels, which are the focus of the Vision Framework. Each parcel presents varying opportunities for restoration, conservation, circulation/access, recreation, and other community uses. Considerations for future use and conservation of the San Geronimo Commons began by evaluating the property's hydrological, ecological, recreational, and scenic attributes. Each of these features presents independent opportunities and constraints, and when intertwined, represent an integrated social and ecological environment.
TPL convened an intensive community engagement process in the spring of 2019 to educate the community about its project objectives, solicit feedback as conservation-compatible uses for the property, and develop a long-term vision to guide future stewards of the land. The project team had identified six major categories of community feedback:
1. Restoration: Strong support in the community for habitat and ecosystem restoration on the San Geronimo property
2. Recreation: There is an overwhelming community interest and support for multi-use trails on the property for passive recreational pursuits such as walking, bicycling, riding, and enjoyment of nature. 
3. Regenerative Land Management Practices: Community suggestions for these practices could be compatible with shared conservation, nature interpretation and public access goals in approporaite locations including community gardens, native plant harvest areas, and demonstration spaces.
4. Circulation (Trails and Pathways): The community clearly articulated a strong desire for safe, multi-use paths and safe routs through the San Geronimo Commons. 
5. Community: A strong desire to make the existing clubhouse buildin and surrounding areas available for community purposes (meeting rooms, event spaces, social gatherings) 
6. Fire Safety: Due to concerns over fire vulnerability in the area, relocation of the Woodacre fire station to the property to ensure a 'hub' of fire resilience in the Valley was expressed. 
Today, thanks to the continued work of Environmental Science Associates, Trout Unlimited, and TPL, a constrained creek is restored to braided channels that support endangered salmon fisheries. The former golf course is now a meadow and host to a healthy upstream food web ecosystem.