STRATA Flats is comprised of three residential buildings, West, East, and Symphony, located in the heart of Allentown, PA, the state's fastest growing city.

The first to open, STRATA West was the first residential space in downtown Allentown's major mixed-use development, City Center Allentown. It also marked the first new construction of market-rate apartments downtown in years. Located on the southeast corner of Seventh and Linden Streets, this brand-new five-story building on the ArtsWalk placed a few hundred lucky residents at the heart of all the new action in the revitalized downtown. STRATA West's 170 upscale units, each offering high-end amenities, modern conveniences and concierge services, are just steps from PPL Center, the Renaissance Allentown Hotel, a broad range of great new restaurants and bars, arts venues and much more. The building was rapidly and fully leased, and two additional STRATA properties were constructed adjacent to the original to meet demand. STRATA East opened in May 2017 with 67 units, and STRATA Symphony opened in December 2017 with 71 units.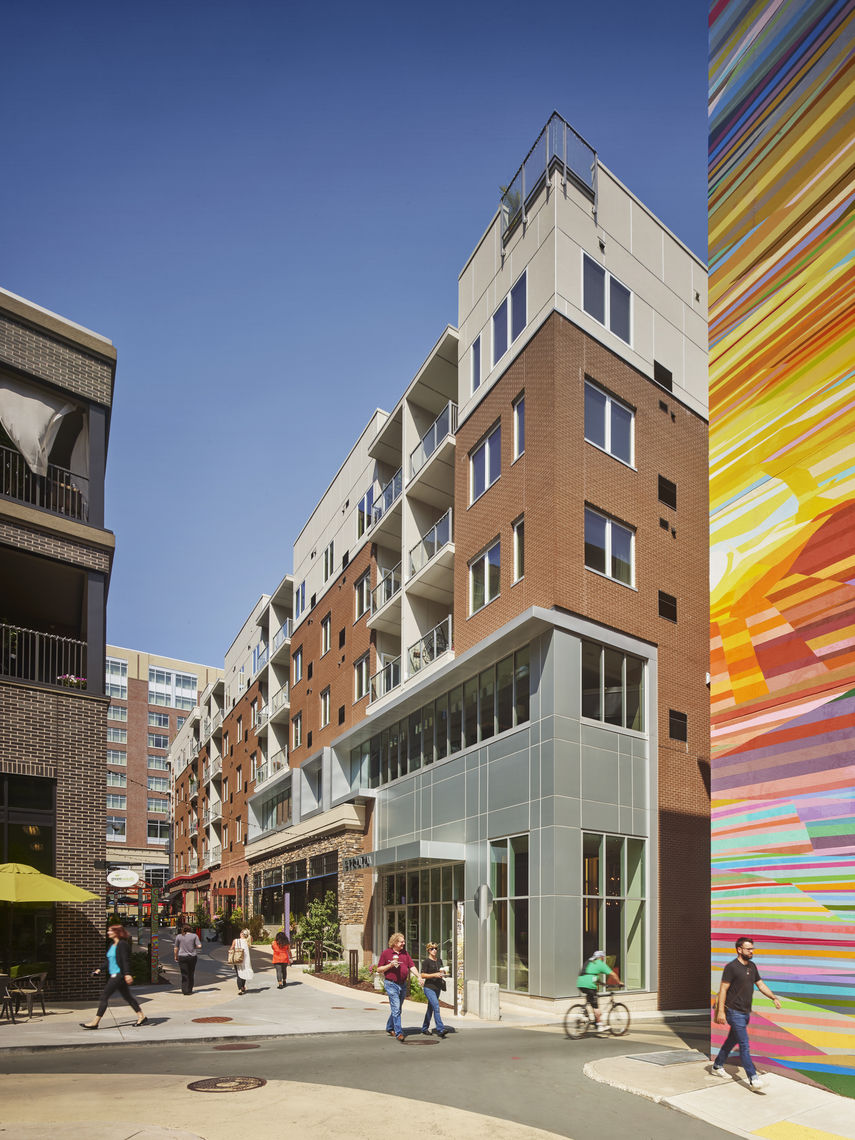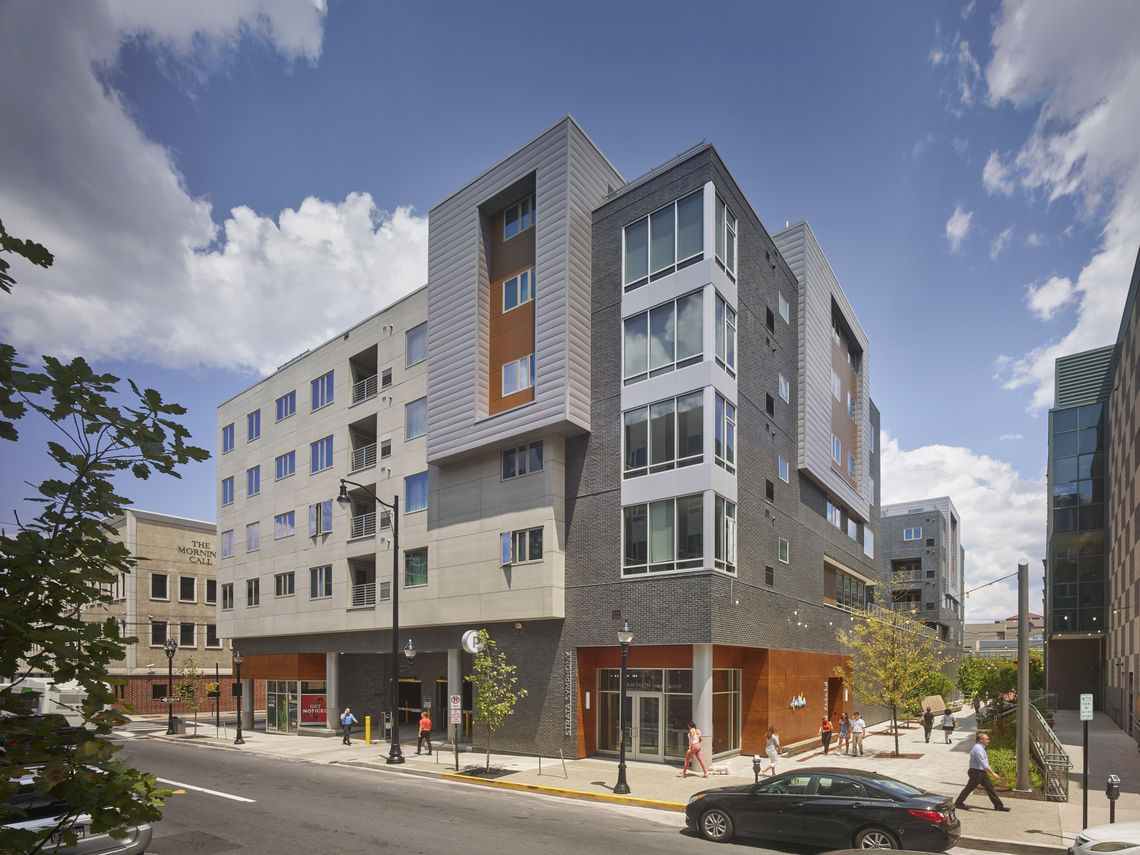 STRATA West
The building design responds to adjacent aesthetic cues surrounding the site, from new and modern commercial structures to buildings in the Historic Register. The site occupies a privileged but previously underutilized location which also had to creatively address a 17-foot drop in grade from the high point at the start of the ArtsWalk to the lowest point at Linden and Church streets. The architectural resolution of these competing conditions also had to account for the programmatic and financing requirement to provide up to 30,000 GSF of retail leasable area. The result is a building that creates distinct experiences for the pedestrian at street level with the building broken into discreet storefronts and mix of retail frontages and as a key marker of one's arrival to downtown.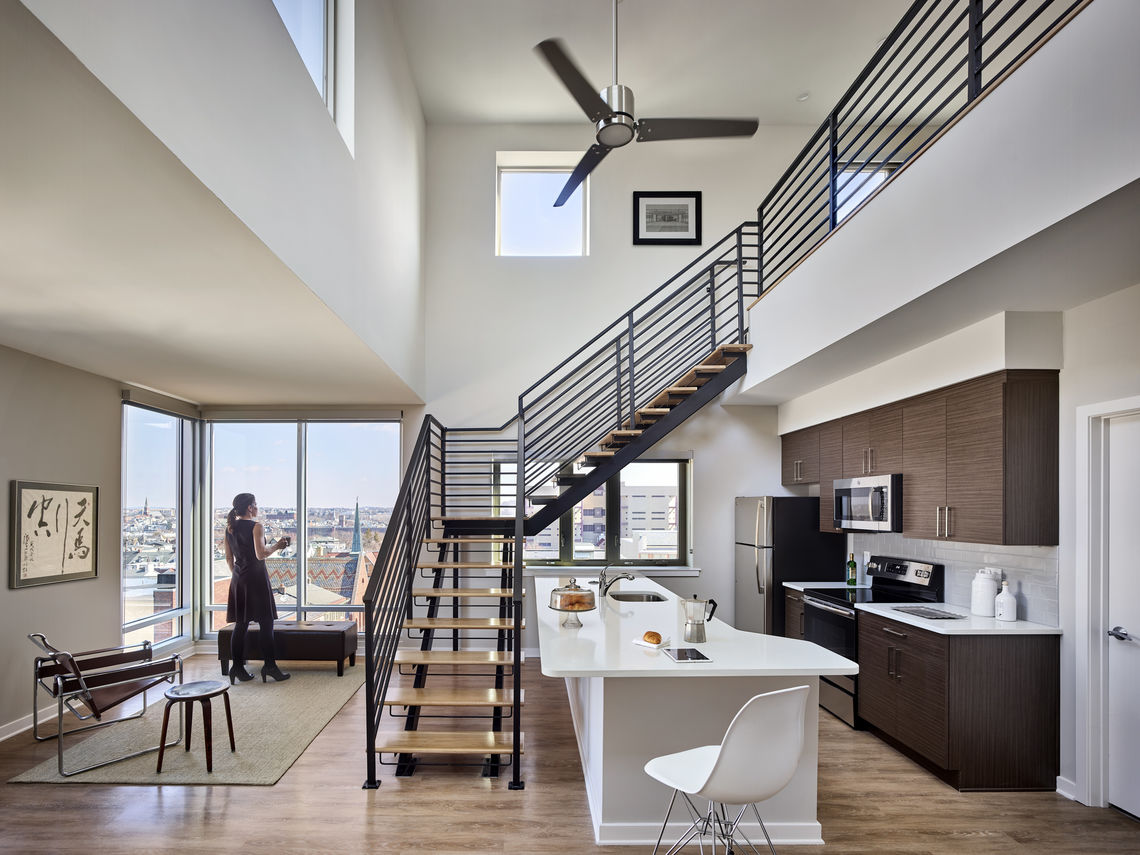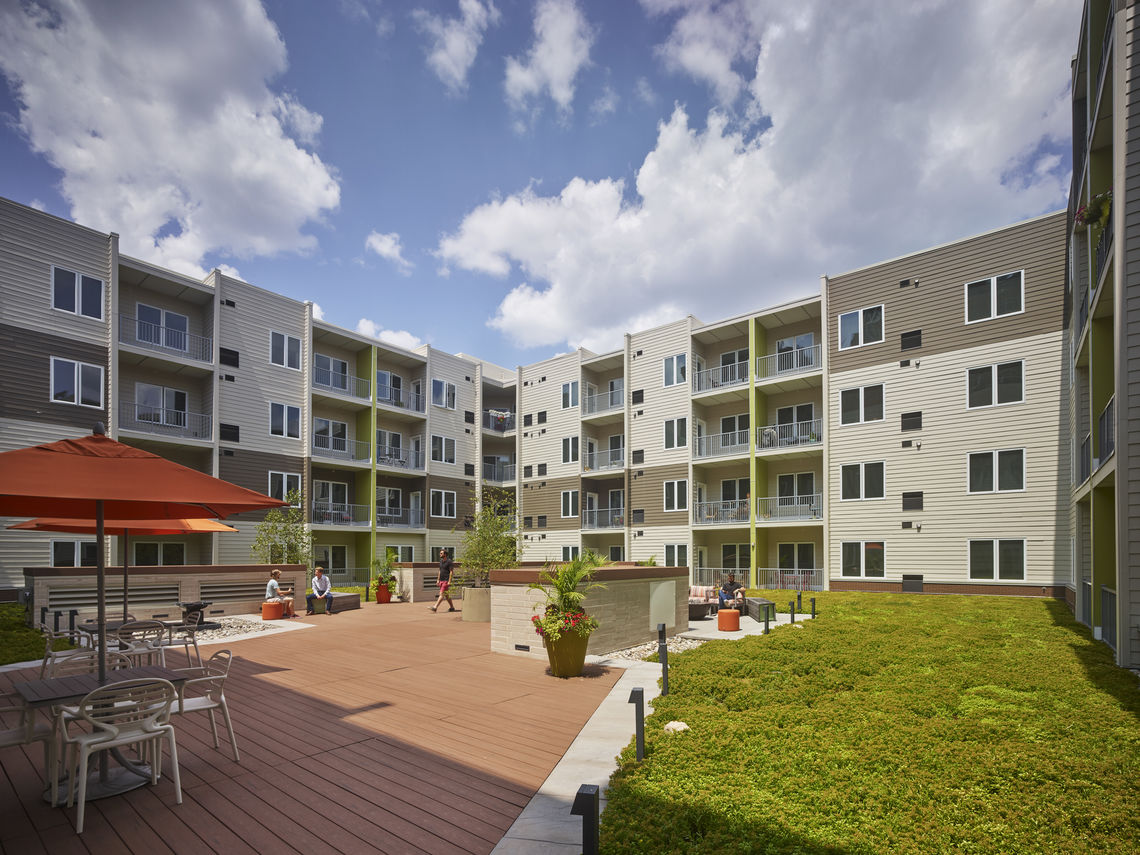 STRATA East
The building followed a similar development model with ground floor retail, residential units on the upper floors and luxuriously appointed amenity spaces for the residents, but offers its own identity given its prominent location in front of historic Miller Symphony Hall. Also located on the ArtsWalk, STRATA East provides outdoor space designed for respite and enjoyment including a heavily used dog park with adjoining and complimentary grooming space.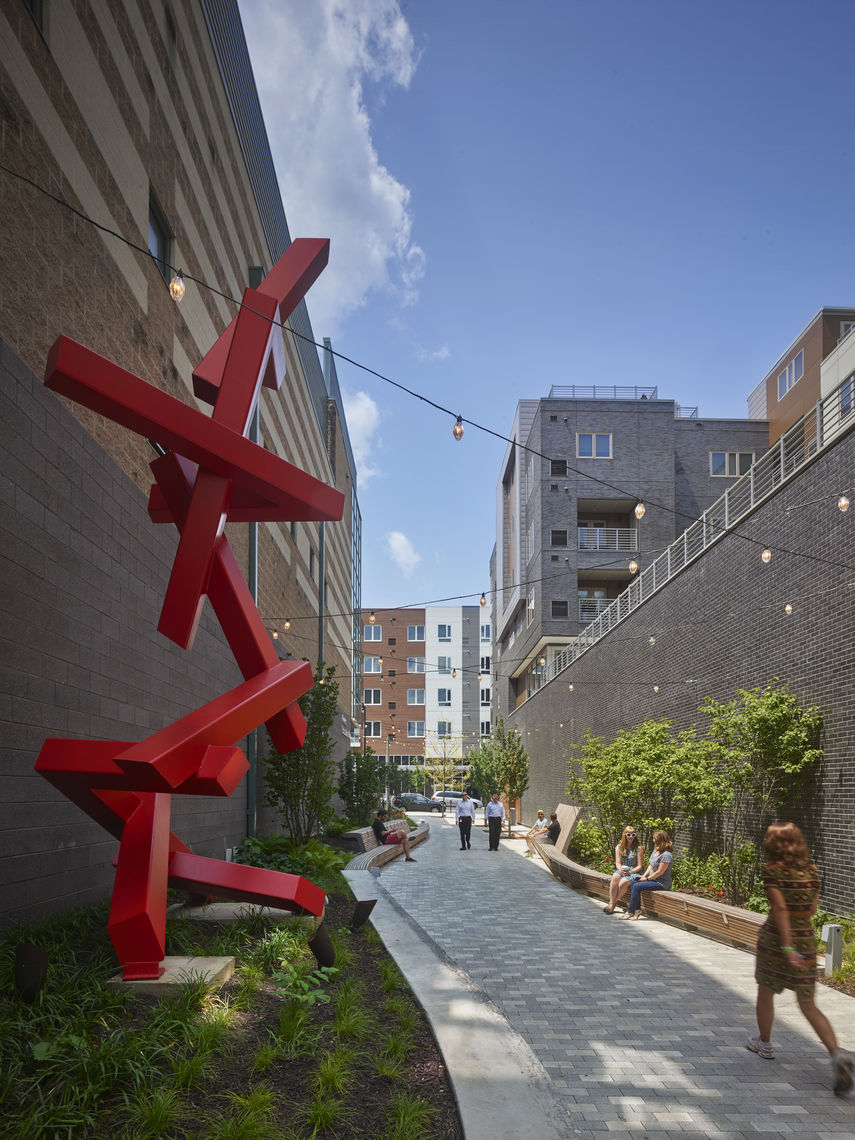 STRATA Symphony
This mixed-use development of 71 luxury apartments consists of studios, one-, and two-bedroom units including double-height lofts with outdoor roof terraces. The residential units begin on the second floor with social and amenity spaces adjacent to an open courtyard that faces the Arts Walk and Miller Symphony Hall while the ground floor provides public access to parking and retail. The concentration of housing along this pedestrian-friendly arts and culture path has catalyzed the creation of galleries, retail, cafes and boutiques in the downtown core, connecting the broader Allentown community in new and different ways.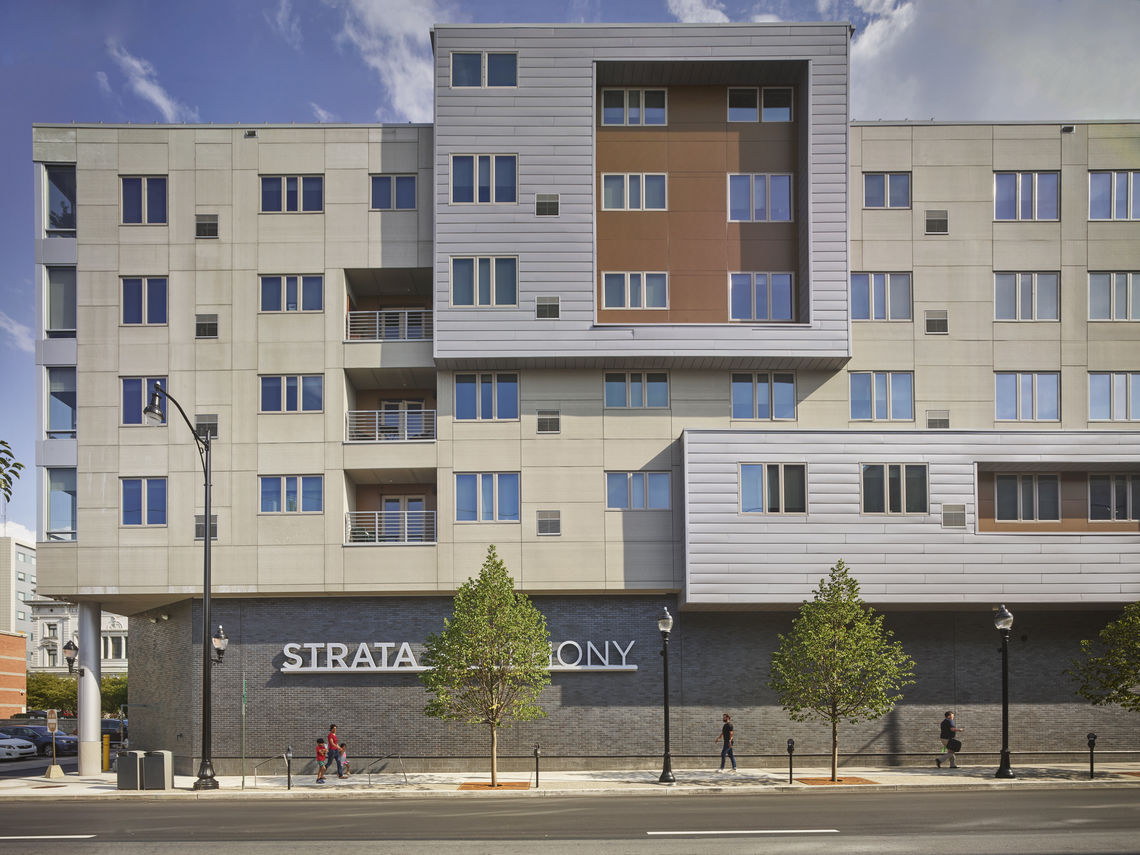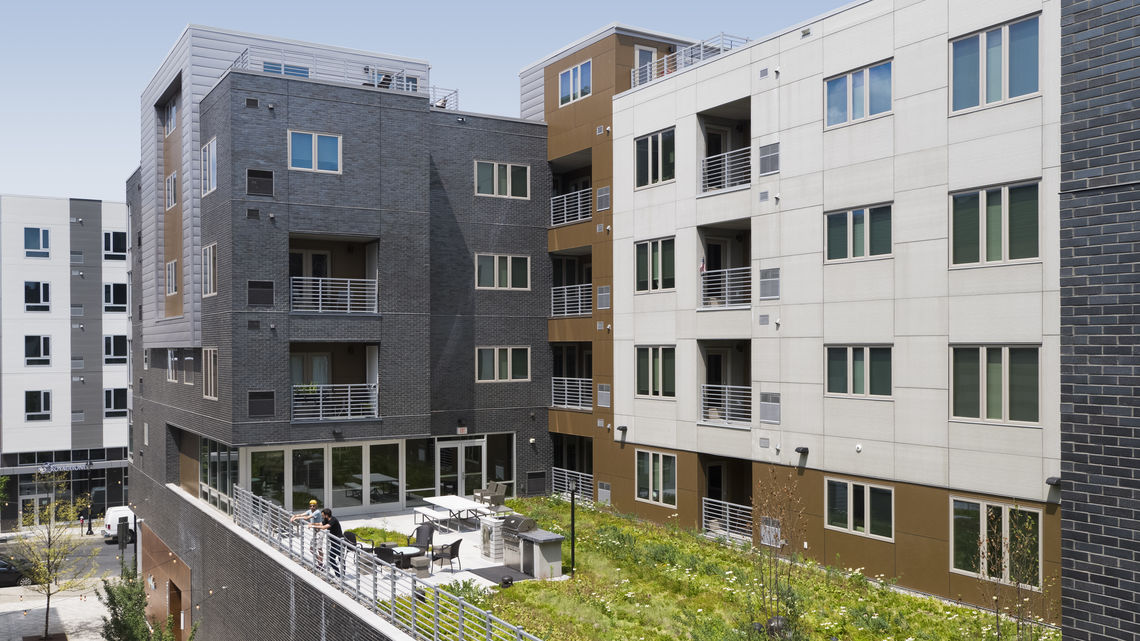 Each STRATA building was designed with community in mind, offering plenty of opportunities to entertain – or be entertained – in a place buzzing with excitement and energy. STRATA residents meet new and familiar faces in the lounges, community spaces, dog park and rooftop decks, and through the many events programmed on the ArtsWalk. Downtown Allentown is rapidly becoming one of America's most vibrant urban communities, and STRATA offers the walkable-neighborhood lifestyle that so many people - especially millennials and empty-nesters - crave. In fact, many of the flats were leased prior to their building opening. Today, all 308 units among the three buildings are leased with a waiting list.