The Parklands of Floyds Fork
The Floyds Fork River is located on the eastern edge of the Louisville Metro area in Jefferson County, Kentucky. The Parklands of Floyds Fork (the Parklands), is a 20-mile long, 4,000-acre public park currently nearing completion within the river corridor. WRT's master plan and subsequent design established direction for four regional parks connected by a greenway, meandering along the lush Kentucky bottomlands and flanking hillsides. By securing open space ahead of the development curve, Louisville is using parkland to proactively shape future development. WRT worked with the client to develop a more sustainable model for urban growth beyond the city limits, in which the Parklands is the green frontier of the region's eastward development and the future green infrastructure of communities yet to be.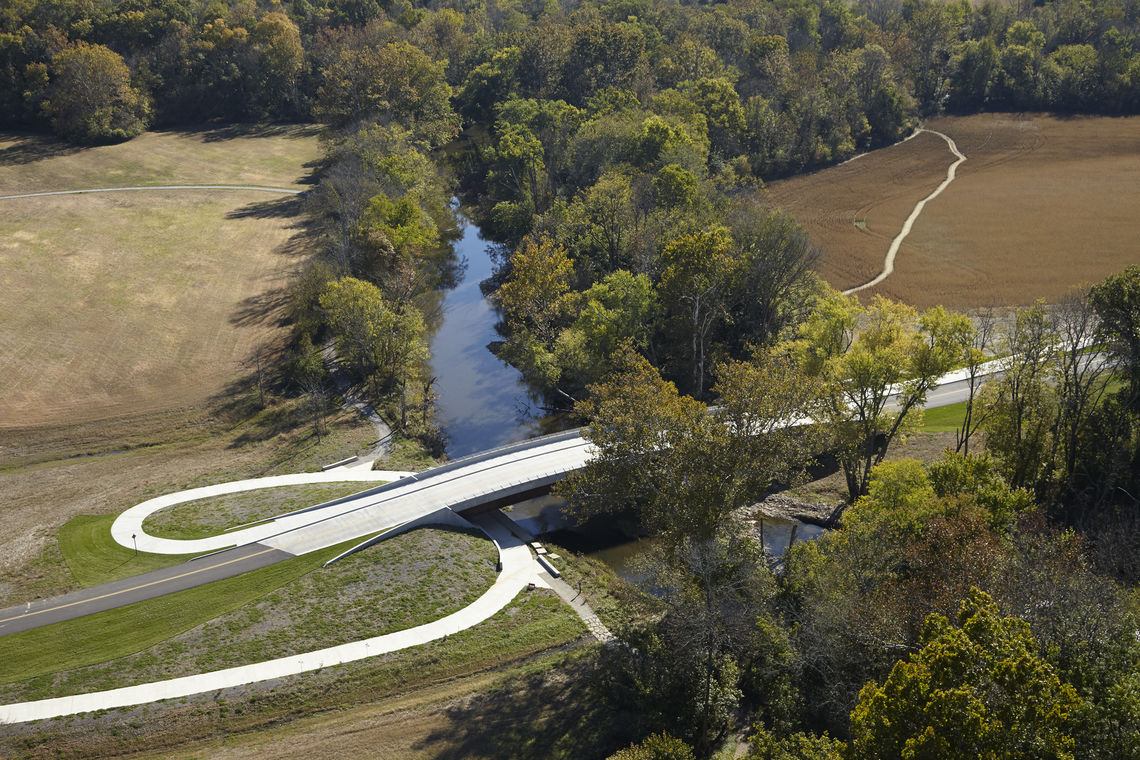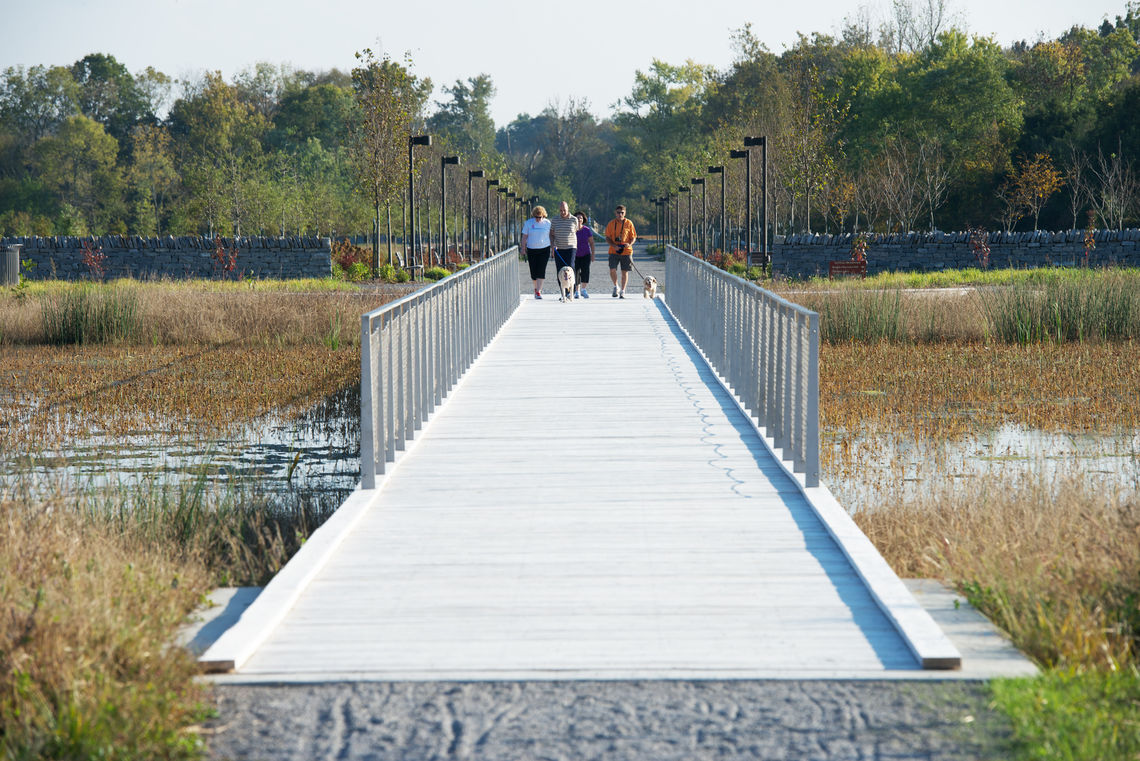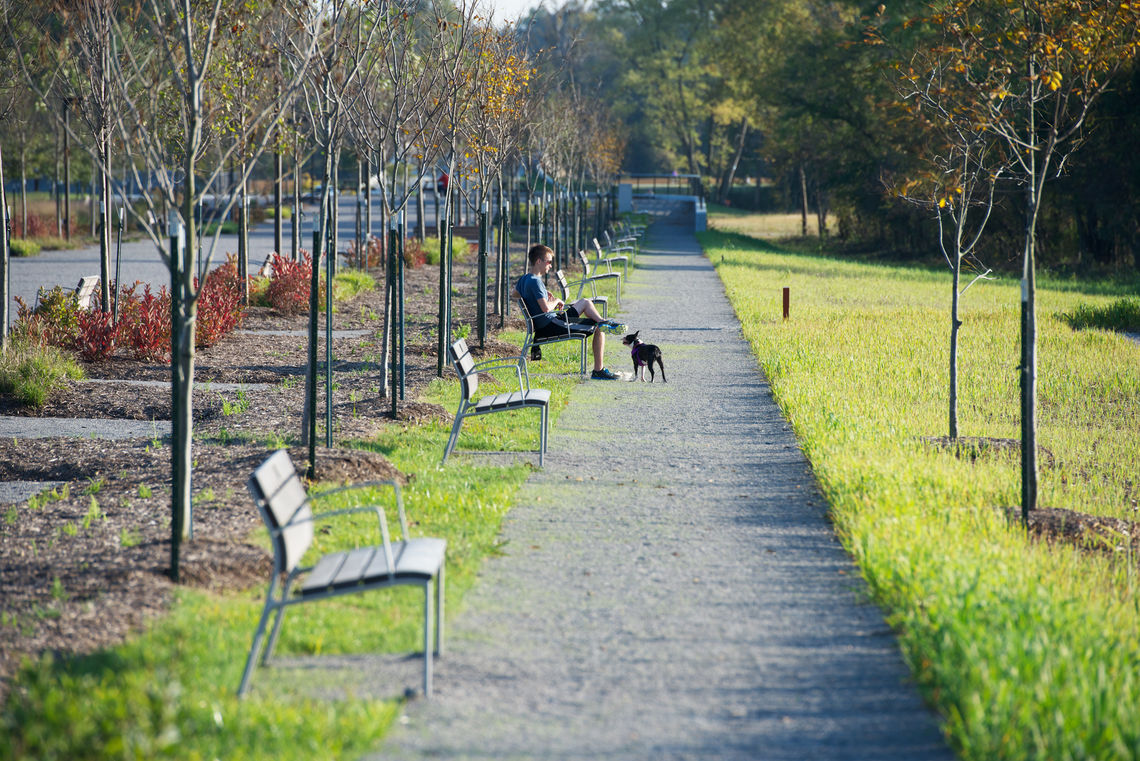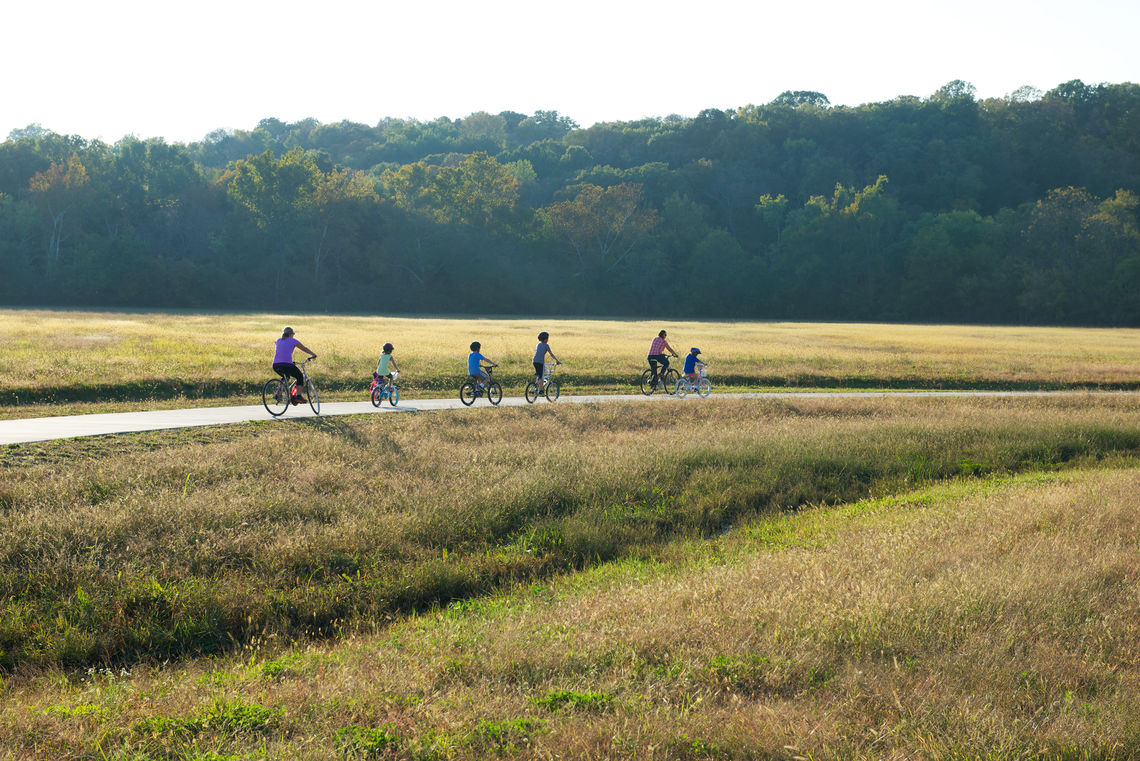 The challenge of the Parklands has been to give meaning to and magnify the promise of a lovely and subtle landscape. Assembled largely from farmland, undevelopable slopes, and wet bottomlands, the landscape is notable in both its magnitude and primitive state.
The designers and client responded to this by developing the conceptual design to respond to and expand upon these attributes. 
Three strategies organized the master plan concept: Framework - The framework shapes the spatial context of the park, including preservation and restoration of the forest, meadows, wetlands, and watercourses; Connectivity - The connectivity component includes the River itself, the park road, the Loop trail, the bridges, and the secondary, wilder paths that provide access to and through the rooms of the Parklands; and Theater - The theatrical component includes the construction of ecological and recreational facilities, providing distinctive places for people to gather, learn, and play.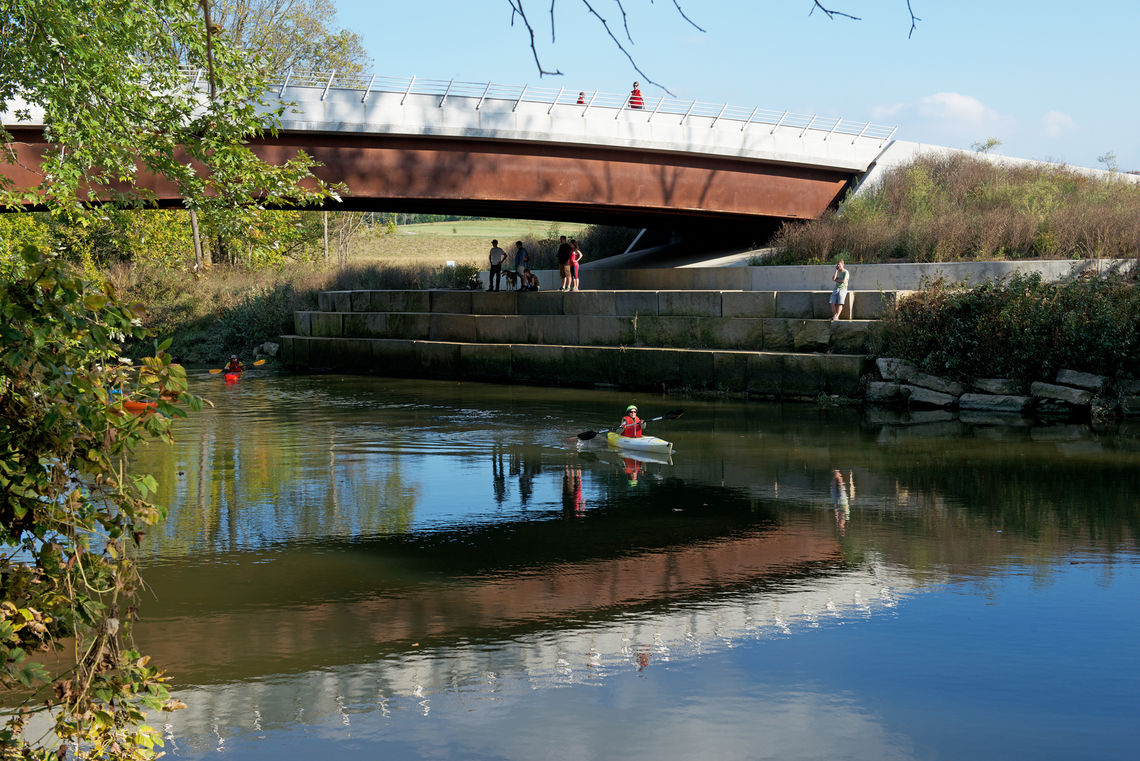 The Parklands offers active and passive recreation connected by a river and over 100 miles of trails, linking nearby community facilities and adjacent neighborhoods. Visionary in its scope and approach to sustainable design, the park contains exceptional public access improvements and facilities, complemented by increased biodiversity through habitat protection and enhancement, improved water quality through innovative stormwater management techniques, and dedicated open space through the preservation of agricultural land.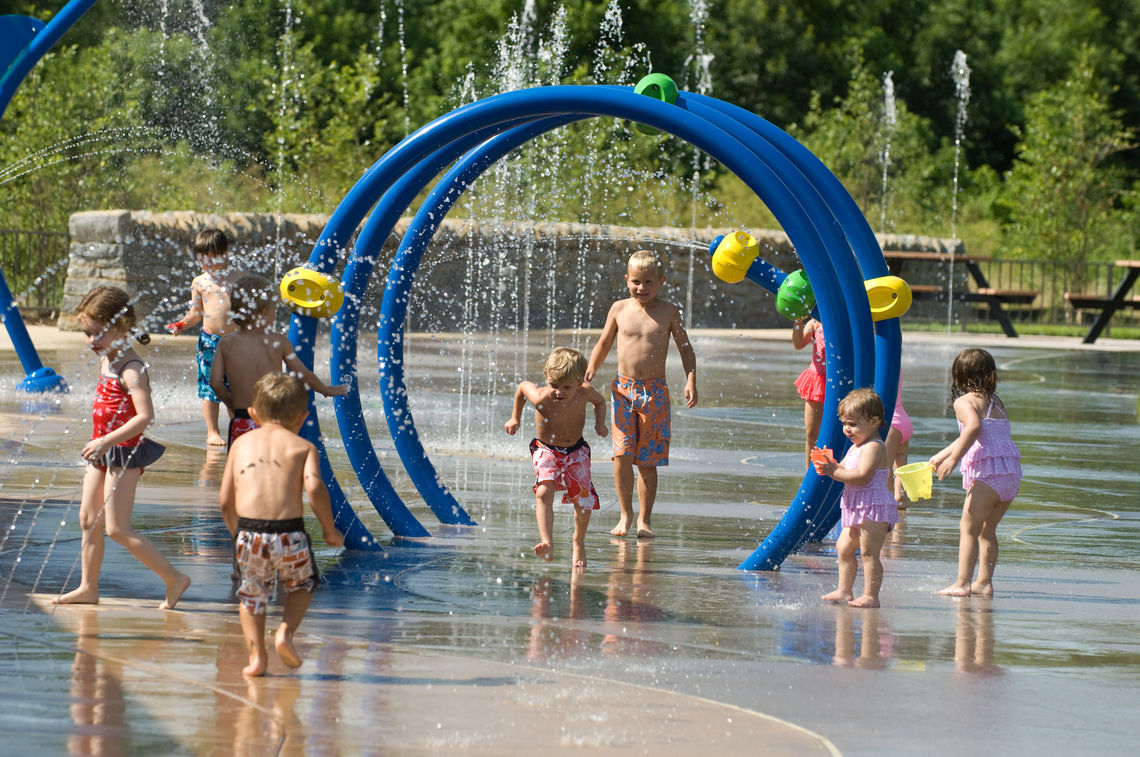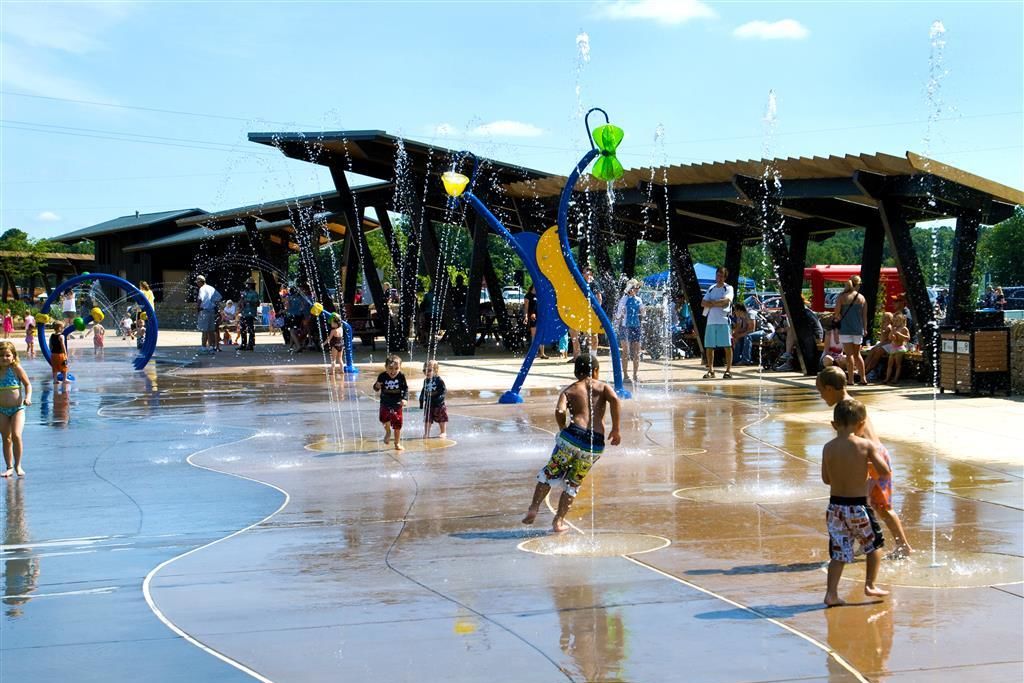 A community and environmental center, playground, dog park, event lawn, garden walk, and sports complex occupy the more pastoral north parks. Adventure sports, including the longest catenary bridge in the U.S., and mountain bike and zipline courses, sited among large swaths of farmland and forest, occupy the more rugged south parks. On the whole, the Parklands has created accessible natural and cultural resource areas, while preserving sensitive areas for wildlife habitat and historic sites for public interpretation for Louisville's future generations.  
Awards
APA Sustainable Communities Division, Sustainable Parks, Recreation and Open Space Project Award. 2014