Pinellas Gateway Area Master Plan
WRT is working on a collaborative, multi-agency effort led by Forward Pinellas to develop the Gateway Master Plan, a comprehensive, action-oriented plan for the 30-square mile area that addresses land use, mobility, placemaking, environment, infrastructure, economy, and resiliency.
Pinellas County is the most densely populated county in the state of Florida and is at the center of a robust economic market as part of the larger Tampa Bay region. Beyond its famous tourism industry, the area's economy is well diversified with high-tech and service-sector based employment along with traditional manufacturing jobs that support a more resilient economic base. Major challenges confronting sustained economic growth in the area include disconnected, car-centric development patterns that make connections difficult and unsafe for bicyclists and pedestrians and detract from a clear identity. The area is also vulnerable to sea level rise and coastal storms, faces competition for adequately trained workers to meet area business and industry demands, and lacks quality affordable housing and amenities that can retain its current employee base and attract future employees.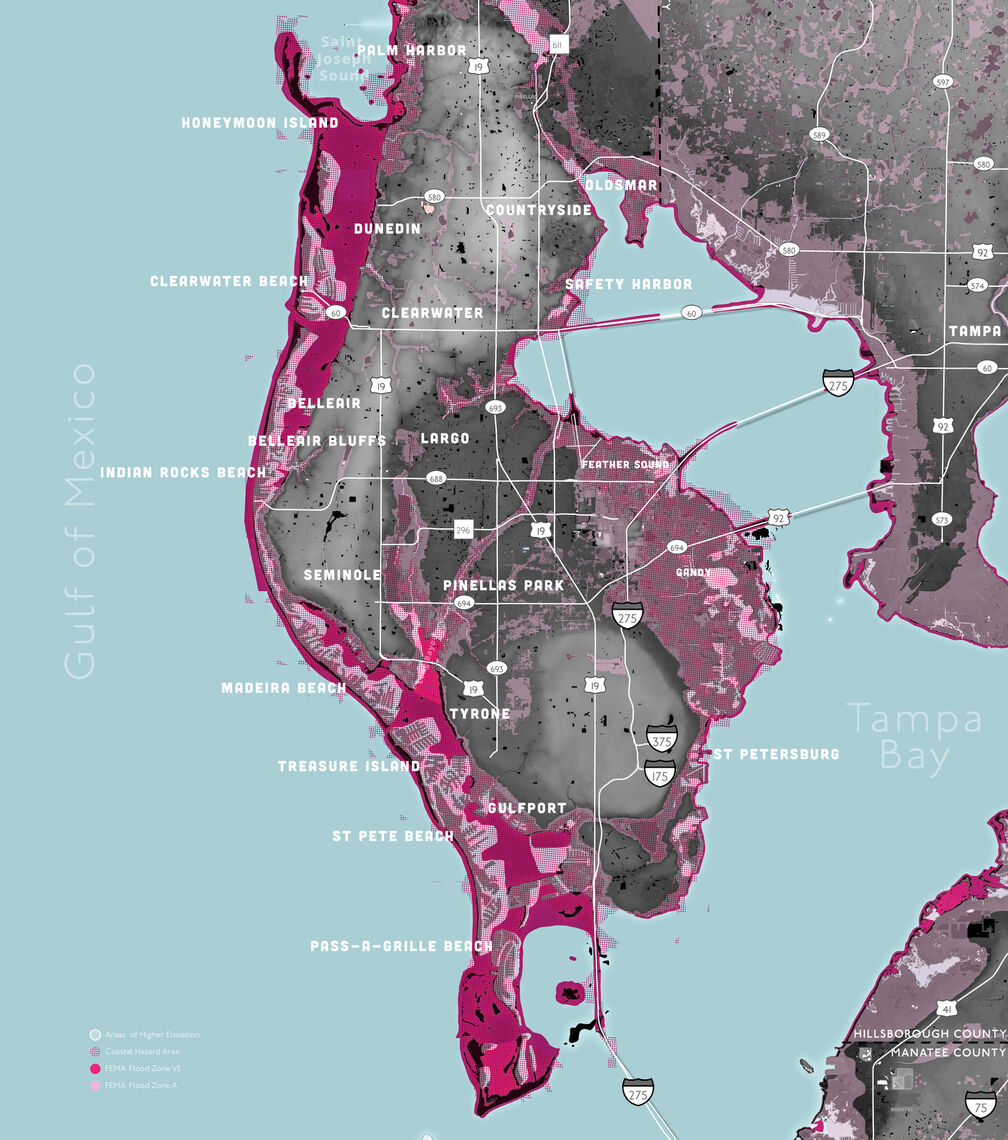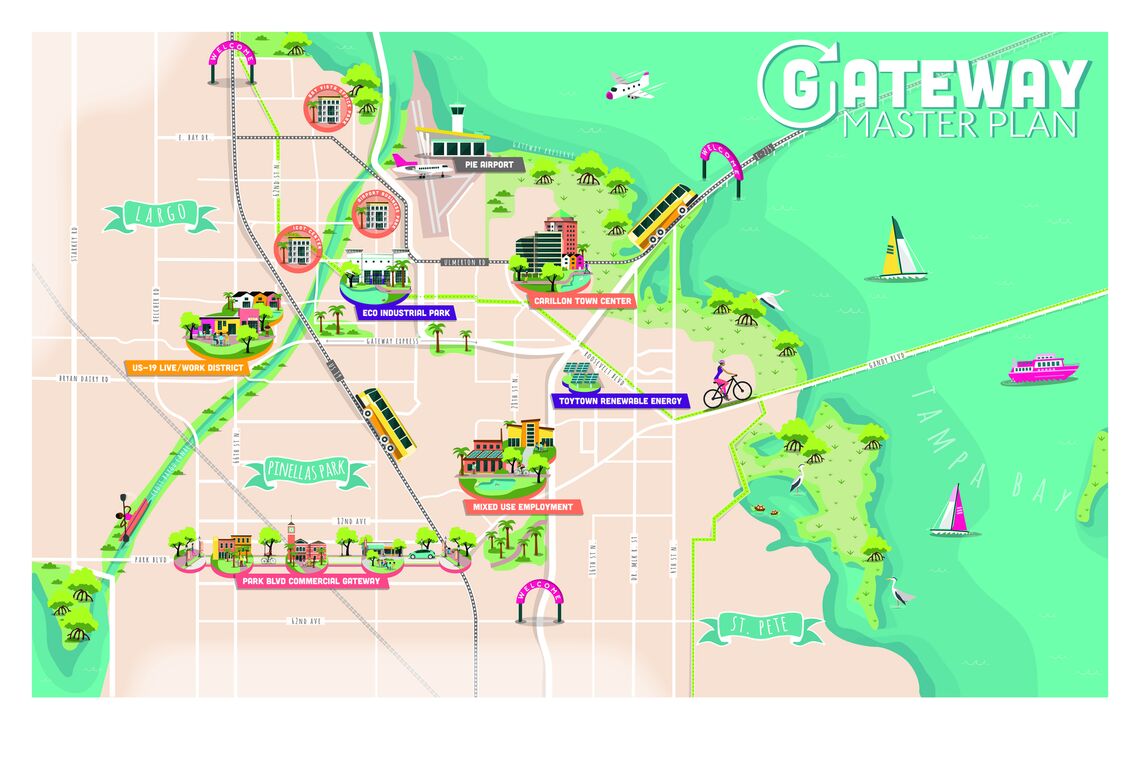 The Gateway Master Plan presents opportunities to build on existing assets while further integrating transportation and land use to advance a more socially, environmentally, and economically sustainable future.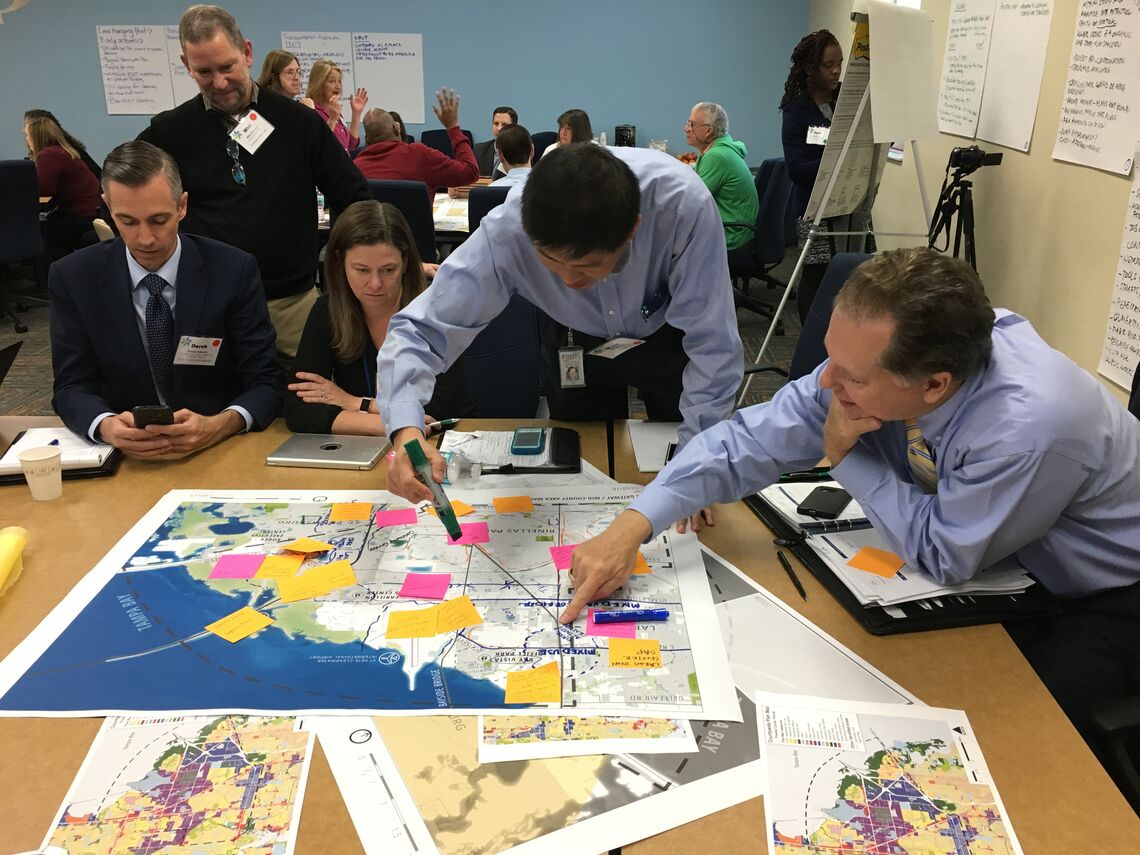 The district master plan is guided by public engagement activities that have included open house sessions, dozens of stakeholder interviews, charrettes, community briefings, roundtable discussions, and online surveys.
The 25-year community vision is for the Gateway to evolve into several distinct, sustainable, mixed-use districts that celebrate its regional geography and leverage its central location on Tampa Bay to retain and encourage job growth while providing new housing, services, and a host of amenities for employees, residents, and visitors. Each district will include vibrant nodes that are connected to transit, with safe walkable and bikeable streets, trails, and blue ways.
One of the overarching planning and design principles is to create a sustainable and resilient Gateway that will sustainably manage water, energy, and other environmental resources and protect the diverse ecosystem that makes up the county's natural resources and contributes to the county's public health, quality of life, and local economy. A triple bottom line Resiliency Toolkit is being developed in support of this goal that employs flood mitigation strategies, multi-functional open space, thermal comfort, resiliency hubs, renewable energy, and resilient codes.