Employee Spotlight: Alana and Charlie's favorite WRT projects, daily inspiration, and where creative fitting fits into the creative process.
Alana (San Francisco) and Charlie (Philadelphia) from our landscape architecture team discuss the power of storyboarding, the books they always recommend, and their most rewarding projects to date.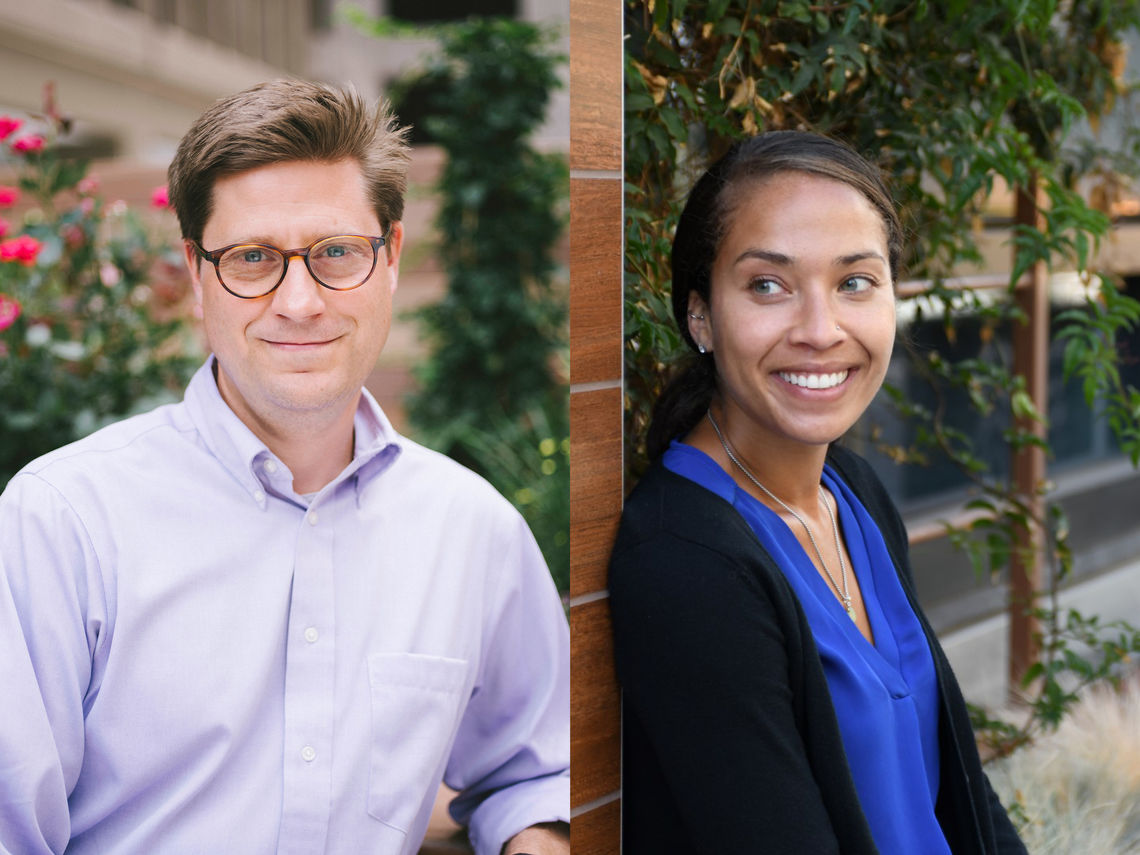 Charlie Neer and Alana Sanders
What is your creative process? 
Alana: In order to kickstart my creative process, I first step back and try to understand the goal. One of my favorite tools is the art of storyboarding. It helps me generate ideas quickly and results in a comprehensive sketch of a potential project outcome. 
Charlie: For design process, I often refer to Ian McHarg's Theory of Creative Fitting which is unique to WRT and encompasses all disciplines and scales of our work. Creative fitting matches user's needs with environmental opportunities and requires techniques of seeing and understanding a site's opportunities in order to project new futures—whether these be buildings, landscapes, urban designs, or regional plans. Mapping, modeling, sketching, and photography are my preferred tools in the creative process. In each situation, I look for design solutions to complex problems that generate win-win scenarios. 
Would you recommend some books that designers might find useful? 
A: Toward an Urban Ecology by Kate Orff of SCAPE. This book encompasses research, design, and art, and pushes the boundaries of social change and activism through landscape architecture. 
C: I have several, one of which is a favorite, Richard Saul Wurman's Understanding Understanding. Richard founded the TED series and this book allows you into the brain of a genius who is never afraid to ask why. David Wallace-Wells' book The Uninhabited Earth presents sobering facts in a dystopian glass-is-half-empty approach to climate change, while Anthropocene magazine, takes a glass-is-half-full approach by seeing the potential opportunities of a man-made world that uses technology to curate new ecological futures. I would also recommend James Corner's The Landscape Imagination to anyone interested in landscape architecture and the creative process. Urban Green-Blue Grids for Sustainable and Dynamic Cities by Hiltrud Poltz and Pierre Blueze is a large-scale manual for resilient cities. 
What has been your favorite project so far? 
A: San Jose State University's Interdisciplinary Science Building (science quad). We worked closely with the professors in the science department to develop an outdoor planting palette which will be an integral part of their curriculum. 
C: The Parklands of Floyds Fork and the FDR Park Master Plan are two projects in my 20-year career at WRT that are my personal favorites. I spent eight years as the project manager of Floyds Fork seeing the 4,000-acre project from master plan through implementation—now, nearly four million people a year use the park. FDR is a labor of love in our own backyard. The potential of this project to reshape the identity of South Philadelphia and the larger metropolitan area as a large-scale form of civic, public health, and ecological infrastructure is transformational. 
What are 3 words you'd use to describe WRT? 
A: Collaborative: Teamwork makes the dream work. Holistic: Projects have many components. Problem solvers: A team of brains is better than one.
C: Collaborative, ecological, and ethical 
What inspires you? 
A: I'm inspired by people who overcome challenges in the face of adversity. The phrase "I can't" is immediately thrown out the window! 
C: Duane Allman's slide guitar, Gerhard Richter's paintings, Ansel Adams' photography, the landscape drawings of Anu Mather and Dilip da Cunha, Bob Dylan's lyrics, the architectural designs of Enric Miralles and Carme Pinos, the smell of fresh cut grass, and my family.
BONUS QUESTION:
If you were a crayon, what color would you be? 
A: Green! More specifically Pantone color 15-0343 (this was the color of the year in 2017). 
C: Cerulean or Teal Blue