Village at Park River is a transformative redevelopment of Westbrook Village, a 40-acre former public housing site in Hartford, CT. When completed, there will be 420 units of mixed income housing, as well as a new mixed-use community tailored to meet the diverse needs of the Upper Albany Neighborhood and contribute to its restablishment as a premier gateway into Hartford.
Engaged by the developer, Pennrose Properties, WRT developed the master plan for 438 units and is the architect for all six phases of development. In addition to the residential component, there will be approximately 80,000 square feet of new office and retail space, bike paths, community gardens and playgrounds, a community building with fitness center and a meeting space, and a central park.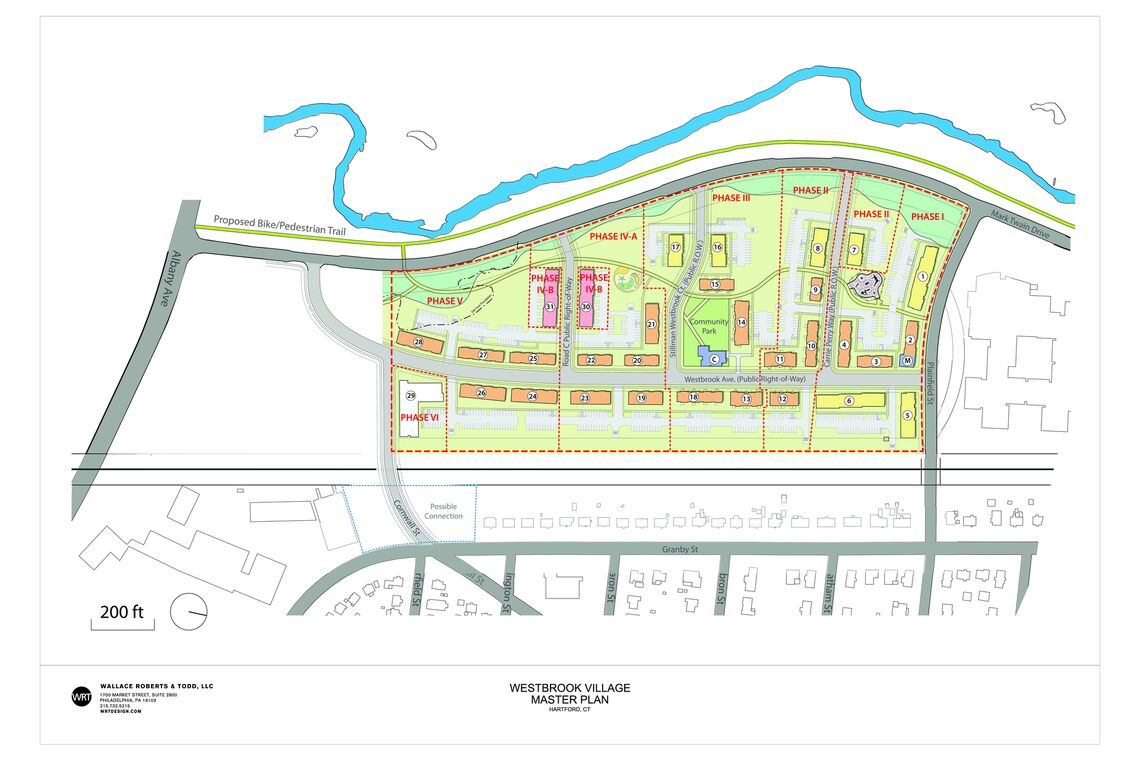 The master planning process involved nine months of public engagement with Westbrook residents and stakeholders from the Blue Hills, Upper Albany, and West End communities and business owners along the Albany Avenue commercial corridor. This engagement process drove specific decisions about the design of both the site and the buildings. In the case of building design, it became clear early in the planning process that the
residents and neighbors wereinterested in the creation of a walkable neighborhood that captured the traditional neighborhood language of New England cities, with a predominance of traditional rowhome two- and three-story style buildings. To foster good urban design and "eyes-on-the-street", each home has its own front porch or stoop. 
Residential infill ties into existing surrounding neighborhoods embodying the principles of smart site selection. 
The community has several other site features and recreational amenities, including a bike/pedestrian trail system, running from Plainfield Street on the north to the retail mixed-use area at the southern end of the site.  Along this trail are three playgrounds, one of which is located within the project redevelopment. Parking lots are designed to convey stormwater runoff into bioswales that flow towards the 500-year floodplain areas at the western edge of the property.  The 500-year flood zones have been reserved as passive recreation areas and managed meadows to infiltrate and manage stormwater. 
Village at River Park, Phase I and II, in Construction
The first phase includes 75 energy efficient one-, two-, and three-bedroom affordable rental residences within six buildings. Each subsequent phase includes 60-65 energy efficient affordable rental units within five to six buildings.  A separate, free-standing community building provides a community room and kitchenette, fitness room, and on-site management and maintenance services.
The buildings in Phases I, II, and III are designed to achieve certification in either Passive House International (PHI) standard or the Passive House US (PHIUS) standard, thereby
also achieving certification under the EPA Energy Star for New Homes V3.1, Department of Energy's Zero-Energy Ready Homes and Indoor Air Plus programs.  As a Passive House project, all three phases will also provide energy cost savings of greater than 23% over current ASHRAE standards.  The development will also incorporate a rooftop solar photovoltaic system capable of supplying greater than 33% of the development's site lighting energy requirements. Phase IV is currently in design, and hopes to achieve the same energy efficient certifications.