The transformation of Downtown Meriden is a story about social and environmental resilience planned by a perseverant community as it envisions a sustainable future for the next generation.

Over two decades of incremental yet diligent investments made by the City and its stakeholders have paid off. As a result of a HUD Choice Neighborhoods Transformation Plan led by WRT, a vacant downtown once prone to persistent flooding and resultant disinvestment is today a verdant park, surrounded by 14 acres of new mixed-income, green residential developments and a newly constructed intermodal transit station which will be an express stop on the New Haven-Hartford-Springfield Rail Line. 
The first housing phase, is a 75-unit mixed-income, mixed-use project, located on the corner of State and Mill Streets next to the newly implemented Meriden Green. The transit-oriented project provides needed housing density within the downtown and 5,000 square feet of ground-floor retail along a major commercial corridor. It is walkable to the nearby Amtrak station and local bus routes and was designed to overlook the new Meriden Green where residents will have direct access to the new park with bike trails, amphitheater featuring musical programming, farmer's markets featuring sustainable produce, and more. There is also a new playground.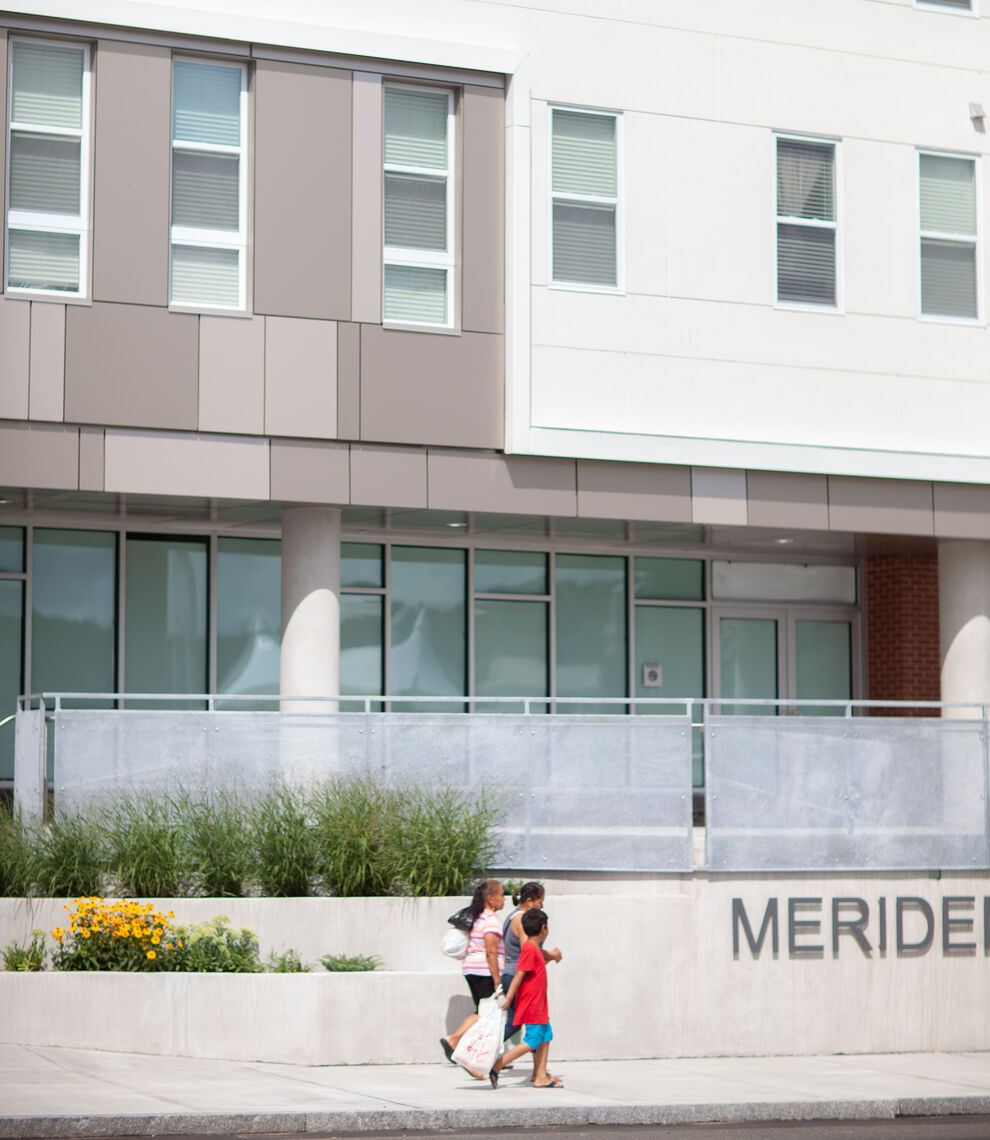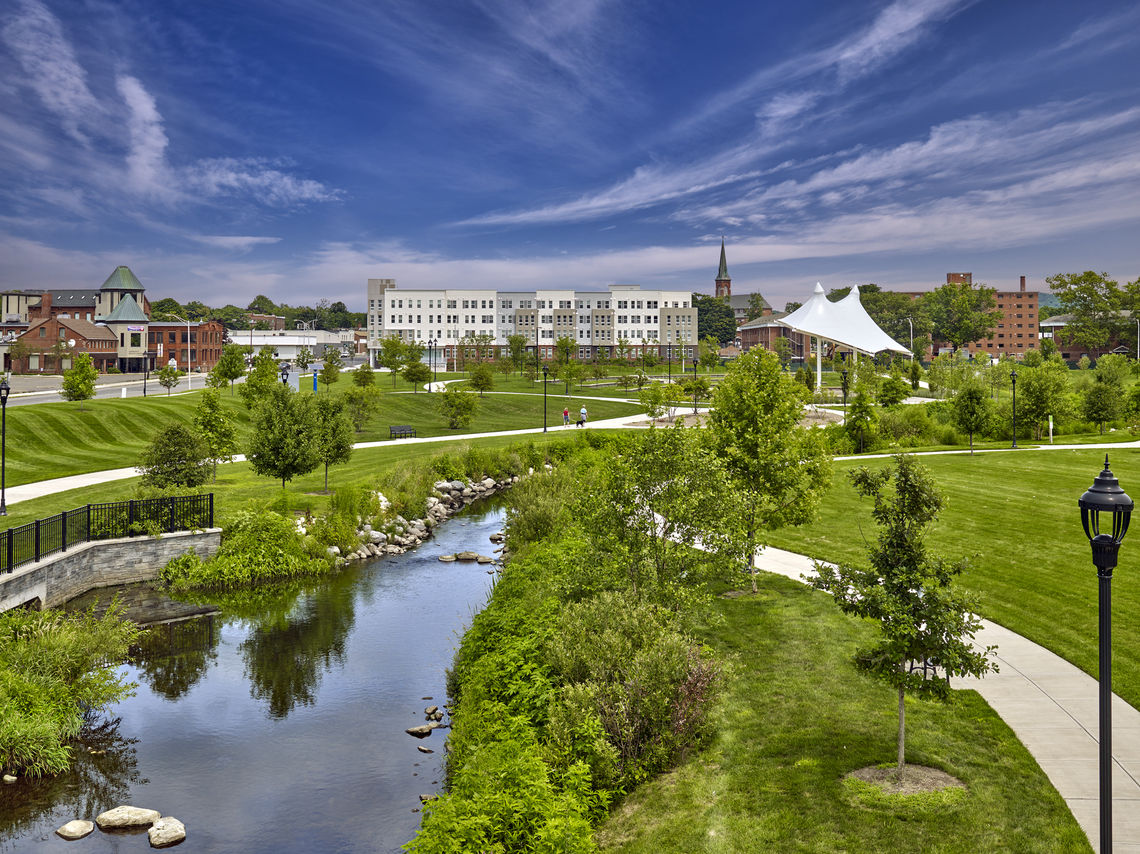 The exterior design is conceived as a contemporary interpretation of the traditional 19th century mixed-use downtown building elements common to Meriden, with a strong corner feature to anchor the State and Mill Street intersection.
The language of repeating brick and metal panel bays along State Street breaks down the 175' building length into smaller modules similar to the scale of traditional 19th century commercial structures.
Two tones of metal panel are used on the corner tower to create a transition from traditional architectural forms on State Street, and establish a contemporary architectural expression that overlooks Meriden Green.
The building's raised terrace provides retailers and customers with beautiful elevated views of Meriden Green.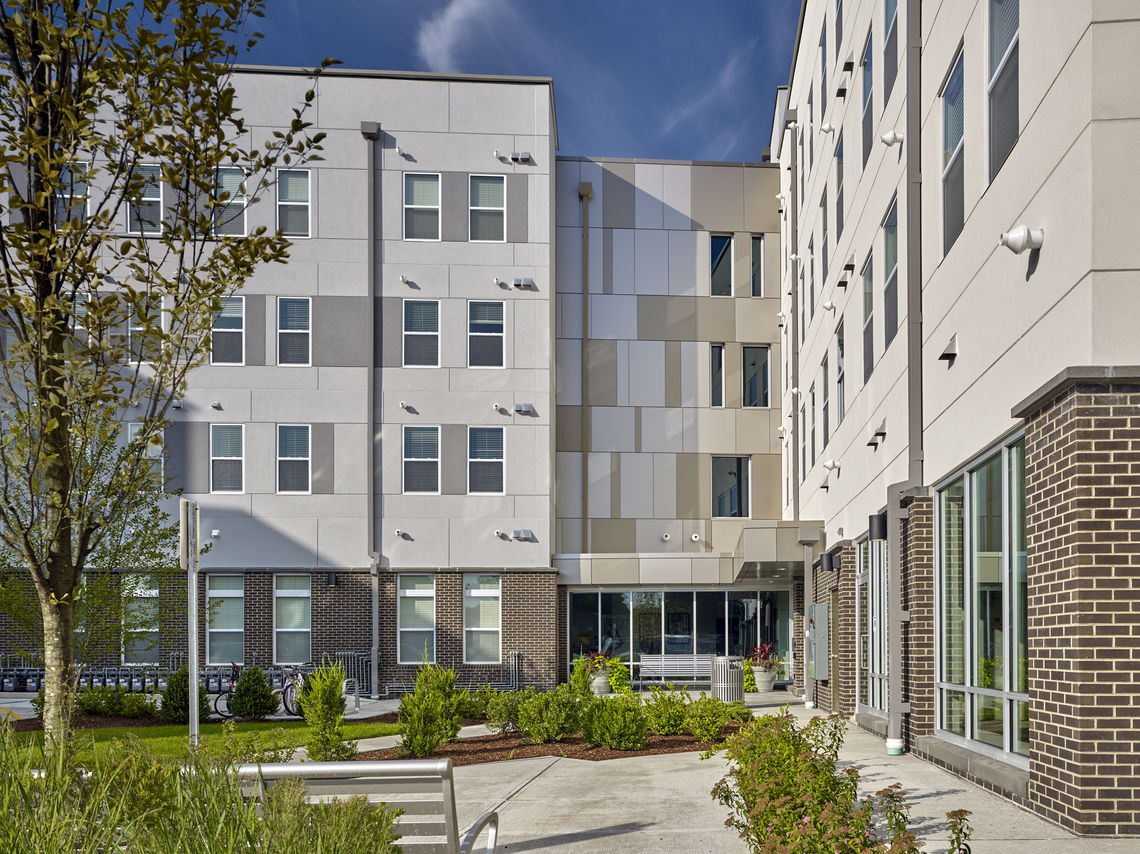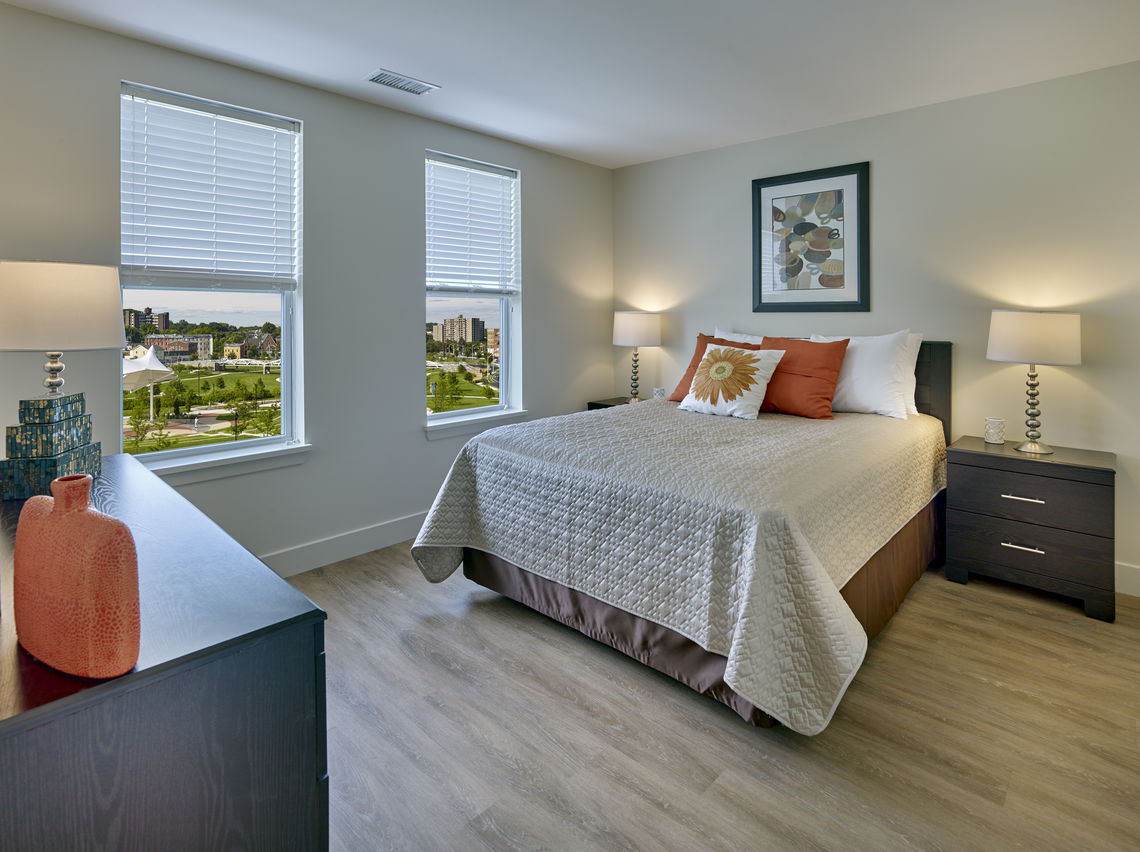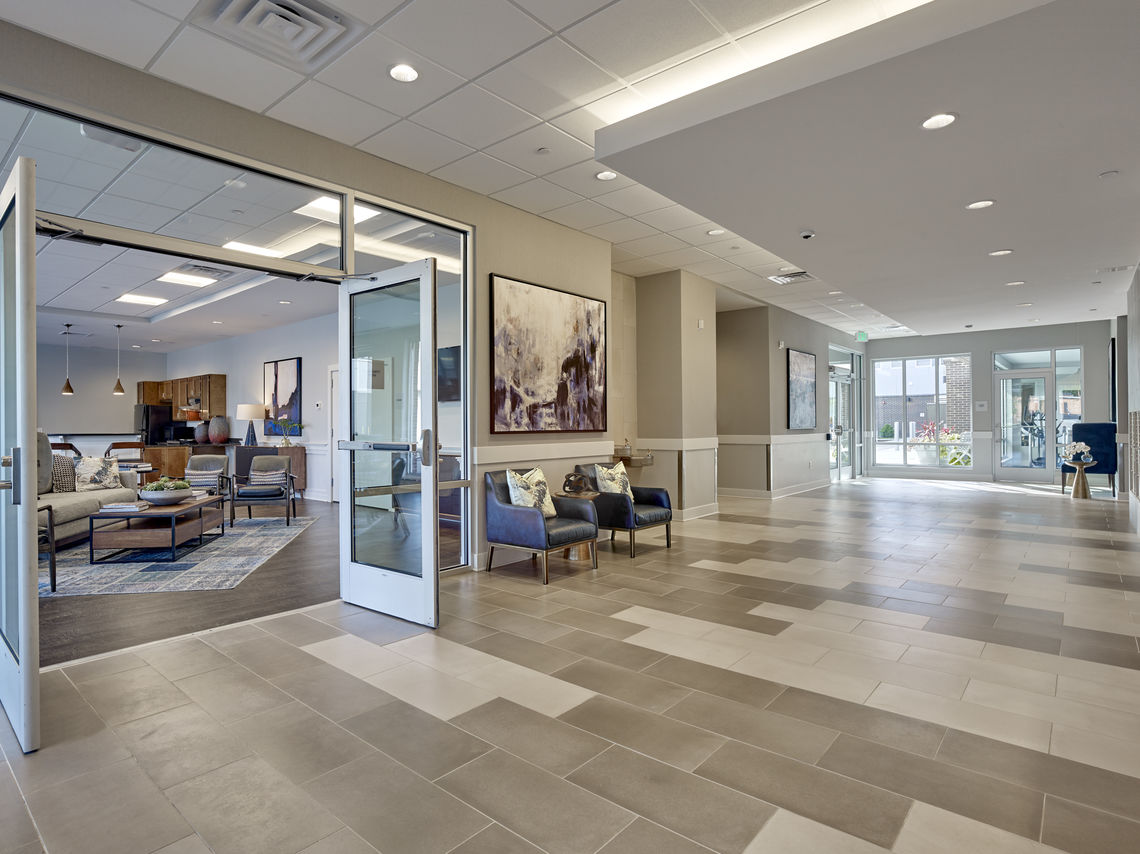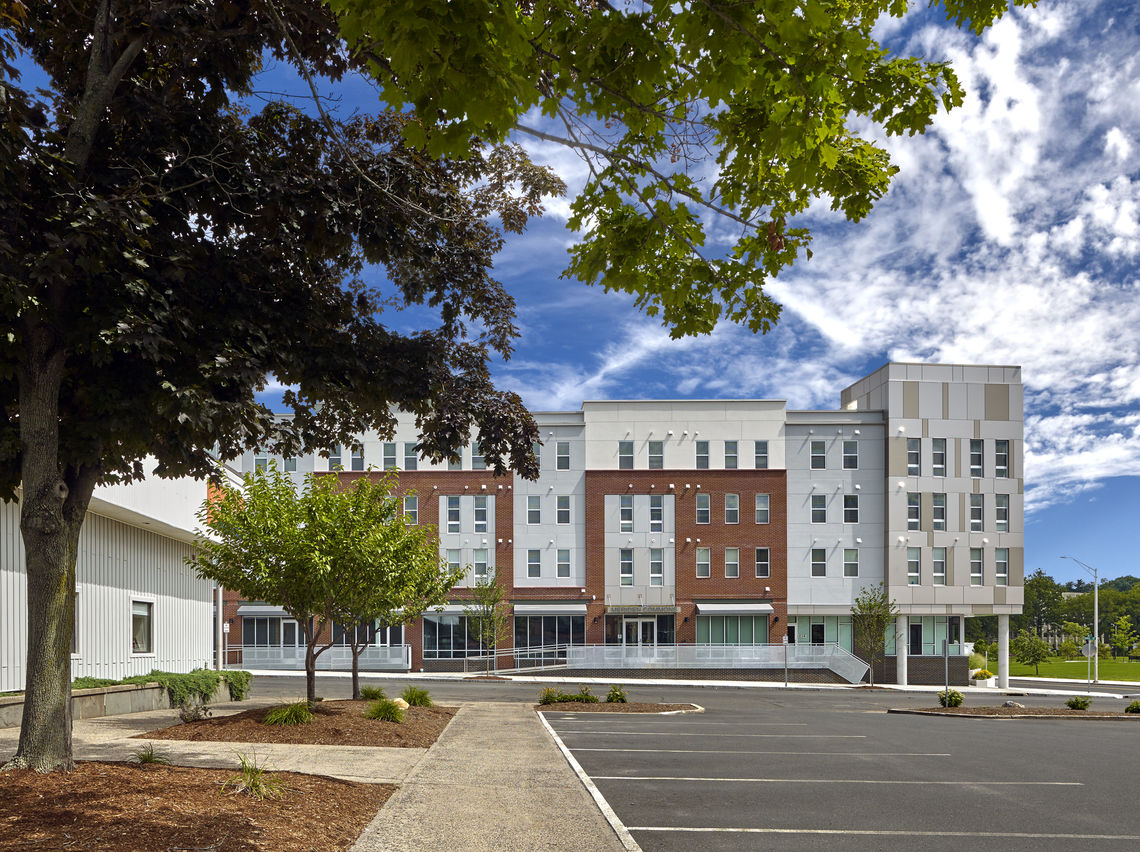 14 acres of concrete and asphalt are transformed into a placemaking open green space and public housing was redeveloped into a mixed-income community.
The second phase of Meriden Commons meets Passive House standards, one of the most rigorous energy-based standards in the design and construction industry. To accomplish this aggressive standard the building is designed with an insulated envelope and airtight construction including thermal-bridge free detailing. The building design also provides high performance glazing and an energy recovery ventilation system. This holistic approach results in a huge reduction in building energy consumption, while providing the occupants with the best indoor air quality and thermal comfort. All three buildings will obtain Passive House certification. The individual units in the low-rise buildings will also meet Energy Star for homes certification, achieving a HERS index in the range of 35 to 40, performing significantly better due to the Passive House design. The photovoltaic array provides for 33% of site electric requirements.