8th and Filbert Streets Garage
The restoration and refurbishing of the garage at 8th and Filbert Streets in Center City Philadelphia was conceived as part of the relocation efforts of the Parking Authority's HQ to the adjacent Lit Brothers building. When the facility was completed in the 1950's, it served as a key incentive to draw Philadelphia's suburban population to the recently completed shopping venues in the East Market District of the City.  With declining interest and use of these shopping destinations, the facility continued to operate with little maintenance up until the conception of this project.  
The strategic location of the 8th and Filbert Streets Garage, situated between Independence Mall and The Convention Center, continues to serve as the first impression for many who enter the City. The project's location justified its significance as a gateway. Therefore, the design pays careful attention to the garage's perception from its multiple access points at both the vehicular and pedestrian scales. The collection of interventions at the 8th & Filbert Streets Garage reflect a meticulous consideration to the building's specific urban conditions, context and the opportunities provided by each exposure.  
No driver or passerby sees the building at once – there are marked differences when approached from Market Street to the south and from I-676 to the north, as well as visitors approaching the building from Philadelphia's historic and cultural centers to the east and west. The 417,730 GSF structure also serves as a key access point to various multi-modal transit hubs including PATCO lines and the Market East Station.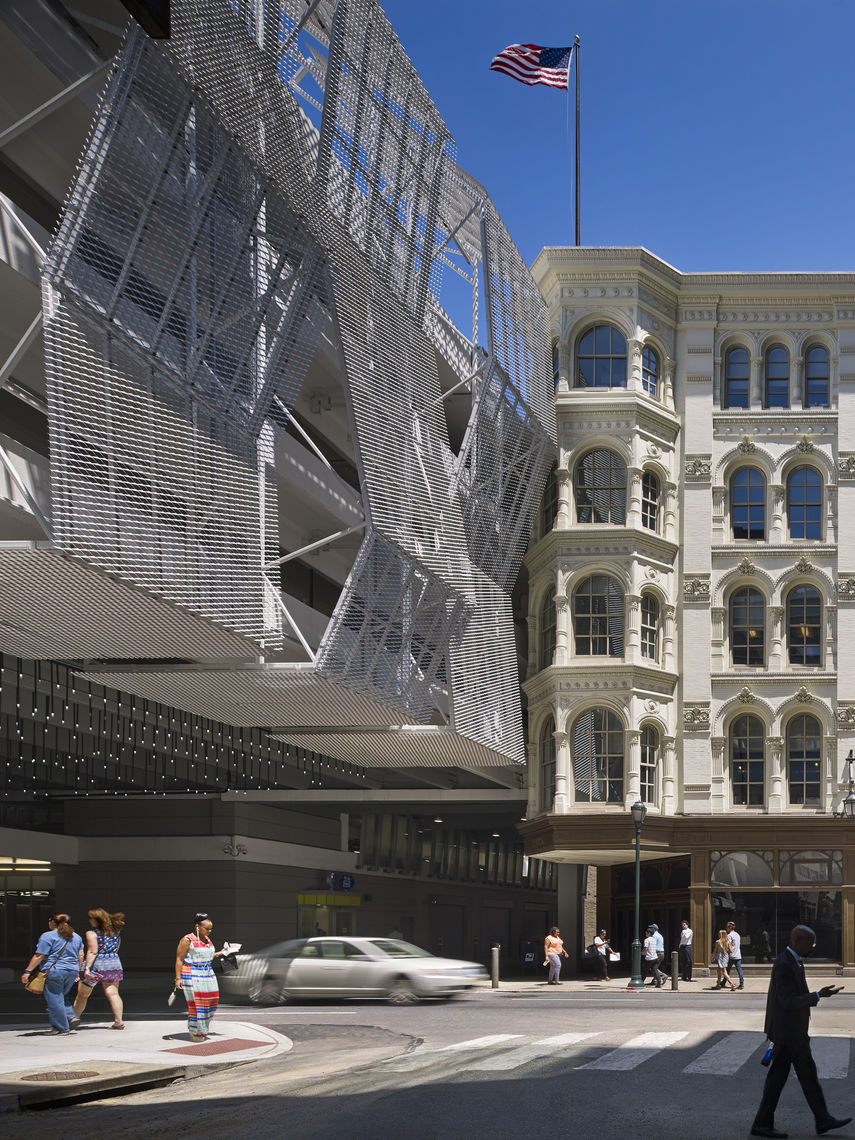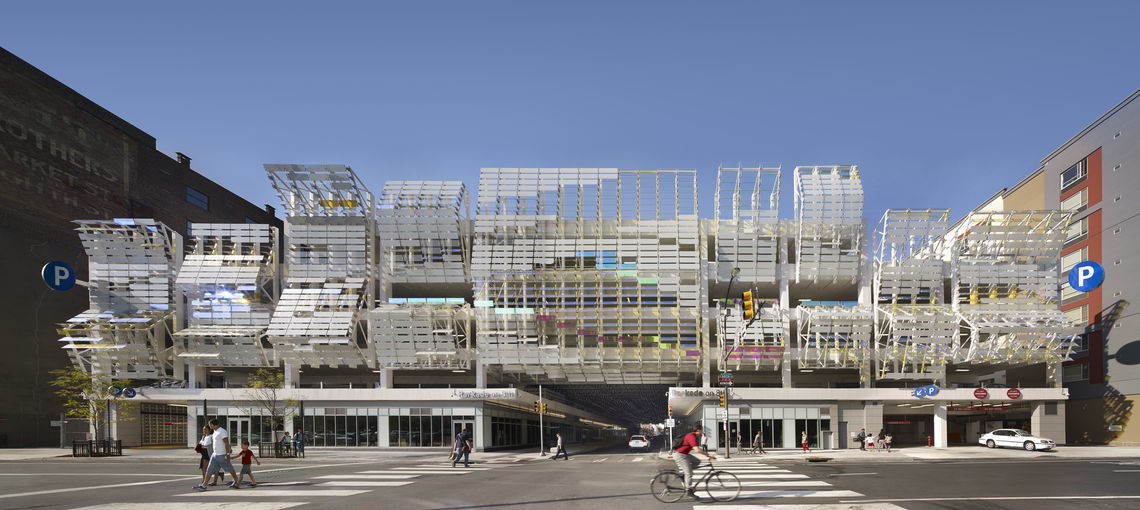 The Philadelphia Parking Authority envisioned this work as a signature project that will serve as the model for the Authority's other facility improvements in Philadelphia. The combined improvements in the facility's aesthetic, lighting, storm water management, reuse of existing materials and more, sought to make this an exemplary project that met the aspirations of the Authority as well as energy performance criteria.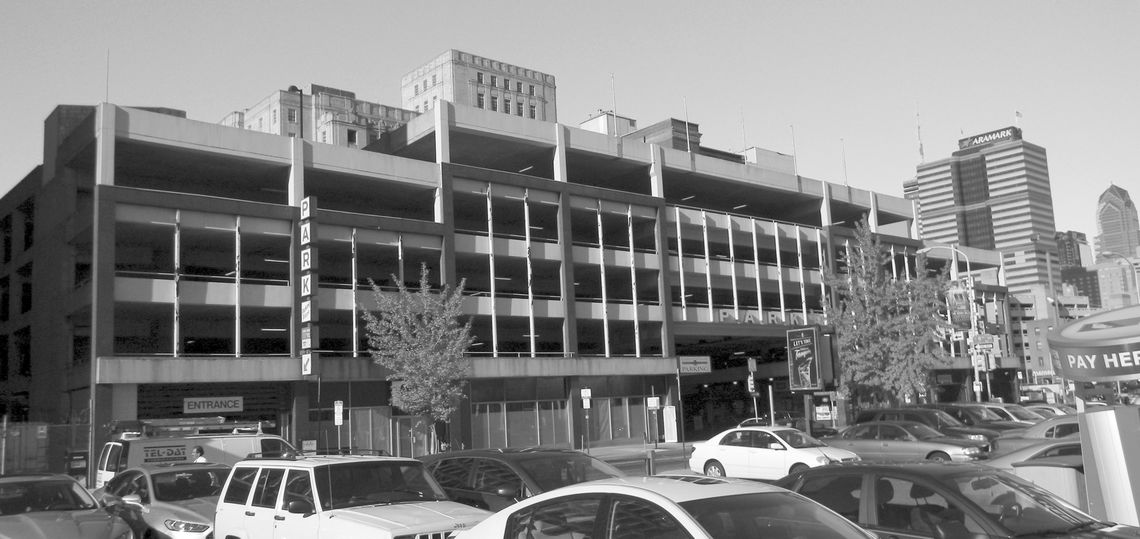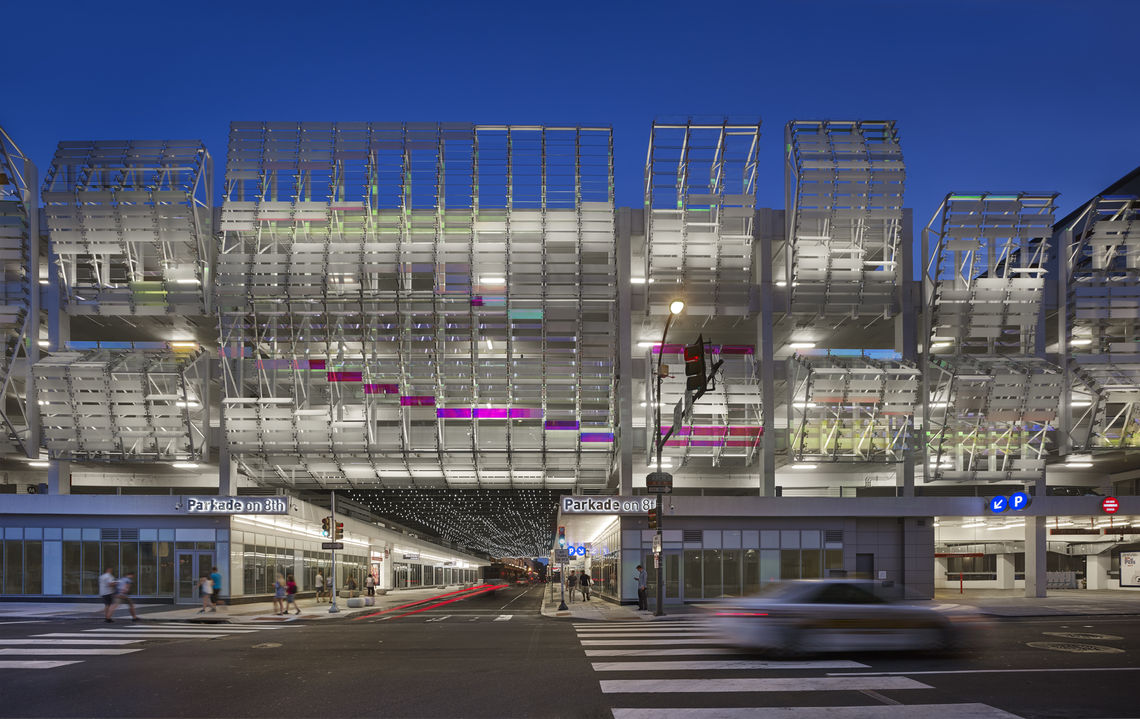 The design for the southern façade counterpoints the northern glass facade.  An expanded metal mesh cladding screens the strong direct sunlight while minimizing the glare and reflection to adjacent buildings and pedestrians.  At night, the open screen filters the interior light from the garage, visually extending the underpass lighting pattern.  This facade features vegetated screens to further enhance the facility's purpose as a demonstrative project of sustainable urban infrastructure using drought tolerant species and harvested rainwater. 
Awards
AIA Philadephia, Merit Award, 2013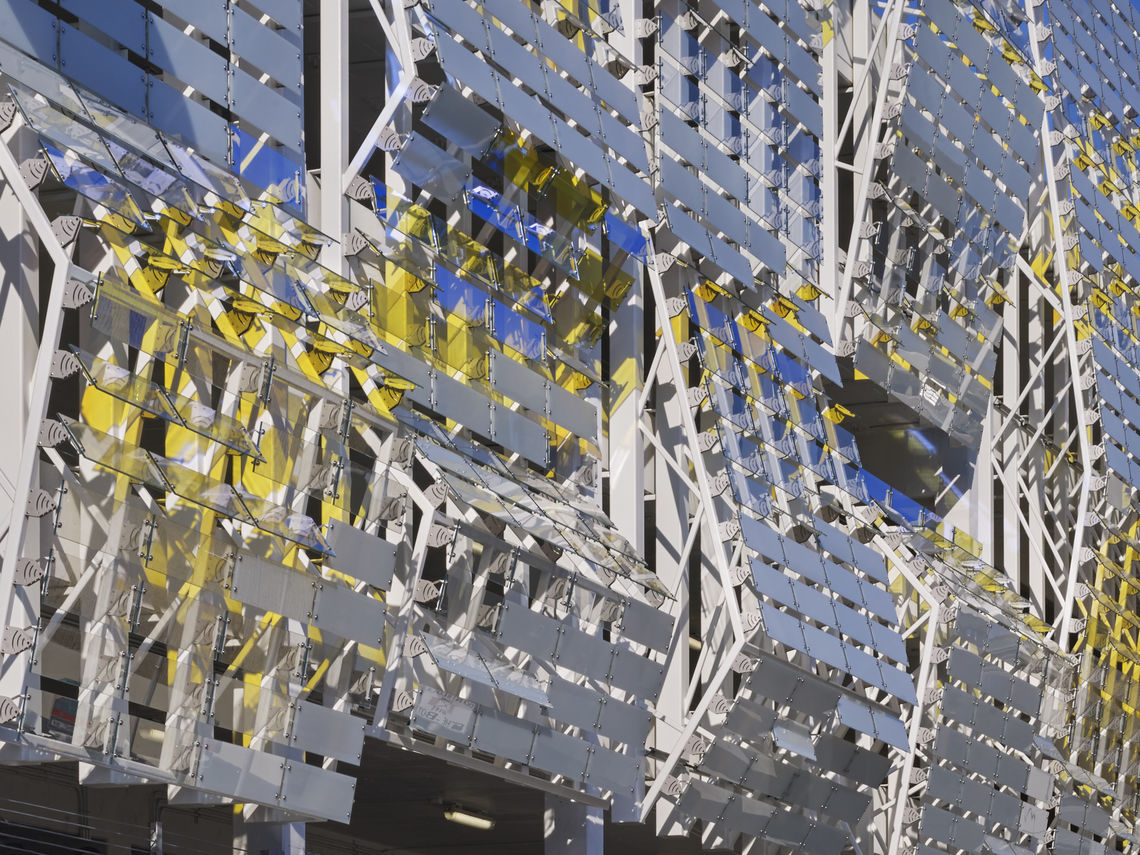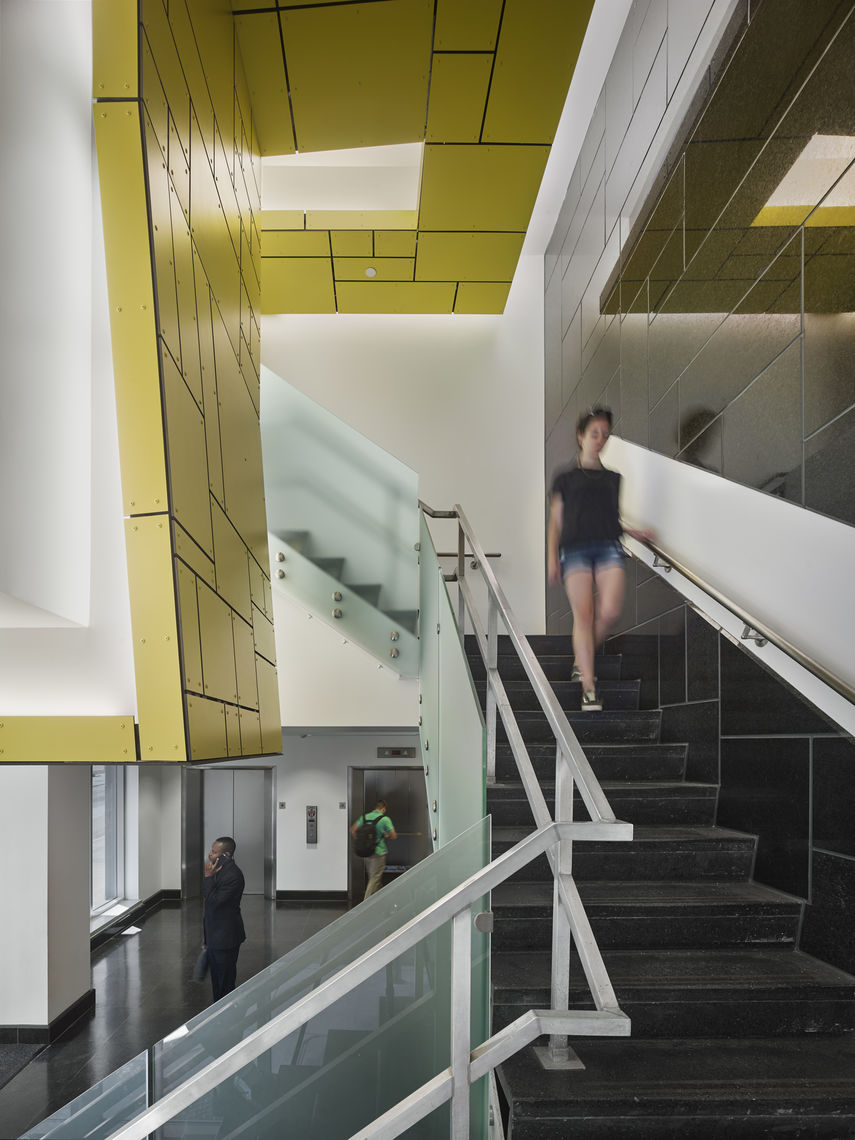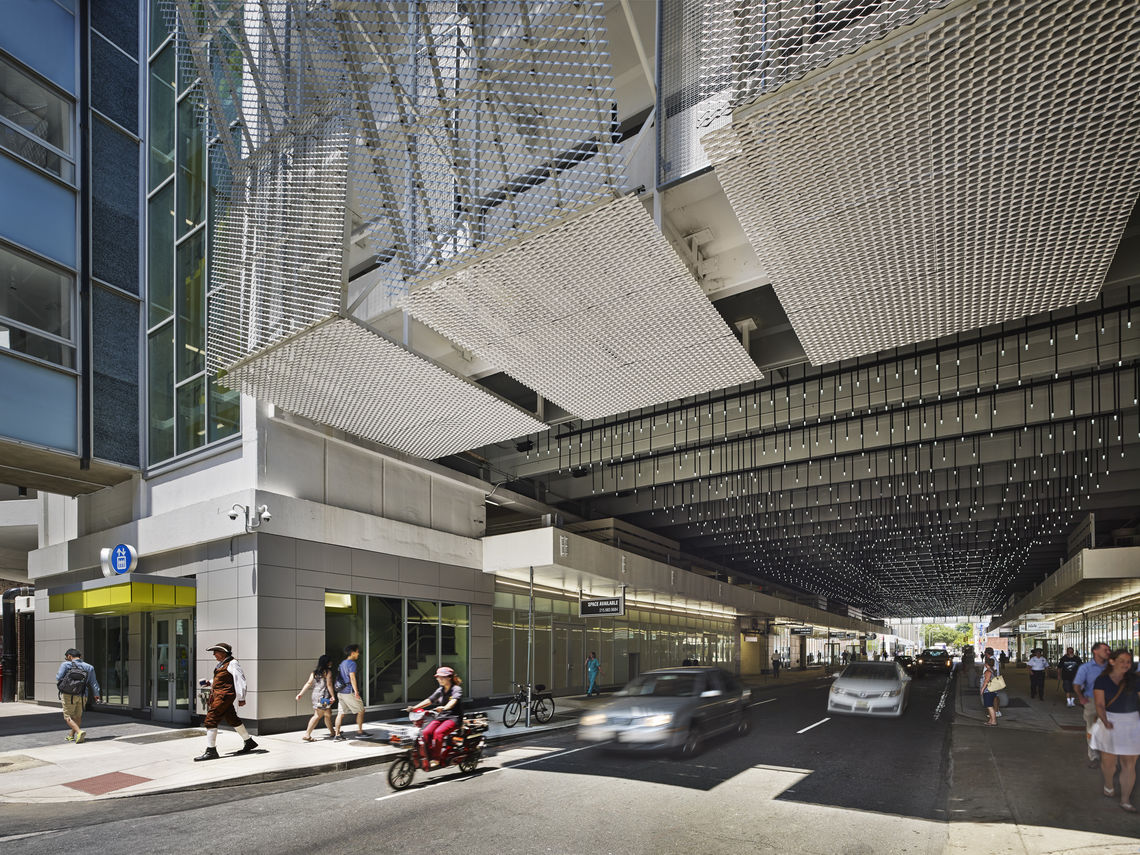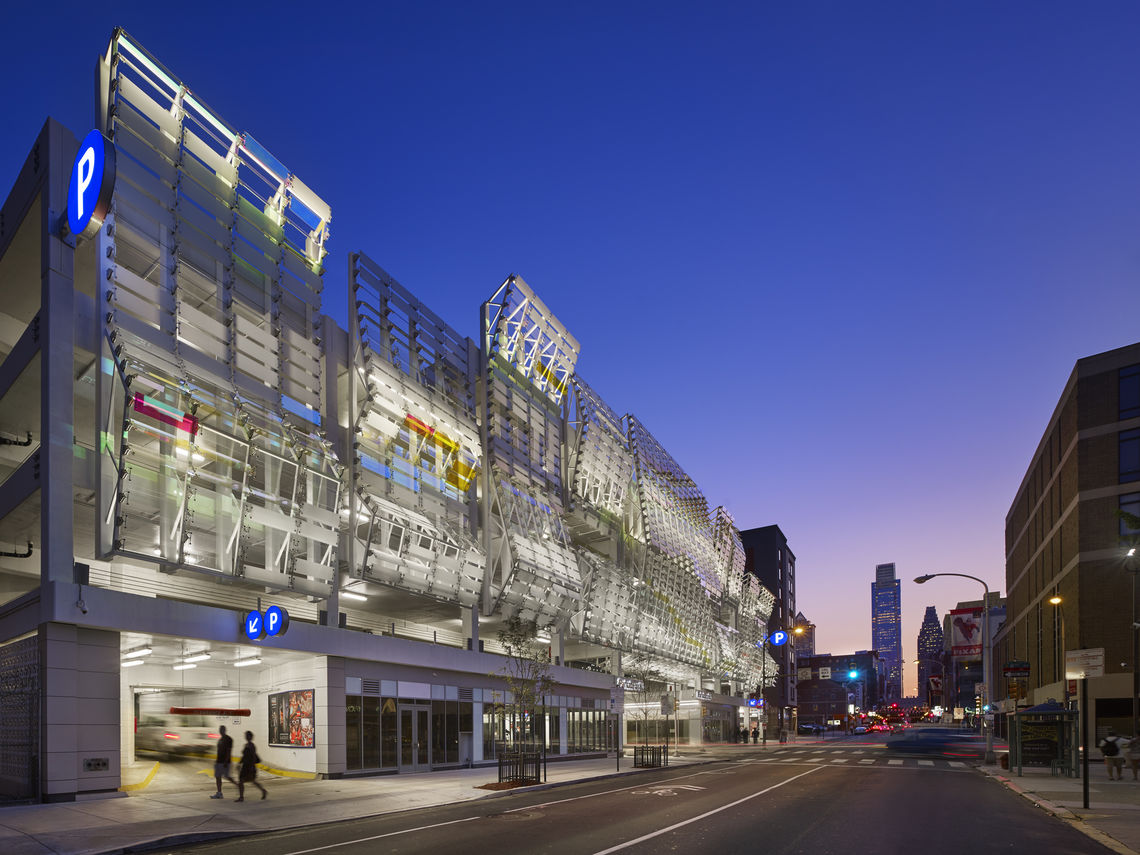 Underscored in the efforts behind the improvements to the facility is the importance infrastructure facilities play in the revitalization of urban cores and their potential as significant civic-minded structures.